Apple might have revolutionized the way people communicate with its now-ubiquitous iPhone, but it's also been quietly tinkering away on something entirely outside the realm of cutting-edge technology: Pizza delivery.
The Silicon Valley behemoth this week gave Wired magazine a sneak peek into its sleek new spaceship campus, Apple Park, complete with four-story glass doorways—a "retrograde cocoon" according to a Los Angeles Times architectural review of the hulking, ring-shaped building. Of course, there is no new building without an impressive new employee cafeteria where the company uses a pizza box that it patented itself.
Like all things Apple, there are no sharp corners on this box. It is, predictably, round. The interesting thing about it is the series of holes that have been drilled into the lid of the box, allowing steamy air to escape and give the eater ease of mind that their pizza crust will not be soggy, a First World Problem of epic proportions.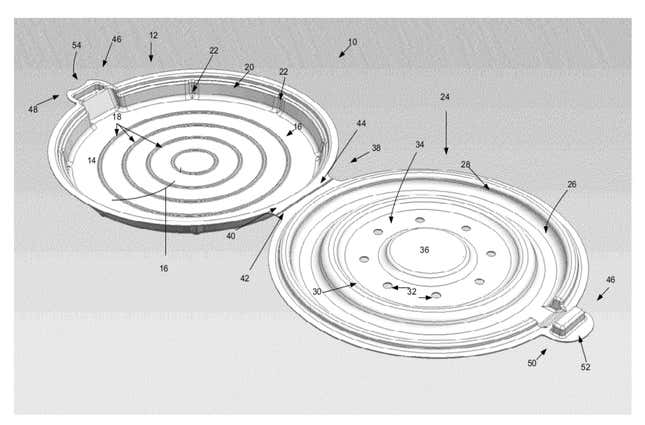 The company filed for the patent more than seven years ago. Interestingly, it marks one of very few developments in the evolution of pizza transportation since the 1800s.
Bakers in Naples, Italy began experimenting with ways to transport pizza by sticking them into metal containers dubbed stufas. For obvious reasons—weight being one of them—that method didn't bode well for deliverers, so in the 1940s, bakers began sliding pies into paper bags. It wasn't until the 1960s that the corrugated box came about, as documented by The Atlantic.
The box marked a milestone—and since then it's been improved in little ways, such as the placement of a plastic tripod in the middle of the box to keep the lid from sagging onto the hot cheese. Other adjustments have developed over time, such as placeholders for dips and more recyclable boxes, but the pizza box has been fixed as a square box. Until now.
Only time will tell if Apple is able to herald a circular revolution.