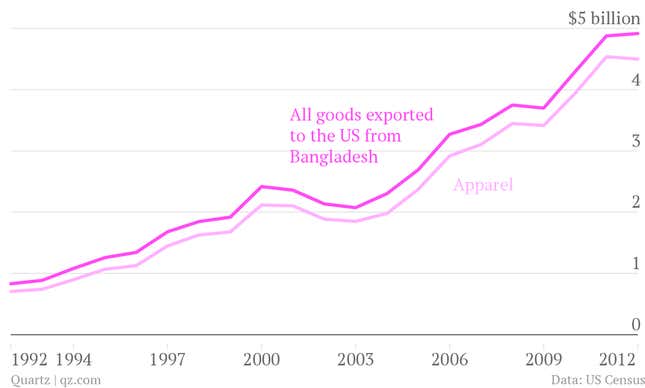 Today, US president Barack Obama is expected to suspend certain privileges for Bangladeshi exporters, the Associated Press reports. It's meant to be a signal to US companies to rethink doing business in Bangladesh, after a series of deadly episodes including the factory collapse that killed 1,127 people—the worst industrial accident in nearly 30 years. The European Union is contemplating the suspension of a similar program.
But it's hard to see the US's action having much direct impact on the volume of trade between Bangladesh and the US. Right now, Bangladesh can export 5,000 goods to the US without paying taxes on them, as part of the Generalized System of Preferences (GSP), a program designed to encourage trade between the US and emerging market economies.  The goods subject to the GSP account for less than 1% of the $5 billion in exports that reach the US from Bangladesh every year, according to the AP.
Suspending the GSP for Bangladesh would take a toll on the country's reputation, and could force its politicians to try to make a better show at worker safety. But the real onus rests with the companies doing business there, which, the Wall Street Journal today reports, are already finalizing new safety agreements (paywall) to repair the public-relations damage they have suffered. At the end of the day, cheap labor is cheap labor, and the stigma of losing GSP privileges won't change that.