The iconic Empire State Building was lit in blue in tribute to a prestigious Chinese university on Saturday (May 20).
"This is the first time that the Empire State Building is lighting up for a Chinese university," read (link in Chinese) the notice from the building's official Mandarin-language account on China's social media platform Weibo. The building's English-language handle also tweeted about the university.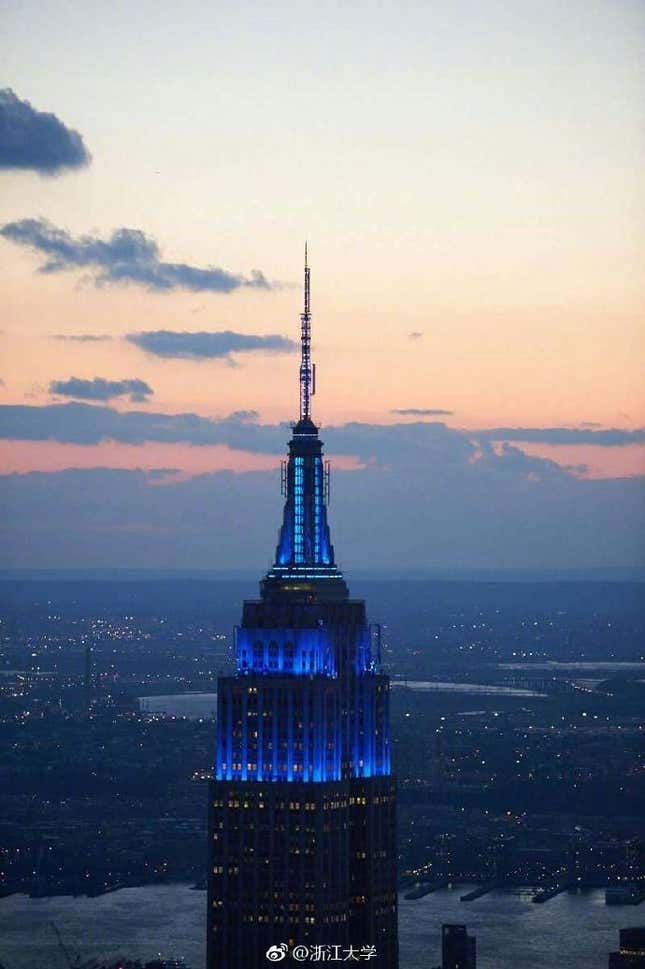 Blue is the color on the logo of Zhejiang University, a renowned academic institution located in southern China. Its engineering school is ranked fifth globally, beating US schools like Stanford and the Georgia Institute of Technology, according to the latest rankings compiled by US News & World Report, which bases its calculations on research output. In China, it's considered the top engineering school after Tsinghua University.
Founded in 1897, the school has cultivated many talents including the 1957 physics Nobel-Prize winner Li Zhengdao (link in Chinese) and Xie Xuren, China's finance minister from 2007 to 2013, now head of the National Council for Social Security Fund.
School alumni made the lighting request in March and got confirmation on May 2, according to Wu Meiliang (link in Chinese), a member of the Zhejiang University North American Alumni Association of New York Branch, which submitted the application. Wu said the building didn't charge for the lighting display.
Alumni of the university across the world also lit up the Queen's Tower at the Imperial College in London on May 21 and the telecommunication Telstra Tower (links in Chinese) in Australia's Canberra city on May 20, according to the university's official Weibo account.
At other times, the Empire State Building has lit up for local universities like Columbia University and New York University for commencement.
The building's LED lighting system is capable of displaying 16 million colors instantaneously. The building declines to light up for religious figures, religious organizations, political campaigns or personal events.