WeWork, the office-space rental startup, has quietly started a new business related not to work, but to workouts.
Since last year, the company has offered fitness classes including spinning, yoga, meditation, dance, and kickboxing at several of its New York City locations, according to a public website for "WeWork Wellness." Classes take place alongside WeWork's small office services, in common areas, on rooftop decks, and in other spaces that the brand has turned into "pop up" fitness studios.
WeWork members and non-members can sign up for classes in these studios using the website, online ticketer Eventbrite, the group-fitness subscription service ClassPass, or an iPhone app. The WeWork Wellness app includes an option to buy massages, and the website includes a section for "club sports."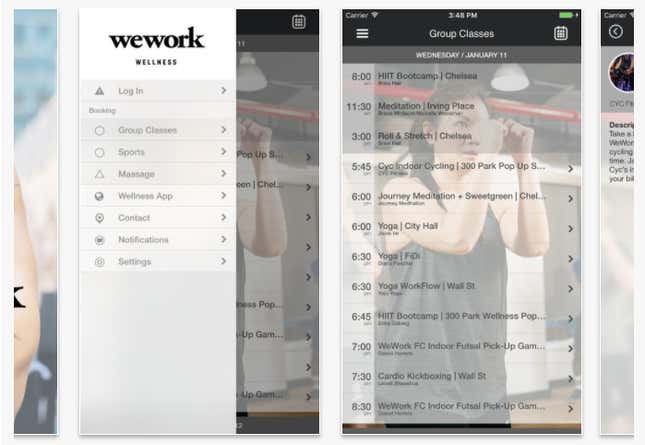 The company also appears to be opening a permanent gym at its 85 Broad St. location, according to the description for a job at WeWork Wellness. "In other gyms, everyone is working on themselves, and that manifests in an environment that can be intimidating and isolation," it reads. "At 85 Broad, we believe that charting your own path to fulfillment and motivating for holistic health go hand-in-hand with 'affiliation' (social bonds)."
WeWork built its core business using similarly inspirational vocabulary. (When working at a WeWork, you are not so much renting a small office, the brand proclaims, as you are finding a way to "do what you love"). It now runs more than 140 offices in 13 countries and has around 100,000 members.
Though WeWork's revenue has come almost entirely from this small-office business rental service, the company has justified its nearly $17 billion valuation with the argument that its brand and membership base can be leveraged to power other types of businesses. Those ventures are still new: WeWork opened two apartment buildings under the brand "WeLive" in 2016, and it launched both a facilities-management business and an online app store for business services, such as payroll and customer support software, earlier this year. Group-fitness classes are another growing market into which it could expand.
Americans spent $24.2 billion at health clubs in 2014, according to the industry trade group International Health, Racquet & Sports Association. The number of Americans who said they went to boutique studios that offer a la carte classes, such as SoulCycle and Barry's Bootcamp, increased 70% between 2012 and 2015.
Gym businesses require real estate, and real-estate companies often install gyms to make buildings more appealing. For those reasons, WeWork wouldn't be the first real-estate company to go into the fitness business (nor the first "coworking" business to do so). The Related Companies, a large real-estate firm, owns Equinox, parent company of Pure Yoga and Blink Fitness. The Equinox gym chain recently added open communal spaces with wi-fi, making it a "gym with a work space" as much as WeWork's fitness offering makes it a "work space with a gym." WeWork, which signs long-term leases for its locations but rents offices on a month-by-month basis, could also use its fitness business as a flexible way to fill space in new locations, or at locations that aren't selling well.
Most listed classes on the WeWork Wellness app are free, at least for now, but some, such as spinning classes, cost between $15 and $20.
WeWork declined to comment on the pricing structure for WeWork Wellness or plans to expand its fitness and wellness business.