"The cod is our friend, and suddenly one is worth 200 kroner!"
Norway loves cod. And rightly so, since the Nordic nation is the world's second-largest exporter of seafood. Today, Norway's central bank has taken the nation's devotion to the fish—dubbed "white gold"—to fanatical new heights.
Enlisting the help of a local comedy group, the Norges Bank recorded a cheesy music video, "Torsken kommer II – Torske kroner nå" ("The cod is coming II – cod kroner now"). It's a remake of the 1980 hit song "Torsken kommer" by the same parody group. The bank made the unlikely video to promote new banknotes being released at the end of the month, with the cod a dominant motif on the redesigned 200-krone note.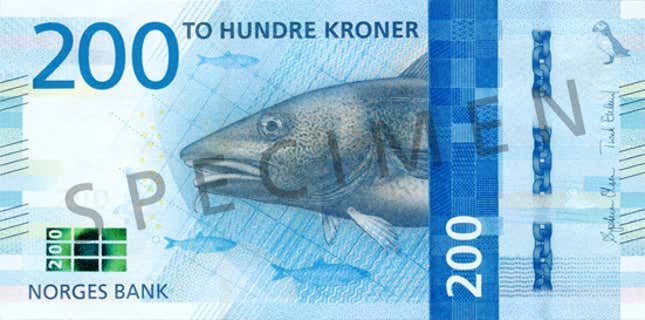 The video, which traces the journey of fish from the sea to the printing presses to people's wallets, features a cameo by central bank governor Øystein Olsen and a rap breakdown by "DJ Codfather."
We asked the central bank for an English translation of the lyrics. A spokesperson responded:
I am afraid this text will be lost in translation. There are a number of rhymes and references to Norwegian popular culture that are impossible to convey to an international audience.
So best simply to sit back and let the salty beats wash over you. And if you want to hear more about how the cod are coming, here is the original that inspired it: