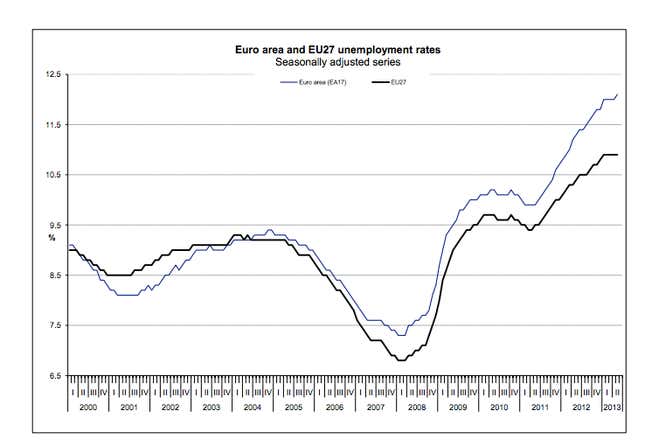 Another unhappy milestone in Europe's job market. After revisions to previous months' data, unemployment hit a record high of 12.1% in May, according to Eurostat. That was up from 12% in April. It ain't pretty.
Particularly troubling is the situation in Spain. The euro zone's fourth largest economy had unemployment of 26.9% in May. That's even higher than the nearly unimaginable 26.8% unemployment registered by Greece in March (the last data available for the Hellenic Republic.)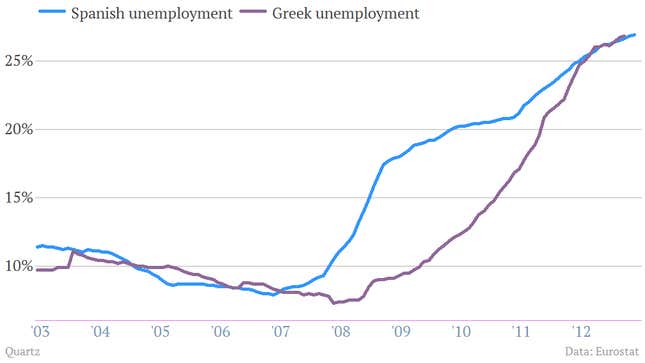 So the question is: Will the European Central Bank—pretty much the only entity capable of doing anything about this ridiculous jobs situation—do anything about it when it issues its next rates decision on Thursday? Don't hold your breath. Even if the central bank wanted to act, its traditional mechanism for easing economic conditions—lowering interest rates—is nearly exhausted. (Its benchmark rate is already down to 0.50%. That means there's probably only one more rate cut before the ECB bumps into that problematic "zero bound.")
Of course, as Ben Bernanke's Federal Reserve has proven in the US, there is a way to help the economy when you're stuck at zero interest rates. You can create new money and push it into the economy through the financial markets—quantitative easing or QE.
A German newspaper recently reported that the ECB was kicking around some ideas about QE. The ECB denied that, but one can't help but wonder whether the report was a trial balloon. For the sake of Spain and Greece, let's hope it was.