Apple's annual developer conference felt especially like a show for consumers this year, with announcements of seven laptop updates, a new iMac Pro desktop computer, a new iPad, and a new home smart speaker called the HomePod. But Apple also had something for developers: new versions of operating systems for the iPhone, iPad, Watch, and Apple computers, which will be available to consumers this Fall.
Augmented reality, a theme of recent Google I/O and Facebook F8 developer conferences, also made an appearance on the San Jose stage. Apple spent significant time talking and demoing its ARKit, a set of tools for developers to use the iPhone and iPad camera lenses to overlay digital objects on the world, like in the popular mobile game Pokémon Go.
However, the coming changes announced today that might be most important to users are things Apple didn't talk talk about. Based on a presentation slide shown onstage but not discussed by company reps, the new iOS 11 will bring a slew of little changes meant to make life easier, like a one-handed keyboard for little thumbs reaching across gargantuan screens, and easier wi-fi sharing. 
Here's a rundown of all the news.
HomePod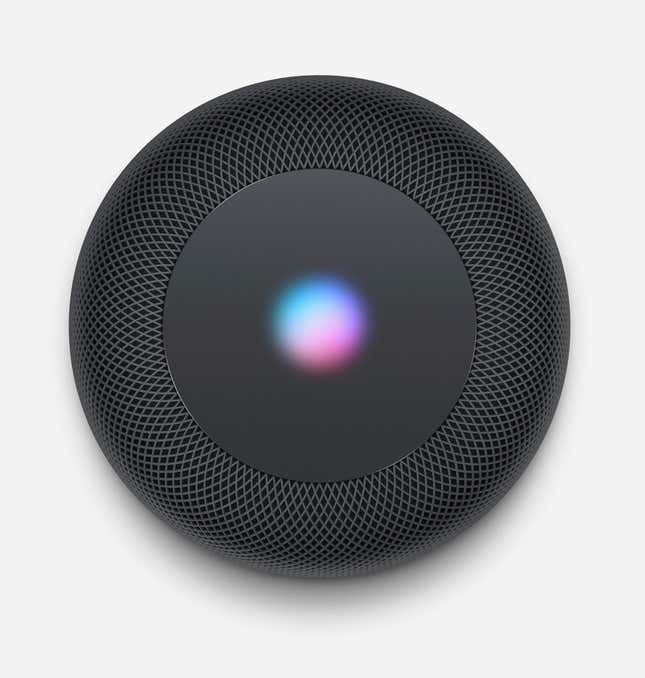 Apple unveiled its answer to the Amazon Echo and the Google Home: a squat, 7-inch speaker called the HomePod. The fabric-covered smart speaker can do pretty much everything an Echo or Home can do, from controlling internet-of-things devices, to playing music, providing updates on your calendar, and answering general questions. You control it by talking to Siri, Apple's digital assistant (who isn't known for consistently providing the most reliable of responses). The HomePod features seven tweeters and a 4-inch woofer that Apple suggests will provide sound that will "rock the house." The device comes in black or white, and will be available in December for $349—or about $200 more than Amazon and Google's costliest speaker models, for roughly the same functionality.
New iPads
For a while now, Apple has been trying to convince us that, for the average person, the iPad is a worthy replacement for a laptop. After today's announcements, that may finally be true. Apple debuted a new version of its massive 12.9-inch iPad Pro, and a new 10.5-inch model with smaller bezels. Both feature brighter screens and faster processors. But what really sets them apart is the new software they'll come with: iOS 11, the next iteration of Apple's mobile operating system, expected to launch in the autumn.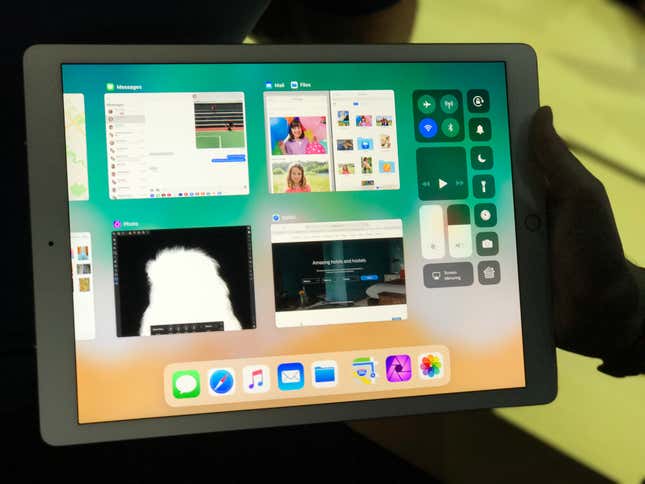 A new app called Files gives iPad users access to all the files on their device in one place, so you can actually find photos to attach to a tweet, or a spreadsheet to add to an email. You can even drag and drop files right from one window to another, just like you would on a computer. You can float apps as windows from the iPad's dock, or have them in split-screen, giving the iPad the feel of something you might actually be able to put into a bag and feel confident taking with you instead of a laptop—assuming you purchase an Apple Pencil and keyboard case to go with it, of course. The new iPads start at $649 (for the 10.5-inch) and $799 (for the 12.9-inch), and are available today. Apple expects them to start shipping next week.    
iMac Pro
There's a new Mac in town. Apple previewed the iMac Pro, a new version of its iMac desktop that only comes in its "space grey" color.
Other than its more aggressive coloring, it also features some powerful innards: It can hold up to a 4 TB solid-state hard drive, 128 GB of memory, as well as run two 5K monitors and two RAID data storage arrays at once. The iMac has its own 27-inch 5K screen and a new cooling system that Apple says can run 80% cooler than its other iMacs, allowing it to run far more efficiently. The super-powered iMac Pro starts at $4,999, and will be available in December.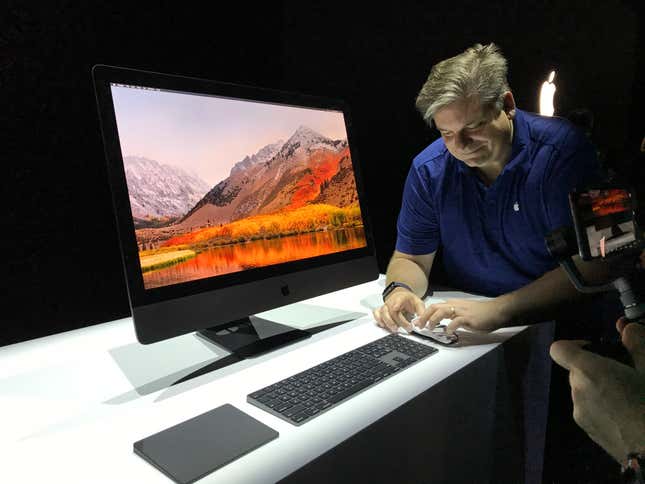 New Macs and MacBooks
On top of the new iMac Pro, Apple refreshed just about its entire line of Macs today. The MacBook and MacBook Pro laptops received new processors, featuring Intel's new "Kaby Lake" processors, with speeds up to 3.5 GHz. Its non-Pro iMacs also got some upgrades: New iMacs will also feature Intel's new processors, as well as faster hard drives, new graphics cards, brighter screens, and a new Thunderbolt 3 port. Both the iMacs, the new MacBook, and MacBook Pros will all start at $1,299, and are available today. 
Apple also revived its long-sidelined MacBook Air, upgrading it to a slightly more powerful 1.8 GHz processor. But the Air still doesn't have a HD Retina display—like every other Mac computer.
VR on Macs
One of the more surprising announcements at the convention was that Apple is now working to support virtual reality systems on its computers. Onstage, a team from Industrial Light & Magic (ILM), the special-effects arm of Lucasfilm (the company behind Star Wars), showed a demonstration of Darth Vader roving around a lava planet breathing dramatically while surveying some destroyed starships, running on an iMac through an HTC Vive VR headset connect. A video showed an ILM employee walking through the Star Wars planet as Darth Vader walked by her. After the keynote, journalists could try out the Vader demo, as well as a few games from the HTC Vive library. The experience felt no different than it did playing on a Windows computer. Apple even had VR headsets connected up to MacBook Pro laptops, which however did require an external graphics card to power the VR experience.
While these demonstrations were just proofs of concept of what Apple systems could do with VR, they do suggest Apple is taking the medium more seriously and that more could be in store—especially when one considers that the primary audience of today's keynote was the myriad developers who build games and apps for the company's existing platforms.
iOS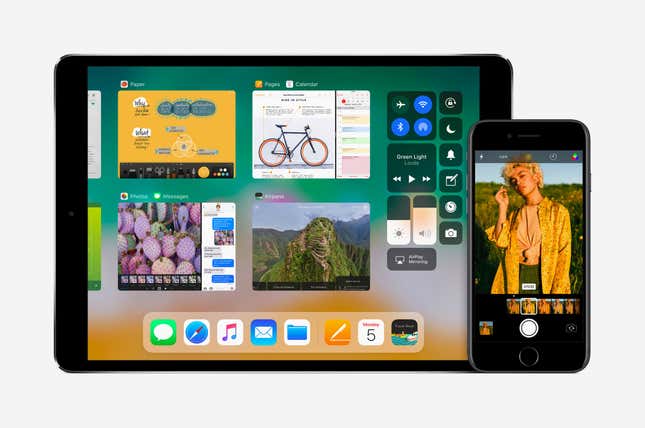 Perhaps the most impactful announcements Apple made today concerned iOS, its mobile operating system for iPhones and iPads. Rather than redesigning the entire experience, Apple decided to change specific pieces of the software and add new features into existing platforms like iMessage and Siri.
iPhone owners will now be able to use Apple Pay to transfer money between each other, much like the popular Venmo app. Of course, because Apple Pay requires a phone made by Apple, you won't be able to easily send money to your friends who have a Google Pixel, which might still give Venmo an edge.
Swiping up from the bottom of the iPhone screen will reveal a new Control Center, the bevy of buttons used to manipulate things like wireless connectivity, screen brightness, and music. The new Control Center is all on one screen, rather than a series of pages that the user swipes through. There is also a dedicated button for turning cellular signal on and off, great for the times when you don't want to lose signal to Bluetooth headphones, like on an airplane. Best of all, it's finally customizable, so you can create your shortcuts in your own image.
Siri, Apple's virtual personal assistant, wasn't neglected either. Apple says Siri will be in even more places on the phone, reading iMessages and browsing history to help predict when you want to see information, create events, or even type certain words. Siri can also now translate English to Chinese, French, German, and a few other languages. You'll also be able to type messages to Siri—instead of just talking to it—making it so much more than just a voice assistant. 
On the iPad, iOS 11 will bring an entirely new app switcher and bottom dock (like the one on traditional Mac laptops), as well as a new file explorer app. Called Files (nice), the app attempts to turn the iPad into a viable work machine; trying to put files in a folder or work with a few files at once on an iPad was previously a Sisyphean task.
It's not really a iOS feature per se, but Apple is also redesigning its entire App Store for the first time since its creation. A new "Today" tab will emphasize recently released apps, and there's a dedicated section for games.
Then, as mentioned earlier, the final iOS 11 presentation slide revealed a slew of other features not discussed by Apple execs onstage—but that will significantly change the iPhone and iPad experience for most users. To name a few: There's now one-handed typing, where holding down the emoji key on the virtual keyboard brings all the keys closer to your preferred thumb, making it easier to tap out messages while holding a coffee or crying baby. There's also a new way to set up your iOS device: Just hold it near one of your old ones, and a new setup process will automatically import data from that device's iCloud.
macOS High Sierra
MacOS has a new name: High Sierra. Apple made a significant tweak under the hood, changing the way files are constructed and stored into a different proprietary format. This will likely speed up some operations like copying files, but doesn't really mean much for the average user. It will probably still be a nightmare to transfer large files between Mac and Windows environments.
Other than the new file system, nothing groundbreaking is happening on MacOS.
watchOS 4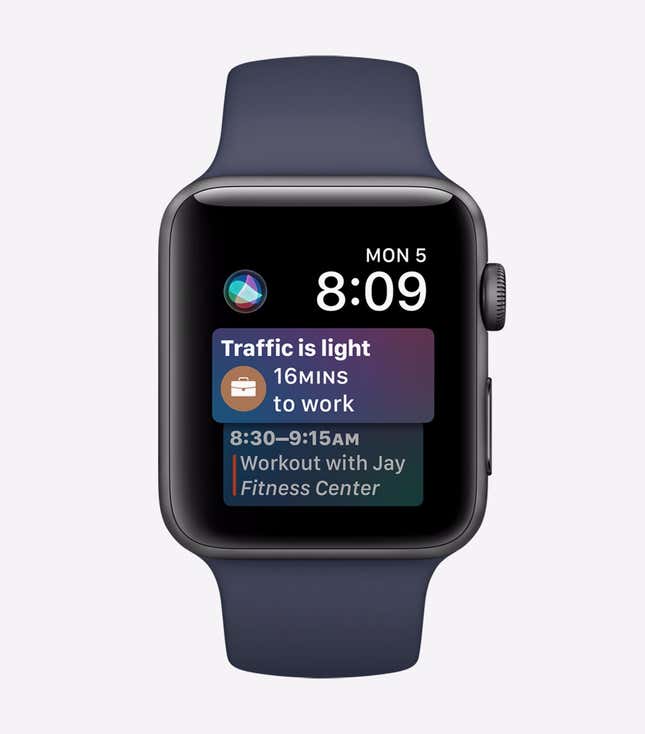 Is the fourth time the charm for the Apple Watch? Since the device launched in April 2015, Apple's premiere wearable has had three complete iterations on its operating system. They just can't seem to get it right. But that's okay, because nobody really has—smartwatch software is generally terrible.
Apple is trying a slightly different approach this time, with a Siri-backed watch face. Based on a variety of factors, like the time of day, amount exercised, and location, Siri will suggest information that you might want to see. Given Apple's past problems with slow load times on the Watch, we'll have to see whether this feature is quick enough to be actually useful. Other faces added include a kaleidoscope and Toy Story characters for some reason.
The Workouts app is being overhauled for easier use, and Apple has partnered with gym equipment manufacturers so Watches can sync with them for better health data. But unless your gym changes its equipment every year on an Apple hardware cycle, you probably shouldn't get too hyped about using this feature in coming months.
Apple TV
Amazon Prime Video is coming to Apple TV, and that's about all Apple had to say about its streaming device.
AR Kit
Augmented reality is Silicon Valley's buzzword du jour, dragged into the public eye by the insane popularity of Pokemon Go last year.
If you're not familiar, here's the basic idea: you use your phone (or tablet) camera as an oracle to glimpse into a world where digital objects are laid over reality. A digital dog pees on your rug, but there is no stain afterwards. A cup of tea sits on your table but you cannot drink it. The idea is interesting, but in practice it feels silly to move around a tiny glass window in order to peek into a massive digital world that doesn't do all that much. 
Following the trend— at Google's I/O keynote the company also gave developers a group of augmented reality tools—Apple released AR Kit, tools for developers to build AR experiences for iOS devices. Where will iOS developers decide to put place digital teacups? That's for us to find out, and personally we cannot wait.