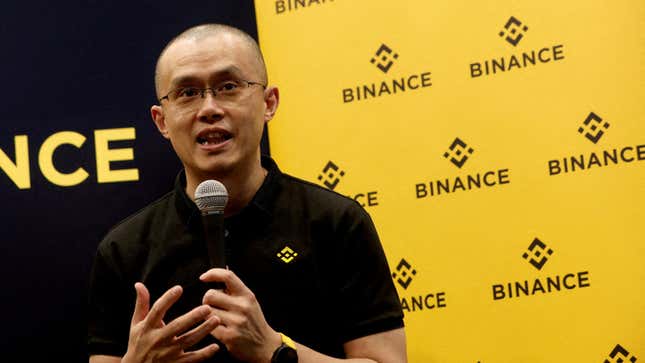 Binance's pile of legal woes keeps on growing.
The world's largest cryptocurrency exchange, its executives, and a handful of influencers who promoted the platform are all being sued for a whopping $1 billion, according to a Mar. 31 lawsuit filed by lawyers from Boies Schiller Flexner and The Moskowitz Law Firm. Three plaintiffs—two Floridians and one Californian—claim they lost money while trading digital assets promoted by Binance and the influencers.
Binance, its founder and CEO Changpeng Zhao (aka "CZ"), and three influencers—NBA Miami Heat star Jimmy Butler, and YouTubers Graham Stephan and Ben Armstrong (BitBoy Crypto)—are being sued for trading in and unlawfully promoting unregistered securities.
Binance and CZ have not yet commented publicly on this lawsuit. Today (Apr. 3), CZ tweeted a cryptic photo-quote of Mahatma Gandhi, saying, "First, they ignore you, then they laugh at you, then they fight you and then you win." (Actually, Gandhi didn't say this. It's a misquote even Bernie Sanders has fallen prey to.)
The legal hit comes less than a week after the US Commodities Trading and Futures Commission (CTFC) sued Binance over regulatory violations—a move classified as "unexpected and disappointing" by CZ. The regulator alleged that "Binance has instructed its employees and customers to circumvent compliance controls in order to maximize corporate profits." While the CFTC can't bring criminal charges, it can seek heavy fines and potentially ban Binance from registering in the US in the future.
Separately, the US Department of Justice has also been investigating Binance in relation to anti-moneylaundering laws and potential tax offenses, and it's mulling potential charges.
Binance, by the digits
$65 billion: Daily trade volume
100 billion: Spot transactions facilitated in 2022.
50: Variety of cryptocurrencies people can trade on Binance
120 million: Binance registered user base
5000+: Following influencers need on any social media platform—YouTube, Instagram, Facebook—to sign up for Binance's affiliate program
Up to 50%: Paid kick-backs of share fees to affiliates who solicited new users through their personal referral
8,000: Full-time employees across Europe, the Americas, the Middle East, Africa and the Asia-Pacific, at the physical headquarter-less Binance. The company, which started out of China, had a customer service call center based in China to service global Mandarin speakers, but starting in 2021, employees who wished to remain with the company were offered relocation assistance. "Wherever I sit" is where the office is, according to CZ.
Company of interest: Voyager
One of the law firms behind the Binance lawsuit is the same one that's responsible for bringing the first class action suit in the country against cryptocurrency platform Voyager Digital. Last May, The Moscowitz Law Firm, based in Coral Gables, Florida, went after Voyager for, among other things, selling unregistered securities in the form of crypto tokens and interest-bearing cryptocurrency accounts.
Voyager declared bankruptcy in July 2022. At the brink of bankruptcy, FTX was supposed to come to Voyager's rescue. Instead, Sam Bankman-Fried's venture sunk into bankruptcy itself. Binance then stepped in as the next rescuer, but its proposed $1.3 billion purchase of Voyager was stayed by a federal appeals court on Mar. 28 after US authorities filed an appeal against bankruptcy's court approval of the sale.
Quotable: The crypto dominoes
"It's ironic that FTX was going to be the savior of Voyager until their fraud was uncovered, and now Binance is supposed to be the next savior. If we win on the unregistered securities issue, there will be no question that Binance and the influencers are liable." —Adam Moskowitz of Moscowitz Law Firm.
One big number
$1.6 billion: Withdrawals the day after Binance was sued by the US CFTC as Binance witnesses a mass exodus of investors.
Rabbit hole: Binance's alleged Hamas connection
In its complaint, the CFTC accuses Binance of counting militant groups like Palestine's Hamas in its roster of clients—and doing so with complete awareness. The complaint alleges Binance's money laundering reporting officer said "we see the bad, but we close 2 eyes." The company periodically removed some accounts used for illicit funds that became too tainted, but let them back in by letting people create new profiles.
Related stories
🧐 US regulators sued Binance for encouraging customers to buy unregistered crypto commodities