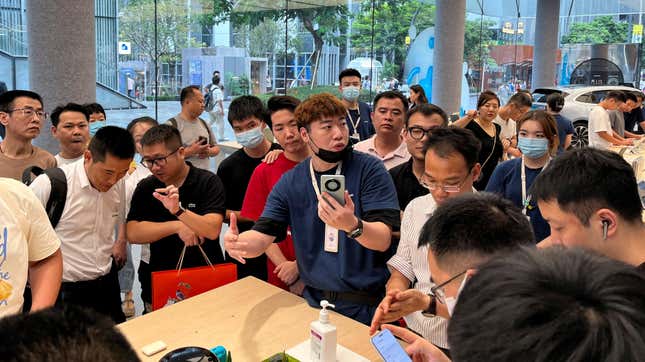 Huawei's latest smartphone, the Mate 60 Pro, offers proof that China's homegrown semiconductor industry is advancing despite the US ban on chips and chipmaking technology.
Why a tightening of credit conditions could lead to a weak economy
The new Kirin 9000s chip in Huawei's latest phone uses an advanced 7-nanometer processor fabricated in China by the country's top chipmaker, Semiconductor Manufacturing International Corp. (SMIC), according to a teardown of the phone that TechInsights conducted for Bloomberg.
Huawei released the phone online last week but didn't reveal key specifications such as the processor design or the wireless connection speeds. China's chip stocks started rallying on the speculation that the Shenzhen-based Huawei had engineered a triumphant return for its 5G smartphones using domestic chips. News reports had already teased this possibility in mid-July.
"There is hope that Chinese companies will be able to tide over the US government's sanctions and restrictions on chip supply," the government-backed China Daily wrote on Sep. 1
A brief recent timeline of US chip sanctions against China 
August 2022: The US Congress passes the CHIPS and Science Act, a law that approves subsidies and tax breaks to help jumpstart the production of advanced semiconductors on American soil.
September 2022: The Biden administration bans federally funded US tech firms from building advanced facilities in China for a decade.
October 2022: The US commerce department bars companies from supplying advanced chips and chipmaking equipment to China, calling it an effort to curb China's ability to produce cutting-edge chips for weapons and other defense technology, rather than a bid to cripple the country's consumer electronics industry.

November 2022: The US bans the approval of communications equipment from Chinese companies like Huawei Technologies and ZTE, claiming that they pose "an unacceptable risk" to the country's national security.
May 2023: Beijing bans its "operators of critical information infrastructure" from doing business with Micron Tech, an Idaho-based chipmaker.
Quotable: Gatekeeping chips is counterproductive
"In the AI garden, the seeds are the AI software frameworks—which China already has access to. The plants in the garden are the AI models in use, which again are already available to Chinese AI companies. Nvidia provides the best shovels and pruning shears to tend the garden, but not the only means to tend it. So it doesn't make sense to try to build a high wall around it...[T]o over-regulate these chips creates the risk that the US could fumble away its technology leadership. Would you rather have Chinese AI customers continue to fuel Nvidia's growth and success? Or would you rather they spend their yuan to fuel the growth and success of Chinese suppliers?"

—Patrick Moorhead, a tech analyst, writing in Forbes in July 2023 
One big number: China's hoard of Nvidia chips
$5 billion: The value of orders that China's tech giants have placed with Nvidia for its A800 and A100 chips, to be delivered this year, according to an August report by the Financial Times. The biggest internet giants—Baidu, ByteDance, Tencent, and Alibaba—have placed orders totalling $1 billion to buy around 100,000 A800 processors. Given that the US is mulling new export controls, Chinese companies are rushing to hoard the best chips on the market to train their AI models and run their data centers.
Charted: SMIC stock jumps briefly on the Huawei teardown report
What's next for Chinese chipmakers?
The TechInsights teardown offers confirmation that China has managed to sidestep some restrictions and elevate its domestic chip ecosystem. But this is not to say that US chips sanctions aren't hampering China at all.

For one thing, the production scales and timeline for the processor used in Huawei's new device is as yet unclear. That the phone sold out in mere days perhaps suggests a limited inventory of SMIC's breakthrough chip. Huawei may also have used stockpiled chips made by TSMC, the Taiwanese chip giant. These chips could have been purchased before September 2020, when Washington doubled down on sanctions to block Huawei's access to advanced chips.

Moreover, further semiconductor advancements could still hit a wall. The 7-nanometer processor remains a few generations behind the 4-nanometer chip that TSMC manufactures for the latest iPhones, for instance. And breaking past that 7-nanometer barrier will prove difficult without the chipmaking equipment of ASML, the Dutch giant that has been prohibited from exporting its cutting-edge technology to China.

For now, China's domestic chipmakers have managed to squeeze the resources at their disposal to make better semiconductors using older tools. But without new tools, their processes will remain onerous and outdated, raising costs and lowering output. A company like SMIC will remain several years behind rivals elsewhere and struggle to make more breakthroughs—especially if more restrictions choke China further.
Related stories
⏰ The US is delaying China's dreams of a domestic chip supply chain
🤷 China's Baidu is shrugging off US chip export restrictions
🦾 If semiconductors are "the new oil," what does that mean for the petrodollar?