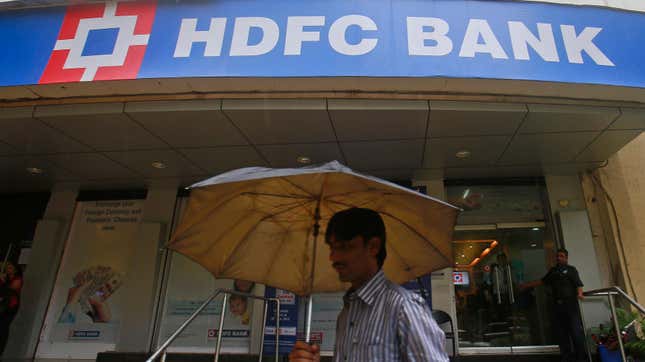 For Indians, HDFC Bank is already a household name. Now, the rest of the world is going to take note, too. The three-decade old banking giant will for the first time rank among the world's most valuable banks after completing a merger with Housing Development Finance Corp (HDFC), the Mumbai-based private sector mortgage lender that's been around since 1977.

Should you keep investing in Big Tech?
The merger between India's largest private sector bank and India's largest housing finance company, effective July 1, gives rise to a lender that ranks fourth in equity market capitalization, behind JPMorgan, Industrial and Commercial Bank of China, and Bank of America, according to data compiled by Bloomberg. It'll surpass banking behemoths like HSBC and Citigroup.
When announcing the merger last April, the companies said its aim was "to create a large balance sheet and net-worth that would allow greater flow of credit into the economy. It will also enable underwriting of larger ticket loans, including infrastructure loans—an urgent need of the country."
The new HDFC, by the digits
$172 billion: HDFC Bank's valuation after the merger with the mortgage lender. This time last year, HDFC Bank was valued at $108 billion
120 million: Customers the new HDFC Bank entity will have
8,300: Number of branches in HDFC Bank's network after the merger. And the group has plans to double the number in the next four years
177,000: Employees the combined entity will have
10.2 million: Homes HDFC financed in 2023, up manifold from just 299 in 1978
42: HDFC Bank shares HDFC sharholders will get for every 25 shares held. Shares of HDFC will get delisted on July 13
41%: How much of HDFC Bank current HDFC shareholders will hold
70%: Share of the mortgage lender business customers that do not have accounts with the bank, which HDFC bank could tap, as per the bank's retail head Arvind Kapil
2%: HDFC Bank customers that had a mortgage product from HDFC when the merger was announced last year, a prime resource to tap for inhouse home loan products
Charted: HDFC Bank is already India's biggest bank
A brief timeline of the HDFC Bank-HDFC merger

April 4, 2022: HDFC Bank and HDFC announce their merger.

July 4, 2022: The Reserve Bank of India (RBI) grants in-principle approval for the merger.
July 28, 2022: Capital markets regulator Securities and Exchange Board of India (SEBI) grants in-principle approval.
Nov. 25, 2022: HDFC and HDFC Bank hold shareholder meetings to seek approval for the merger.
Dec. 13, 2022: Bombay Stock Exhcnage (BSE) and National Stock Exchange (NSE) grant in-principle approval "for the transfer of non-convertible debentures issued by HDFC Limited to HDFC Bank."
Mar. 17, 2023: The National Company Law Tribunal (NCLT) on Friday approves the merger of HDFC with HDFC Bank.
Person of interest: Deepakh Parekh
HDFC chairman Deepak Parekh formally announced his retirement ahead of the merger today (June 30). "It is my time to hang my boots with both anticipation and hope for the future," Parekh, who has been with the corporation for 46 years, wrote in his last letter to shareholders.
Related stories
🕴 Who will run HDFC Bank, soon India's second largest company?
🙌 Long before it became a bank, HDFC was one of India's earliest startups
🧗 HDFC Bank replaces a bruised ICICI Bank to become India's largest private bank