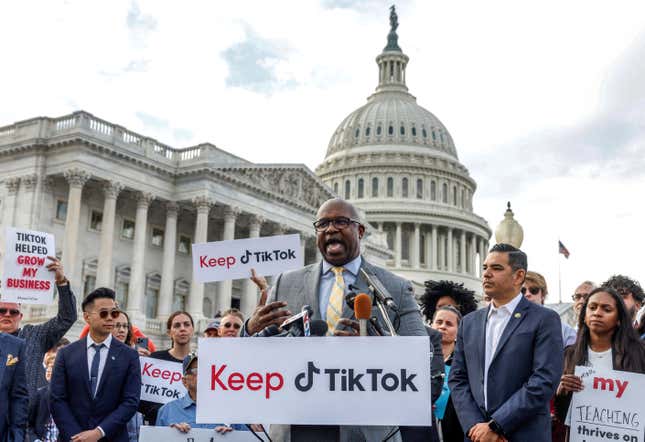 Rand Paul, the Republican senator from Kentucky, blocked an attempt by a bipartisan group of congressional lawmakers to fast-track a US ban on TikTok, the mega-popular social media app used by more than 150 million Americans.
Paul cited concerns about the free speech implications of a ban, saying the Chinese app was being unfairly targeted for common practices in Big Tech.
"I think we should beware of those who use fear to coax Americans to relinquish our liberties," Paul said on the Senate floor on March 29. "Every accusation of data gathering that has been attributed to TikTok could also be attributed to domestic big tech companies."
Lawmakers from both parties are looking to ban TikTok
Paul blocked a petition, put forward by Republican senator Josh Hawley, for unanimous consent to push a TikTok ban forward.
Hawley, along with a bipartisan group of senators, want to pass legislation that would allow US president Joe Biden to ban TikTok, amid concerns the app—owned by the Chinese company ByteDance—makes sensitive user data available to the Chinese government.
Chinese laws do allow the government to secretly demand any data or information from Chinese companies for purposes of intelligence gathering. The US Justice Department is also actively investigating ByteDance for allegedly spying on American journalists through the TikTok app. Meanwhile, though American tech companies like Meta and Google have access to unprecedented amounts of Americans' personal data, the US government does not have the power to see any of it without a warrant.
Shou Zi Chew, the CEO of TikTok, testified before Congress last week, facing tough questions about national security concerns, as well as the app's effects on mental health for adolescent users.
House speaker Kevin McCarthy confirmed that the chamber will vote on a bill to ban TikTok, but said the timing was unclear.
Reportedly, the Biden administration wants TikTok's Chinese owner to sell the app or face a possible ban. Chinese authorities have said the government would "firmly oppose" any sale of the app.
How popular is TikTok?

Why is TikTok so popular?

TikTok is well on its way to becoming the world's most important app. While it is unlikely to catch up to Facebook and Instagram's vast user base any time soon, the immersive nature of TikTok's algorithm has collected enormous amounts of data on its 1.5 billion users, giving remarkable power to advertisers on the platform.
The app's main draw is the For You page, a constant stream of video that is deliberately built to trigger compulsive use, with a mix of vloging, viral video challenges, and loads of advertisements. TikTok's algorithm is known to intentionally show controversial videos intended to make users angry or sad, with the purpose of eliciting an emotional response. A recent study showed that it can take less than three minutes after creating a TikTok account for a 13-year-old—the minimum user age to sign up for the app—to see content related to suicide, and about five more minutes to find a community promoting eating disorder content.
According to leaked internal documents from 2021, TikTok optimizes content for minutes and hours of view times, as opposed to traditional metrics like clicks and likes, with its algorithm considered to be faster than any other platform at detecting even the most subconscious areas of interest.
TikTok's For You page represents the most successful iteration of Big Tech's switch from chronological to algorithmic feeds, meant to learn as much information as possible about consumers, before getting them hooked on content they haven't searched for. And, with 16% of American teenagers reporting they use TikTok "almost constantly," it seems like TikTok has done its job.

Teen social media use, by the numbers
2/3: Portion of US teens who use TikTok, making it the second most popular social media for young people, after YouTube.
16%: Percentage of teens who say that they use TikTok "almost constantly."
95%: Percentage of American teens, ages 13-17, who report they have constant access to a smartphone.
1/3: Portion of teen girls who felt worse about their bodies after using Instagram, according to leaked internal documents at Meta.
72%: Percentage of teenagers who report being cyberbullied.
Related stories:
📵 US lawmakers' minds were already made up about TikTok
🇨🇳 Shou Zi Chew wants to dismantle the idea that TikTok is a Chinese app
🖥️ Meta's "year of efficiency" means job cuts, less metaverse, and more generative AI
Editors note: This story incorrectly identified TikTok as the most popular app for young people in the US. It is the second most popular, after YouTube.