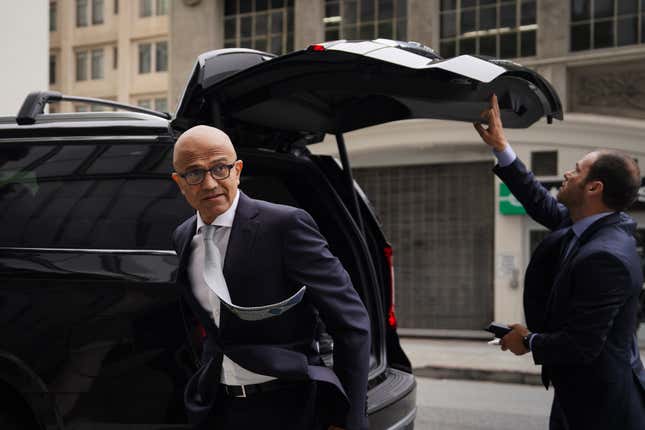 Microsoft Corp. announced it is restructuring its $69 billion acquisition of US digital media company Activision Blizzard, granting cloud streaming rights for all of the latter's video games to rival Ubisoft in a gambit meant to appease British antitrust regulators reviewing the merger.
Earnings expectations for Microsoft and other tech giants
The deal would give Ubisoft, a French video game maker, exclusive streaming rights to all new Activision video games for the next 15 years. Contingent on the merger's success, it would include a one-time royalty payment by Ubisoft. Also, the deal wouldn't apply to the European market.

The UK's Competition and Markets Authority (CMA) will now start a new investigation into Microsoft's proposed deal, after blocking it in April, that takes the restructuring into account. The CMA had signaled it was open to relaunching negotiations with Microsoft after a federal judge approved the Activision purchase in the US last month, over objections by the Federal Trade Commission (FTC).
Microsoft president Brad Smith hailed the agreement as advancing the company's goal to bring "more creative and innovative games" to players on all devices. Smith also confirmed the deal would still meet the parameters of the agreement with European Union regulators that helped Microsoft earn approval in mainland Europe last spring.
What does Ubisoft get out of this deal?
One of Activision's biggest rivals, Ubisoft celebrated the restructured deal as a win in a tweet bragging that the "Ubisoft+ lineup is expanding!"
Under the new terms, the game company—responsible for the Assassin's Creed franchise—will be able to offer Activision games to subscribers of Ubisoft+ Multi-Access.
That service currently offers some 60 games for $17.99 a month. Adding more titles, especially bestselling franchises like Call of Duty and World of Warcraft, will surely drive new subscribers.
Conversely, Microsoft's decision to license the exclusive streaming rights for some of the most valuable intellectual property it's acquiring shows just how desperate it is to make the Activision deal work.
Quotable: Microsoft spins the concession as a win
"We believe that this development is positive for players, the progression of the cloud game streaming market, and for the growth of our industry." —Microsoft president Brad Smith, claiming the decision as a victory for the tech giant even though it's effectively a concession to UK regulators 
Microsoft has bounced back after a rough end to 2022


Related stories
⏰ Microsoft and Activision gave themselves more time to close their $69 billion deal
👐 Satya Nadella based his case for the Activision deal on Microsoft's enthusiasm for platform polygamy

👑 Microsoft offered to share Activision's crown jewel to move forward the $68.7 billion takeover