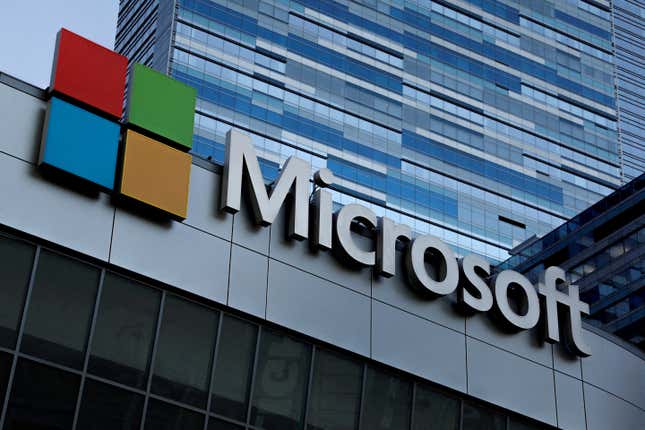 Microsoft and Activision Blizzard are extending the deadline to close their $69 billion deal by three months, giving the two technology and gaming companies until Oct. 18.
Earnings expectations for Microsoft and other tech giants
It grants the two companies much more time to clear their final hurdle: the British government. The UK's antitrust regulator vetoed the deal in April, claiming it would "alter the future of the fast-growing cloud gaming market" and hurt innovation in the gaming industry.
"While we can technically close in the United States due to recent legal developments, this extension gives us additional time to resolve the remaining regulatory concerns in the UK," Phil Spencer, the CEO of Microsoft's gaming division, wrote in an email to Microsoft employees (pdf) shared with Quartz.
Under the terms of the extension, Activision is allowed to pay shareholders a dividend of $.99 per share and will only collect a termination fee from Microsoft—worth between $3 billion and $4.5 billion depending on timing—if the deal fails to close.

Antitrust regulators have been on edge about the Microsoft-Activision deal
Microsoft's takeover of Activision, which would combine two of the largest companies in the video game industry, has faced serious regulatory scrutiny since it was announced in January 2022. The European Commission approved the deal outright in May, but the deal hasn't been received warmly by US or UK regulators.
The US Federal Trade Commission (FTC) opposed the deal on antitrust grounds but the agency lost a key battle in federal court earlier this month. A federal district judge in San Francisco refused to stop the deal from closing, saying Microsoft and Activision were not likely to harm competitors or consumers through this deal. (The FTC is still considering a fight in its internal court system.)
US opponents' hopes were further dashed on July 18 when Supreme Court Justice Elena Kagan denied a last-minute emergency request, filed by a group of gamers, to halt the takeover.
That leaves one last group for Microsoft and Activision to appease: the UK's Competition and Markets Authority (CMA).
"We're optimistic about getting this done, and excited about bringing more games to more players everywhere," Spencer wrote in a statement.
Lulu Cheng Meservey, Activision's chief spokesperson, added, "The recent decision in the US and approvals in 40 countries all validate that the deal is good for competition, players, and the future of gaming."