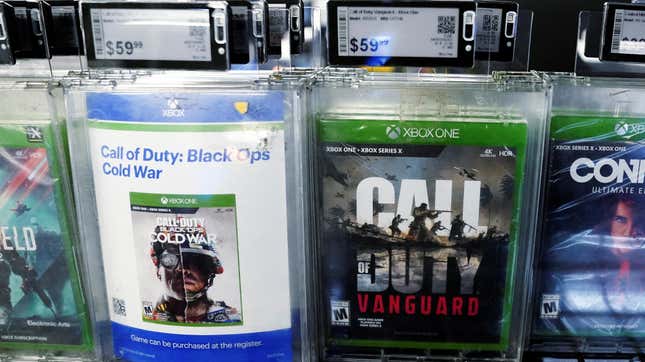 Microsoft and Sony have signed a 10-year binding agreement to keep Call of Duty on PlayStation following the Xbox maker's acquisition of Activision Blizzard. The announcement tweeted yesterday (July 16) by Xbox chief Phil Spencer indicates the Japanese company is no longer fighting the $69 billion takeover.

Earnings expectations for Microsoft and other tech giants
The first-person shooter franchise, which is considered Activision Blizzard's crown jewel, has been the biggest point of contention for gaming companies like Sony and regulatory bodies in the US, the UK, and the European Union. Microsoft, for its part, has time and again tried to downplay the deal's significance to the gaming industry to push it through.
Sony's deal with Microsoft removes yet another hurdle for the American company's acquisition of Activision Blizzard, which is due to be completed by July 18.
A timeline of Sony's pushback on Microsoft buying Call of Duty maker Activision Blizzard
September 2022: PlayStation chief Jim Ryan criticized Microsoft's offer to keep Call of Duty on PlayStation for three years after the current agreement between Activision and Sony ends, calling it "inadequate on many levels."
October 2022: In a comment to the UK's Competition and Markets Authority (CMA), Sony lays out various reasons why Call of Duty is different to other games: It has the highest number of monthly active users among the top 10 gaming franchises in 2020 and 2021; it has a relentless release cycle; and it is unique among AAA games because of its popularity, loyalty, and the enormous resources Activision commits to developing the franchise.

December 2022: Microsoft upped the offer for rivals, upping the licensing deal timeline to 10 years. Nintendo accepts, but Sony doesn't.
April 6, 2023: The UK's CMA reports reduced concern over the deal, following which Sony calls the regulatory body's decision "surprising, unprecedented, and irrational."
May 15, 2023: Microsoft's wins EU regulators' approval to buy Activision
June 22, 2023: In a 2022 email that came to light during court proceedings in the US, PlayStation boss Jim Ryan admits that "It's not an Xbox exclusivity play at all" and "I'm pretty sure we will continue to see Call of Duty on PlayStation for many years to come."
June 28, 2023: Activision Blizzard CEO Bobby Kotick testifies in court that taking Call of Duty off Sony's PlayStation would alienate some 100 million people who play the game each month. During his testimony, Microsoft chief Satya Nadella also says that making Activision games exclusive would make "no economic sense and no strategic sense."
July 12, 2023: A US judge does not halt the deal like the Federal Trade Commission asked. The US regulatory body appeals the decision, but loses that bid, too.
July 14, 2023: The UK's regulator extends the deadline to deliver its verdict by six weeks to Aug. 29, saying "there is insufficient time remaining" to take a call before the determined deal date.
Related Stories
👐 Satya Nadella based his case for the Activision deal on Microsoft's enthusiasm for platform polygamy

👑 Microsoft offered to share Activision's crown jewel to move forward the $68.7 billion takeover
🤖 Microsoft's purchase of Activision Blizzard gives it the clear lead in the metaverse