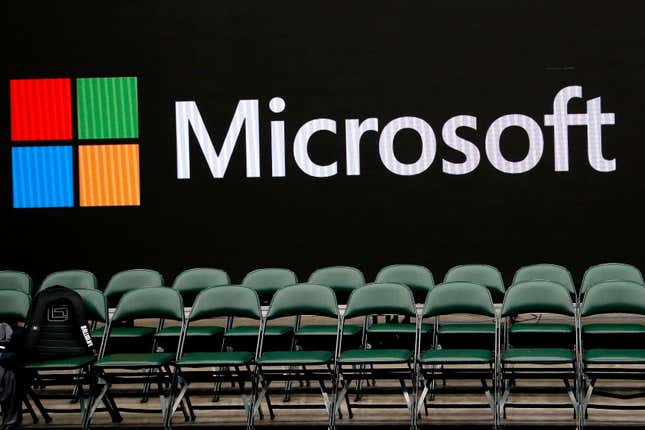 British regulators blocked Microsoft's planned acquisition of Activision, the popular video game company, on Wednesday (April 26), putting the future of the landmark deal in doubt.
The Competition and Markets Authority (CMA) said in a press release that "the deal would alter the future of the fast-growing cloud gaming market" and stunt innovation in the industry.
Microsoft president Brad Smith confirmed in a statement that the company would appeal the decision, saying the CMA's ruling reflected a "flawed understanding" of the gaming market.
Microsoft originally announced its plans to buy Activation—creator of the immensely popular Call of Duty franchise—for $68.7 billion early last year.
However, the proposed acquisition immediately attracted scrutiny from international regulators, who argued that Microsoft—which makes the Xbox console—would give the company a monopoly on popular video game franchises.
The price of Activision stock fell 10% to $78 on the news as markets opened in New York, falling well below Microsoft's offer price of $95 per share.
Quotable:
"Microsoft already enjoys a powerful position and head start over other competitors in cloud gaming and this deal would strengthen that advantage giving it the ability to undermine new and innovative competitors," Martin Coleman, the chair of the CMA panel conducting the investigation, said in a statement.
What does this ruling mean for the future of Microsoft's deal?
Despite Microsoft's plans to appeal, the ruling by the CMA will provide a boost for a litany of other antitrust investigations, including ones by the European Union (EU) and the US Federal Trade Commission (FTC).
FTC chair Lina Khan announced the agency would aggressively attempt to block the merger in December, citing Microsoft's record of acquiring rival gaming content to suppress competition from other consoles.
Microsoft had reportedly hoped to reach a resolution with the UK and EU before its looming fight with the FTC, looking to point to successful settlements as precedence for the deal.
Related stories
🗣️ The FTC may ban non-compete clauses. Here's what workers think about that
💻 The ongoing big tech antitrust cases to watch in 2023
💼 The FTC thinks banning non-compete agreements could increase American wages by $300 billion per year