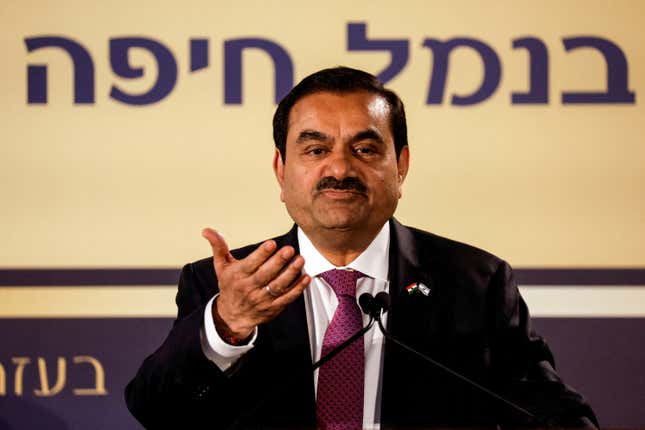 It's been nearly a month since the US-based Hindenburg Research published a report jolting one of India's largest conglomerates. A $120-billion market rout and a major stock market U-turn later, the Adani group continues to bleed from the bruise it received. The business empire has desperately tried to fix things but mostly failed.
Should you keep investing in Big Tech?
In the latest indication of its unending trouble, the Adani group has halted its investment in a coal-to-polyvinyl chloride (PVC) plant in Mundra in the western Indian state of Gujarat. The company was looking to spend $4 billion on the project.
"...we will review that commitment post-settlement of this volatility period. For the time being, we will not be making any commitments to new projects," Jugeshinder Singh, the Adani group CFO, said about the Mundra plant during a post-earnings call on Feb. 15.
This is part of a course correction the group has made since Hindenburg's Jan. 24 report accused it of stock manipulation and fraud. Its listed entities have lost 60% of their share value from Jan. 24 although the Gautam Adani-led group has denied all allegations.
Earlier, it abandoned an $850 million plan to buy a coal plant in India. State-run Indian Oil Corporation, meanwhile, has disputed its claim of having struck a deal around the use of a port in southern India for liquified petroleum gas supplies. French firm TotalEnergies, too, has paused its plan to join the group's $50 billion bet on hydrogen.
No relief in sight for Adani
At the time of publishing today, most Adani group stocks were down nearly 5% from their earlier close. Its flagship entity, Adani Enterprises, had slipped 11%.

This nosedive has left Gautam Adani's own net worth at $46.1 billion, down from $88.5 billion last February, according to the Bloomberg billionaire Index.
The embattled group has, meanwhile, hired New York-based legal firm Watchell to lead its legal battle in the US. It has also brought on board Kekst CNC as a communications advisor.
In India, market regulator Securities and Exchanges Board of India (Sebi) has sought details from credit rating firms of all ratings of the Adani group's local loans and securities, Economic Times reported today.
This adds to the "fresh chill" in the environmental, social, and governance investing markets sent by reports that Adani was using stocks of its green companies as collateral to finance the Carmichael coal mine in Australia.
"Norway's largest pension fund, KLP, recently dumped its entire holding of shares in Adani Green Energy Ltd., the renewables part of the empire, amid concerns that it might inadvertently have helped finance some of the world's most polluting activities..." Bloomberg reported on Feb. 19.
In another setback to the group's credibility, Wikipedia has alleged that over "40 later banned or blocked sockpuppets or undeclared paid editors created or revised nine related articles on the Adani family and family businesses."
"Many of them edited several of the articles and added non-neutral material or puffery. A declared paid editor, using a company IP address, completely rewrote the Adani Group article. Others removed warnings about conflict-of-interest editing. Some created articles by unusual methods that circumvented Wikipedia's quality control systems," the user-interfaced online encyclopedia said in its Feb. 20 disinformation report.