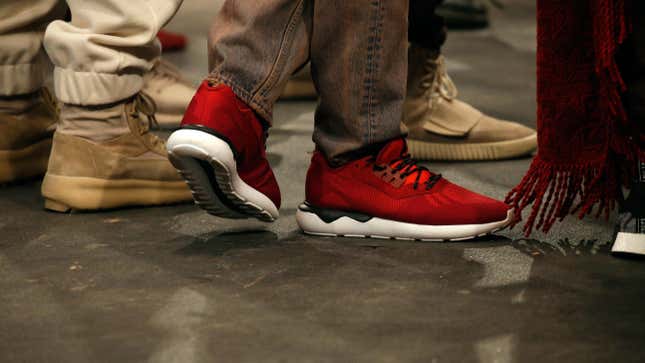 Adidas faces its first loss in three decades if Yeezys in its warehouse go unsold.

3 considerations before your company takes a stance
In its guidance for 2023 published yesterday (Feb. 9), the German sportswear manufacturer estimates that choosing not to repurpose and sell the sneakers it created alongside rapper Ye, formerly Kanye West, would have a "significant adverse impact" on its bottom line.
Discontinuing the massively popular Yeezys, which contributed to a big chunk of Adidas' sales, would lead to the firms' sales declining "at a high-single-digit rate in 2023."
The Yeezy impact on Adidas in 2023, by the digits
€1.2 billion ($1.3 billion): Revenue Adidas will forego this year if it doesn't utilize Yeezy inventory
€500 million ($537 million): Operating profit Adidas will lose this year if it doesn't utilize Yeezy inventory, combined with…
…€200 million ($215 million): One-off costs Adidas expects for 2023, which amounts to…
…€700 million ($752 million): Total operating loss Adidas is looking at for the year, its first in at least three decades, according to Bloomberg
Why would Adidas not sell Yeezys?
In October 2022, Adidas cut ties with Ye over his anti-semitic tirade. Since then, the future of Yeezys was partially clear. The company said it would not support any future Yeezy product drops, and it instructed retail operators to pull any existing product from shelves and digital sites. Last week, it also quietly shut down the Yeezysupply.com website, which Ye has used to launch his various adidas Yeezy collaborations, restocks, apparel items, Balenciaga team-ups, GAP products and more.
But what would happen to the shoes? Adidas said it has all the patents and copyrights for the IP, designs, and colorways, and it can omit the branding and continue selling the shoe. Only the name "Yeezy" leaves with Ye.
However, analysts had warned Adidas to steer clear of the line, revamped or otherwise. The shows "will always be synonymous with West, and this would likely result in muted customer demand," GlobalData apparel analyst Darcey Jupp said.
Quotable: Adidas is "not performing the way we should," says CEO Bjørn Gulden
"The numbers speak for themselves. We are currently not performing the way we should. 2023 will be a year of transition to set the base to again be a growing and profitable company. … We need to put the pieces back together again, but I am convinced that over time we will make adidas shine again. But we need some time." -adidas CEO Bjørn Gulden, who started his term in damage-control-mode months after the Ye debacle on Jan.1, 2023
Charted: Adidas' stock fell nearly 10% on the news
More collaborations going south: Beyoncé's Ivy Park Line
The collaboration with West may have been the most lucrative one for Adidas, but going back doesn't seem to be an option. It has to find other ways—other celebrities—to plug the gap, which might be easier said than done.
Beyoncé, the singer who just set a new record for most Grammys won, seemed like a formidable candidate for a partnership. But her inclusive streetwear collection isn't doing any Ye-kind of numbers for Adidas. In fact, the Ivy Park line is turning out to be more of a burden than a boon: Its sales fell more than 50% to $40 million in 2022, far below the $250 million Adidas projected, a recent Wall Street Journal report said.
The existing contract between the musician and the brand, which pays the former $20 million annually, is set to expire at the end of this year. Adidas executives are apparently considering rejigging or terminating it.
Meanwhile, as it hunts for a hero collaboration to replace Ye, the brand is continuing to work with luxury brands like Gucci, Stella McCartney, and Prada, and athletes like American professional skateboarder Dennis Busenitz, to keep shelves stocked with novel designs—many with price tags in the high hundreds of dollars.
Work-in-progress: Jerry Lorenzo's Fear of God
In December 2020, Adidas announced a partnership with Fear of God founder Jerry Lorenzo, who left the swoosh brand Nike for the three stripes. But besides one yellow hoodie and Lorenzo distancing himself from an Adidas Basketball campaign in December 2022, the highly anticipated partnership has generated little buzz. However, the designer and the brand expected to be "sharing more in the first half of 2023."
Related stories
👟 Ye is out, but Yeezy is staying at Adidas
🗣️ Adidas has realized it was time to boot Ye
🤷 Kanye's $90 Gap hoodie already costs 10 times the list price on Depop