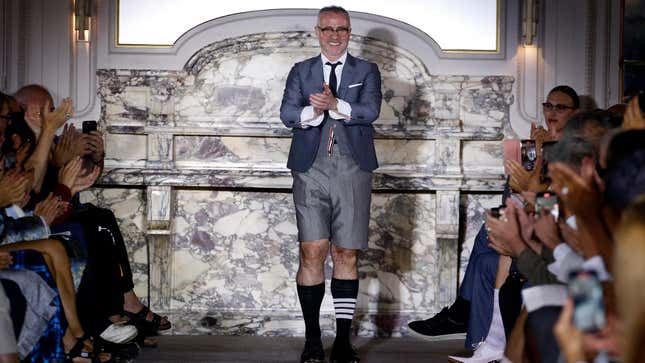 Not all stripes are Adidas stripes, the German sportswear giant has learnt the hard way.

3 considerations before your company takes a stance
Luxury designer Thom Browne came out on top in a trademark infringement lawsuit filed by Adidas yesterday (Jan. 12). An eight-person jury in New York rejected the three-stripes brand's claims that the four-striped designs used by Browne's company were too similar to its own.
Adidas, which was seeking almost $8 million in disgorgement and damages, indicated that it may push back on the decisions."We are disappointed with the verdict and will continue to vigilantly enforce our intellectual property, including filing any appropriate appeals," Rich Efrus, an Adidas spokesperson, told the Associated Press in an email.
A brief timeline of Adidas vs. Thom Browne
2001: Thom Browne launches his eponymous made-to-measure menswear label four years after moving to New York to pursue a career in fashion. Prior to setting up his own line, he worked as a tailor, a salesperson for Giorgio Armani, and a designer for Club Monaco.
2003: Browne opens his first storefront in New York City
May 2007: Adidas complains Browne's three-stripe design on a jacket was too similar to their own, prompting Browne to switch to four stripes.
2018: Browne's brand, which is expanding into activewear by now, becomes more popular. Italian luxury fashion house Ermenegildo Zegna acquires an 85% stake in the company
June 2021: Adidas sues Thom Browne, alleging that "Despite Thom Browne's knowledge of adidas's rights in the famous Three-Stripe Mark, Thom Browne has expanded its product offerings far beyond formal wear and business attire and is now offering for sale and selling athletic-style apparel and footwear featuring two, three, or four parallel stripes in a manner that is confusingly similar to adidas's Three-Stripe Mark."
Thom Browne's winning arguments
💰 Browne's luxury label operates in an entirely different segment, serving a different audience at a completely different price point. For instance, a pair of women's compression tights on Browne's website costs $725 while a similar product retails for under $100 on Adidas' website.
🏊 The former competitive swimmer pointed to his lifelong love of sports to explain why he designs sportswear, adding that his use of stripes was inspired by college-level varsity sports.
⌛Why did Adidas wait a decade to go after Browne's designs?
Quotable: Thom Browne, the underdog
"Thom Browne's counsel got the jury to see this case as The People vs. The Corporation, and populism won." —Jeff Trexler, a faculty member at the Fashion Law Institute at Fordham Law School.
Adidas keeps suing brands over three stripes
The three stripes, which first rose to prominence in the 1950s after company founder Adolf Dassler began using it on shoes, now adorns most Adidas products. And this isn't the first time the company has gone after another brand for emulating it in any way.
Between 2006 and 2017, Adidas has repeatedly sued and settled with Forever 21 over the use of stripes. In 2009 and 2017, Adidas took Juicy Couture to court over its designs. In 2015, it sued Marc Jacobs for its four-stripes design. Its trademark battles extended beyond the fashion world, too. In 2017, Tesla withdrew its proposed trademark for its Model 3 electric car after Adidas contested it.
To wage these battles, Adidas has tried to legally cover more ground, registering specific trademarks for three stripes on all kinds of footwear from sneakers to roller skates to ballet slippers, and for stripes on the sleeves of track jackets or down the sides of tank tops in the apparel segment. But at times, it's taken the litigation too far, trying to squeeze out brands using two or four stripes, different colors, or using stripes on types of clothing Adidas doesn't even make. And, like the Thom Browne case shows, that doesn't make for the strongest argument.