Coming soon to Nairobi: Africa's tallest building.
The 70-story, 300-meter (984 feet) twin tower will host a five-star hotel and leisure facilities, residential and office spaces, as well as a shopping mall. The China State Construction Engineering Company is expected to start building the project—known as The Pinnacle—in early July and it will cost 20 billion shillings ($200 million) to complete. Once it's finished in three years, it will overtake the 50-floor Carlton Center in Johannesburg as Africa's tallest building.
The development of The Pinnacle is part of the property boom that has swept Kenya over the last decade and a half. With a growing economy and a rising middle class, Kenyans invested in real estate—even uprooting coffee plantations to pave the way for gated housing estates and shopping centers. Regional and international investors poured capital into the market to develop high-end retail and office spaces.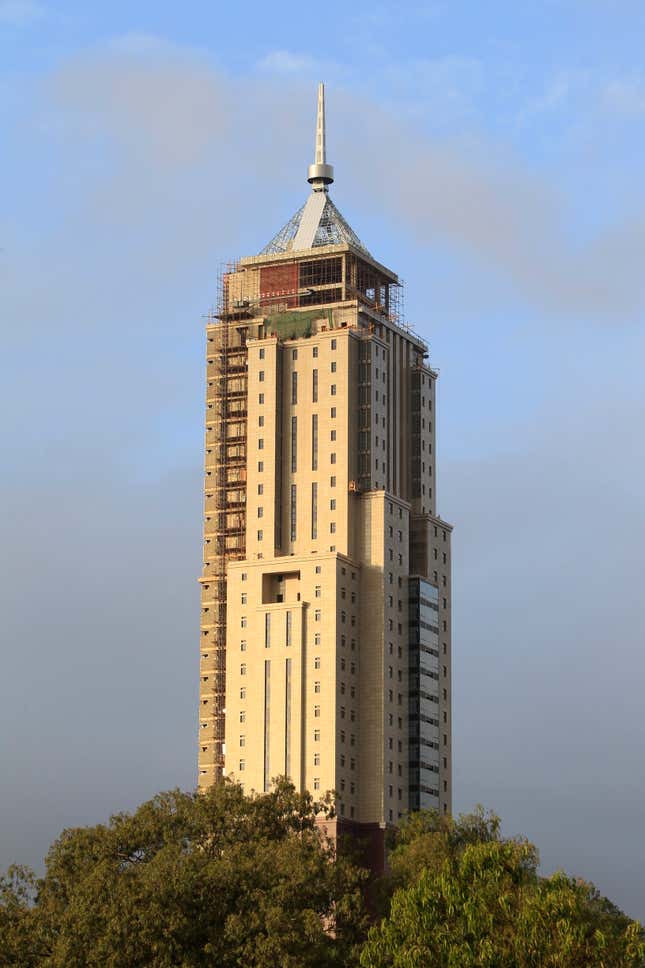 Much of this building is taking place in the capital Nairobi, the preferred regional hub for global corporates and UN agencies including IBM, Microsoft, Google, and the United Nations Environmental Program. Construction cranes litter the skyline, finishing not only some of Africa's tallest buildings but also one of sub-Saharan Africa's biggest shopping centers, the Two Rivers Mall.
Ambitious infrastructural projects in the city and its outskirts are helping fuel construction. In early June, President Uhuru Kenyatta launched a $3.2 billion rail line—the country's largest infrastructure project since independence—connecting Nairobi to the port city of Mombasa. Kenya is also investing in air transport, opening a new $93 million terminal at its international airport to accommodate the surge in passengers. Upgraded roads and new superhighways are also fueling property values; land prices increased between 1.3% and 3.4% in suburbs and towns neighboring Nairobi in the first quarter of 2017, according to real estate company Hass Consult.
Observers now warn of overbuilding. Nairobi is a traffic-clogged city, with sprawling slums where most of 4 million population lives. Too many high-end developments are being built for the number of high and middle-income consumers that exist. That will dent returns.
Too much new office space in Kenya last year hurt rental prices and occupancy rates, according to Knight Frank's 2017 Africa Report. The report notes that this was exacerbated somewhat by the departure of oil multinationals like Shell and Chevron over the last few years, and the exodus of expatriates. Prime residential prices also fell. Retail space took longer to let; mall merchants reported sales declines as high as 60%.
Economist David Ndii from the Nairobi-based Africa Economics warns that the real estate market might be glutted and that this could be "a case of investors chasing their own tails."
Still, the government is using the opening of these massive malls, hotels, and buildings as a sign of investor confidence during an election year—election years are historically bad for the economy. President Kenyatta said these projects will create job opportunities for Kenyans and help boost tourism following a period of depression.
He also said that these developments will change the skyline of Nairobi. For now, the city seems to be heeding his message to look only up—way, way up.