On Sunday (June 11), in South Korea, England won the under-20 soccer World Cup—the country's first piece of international silverware in half a century.
And the trophy was celebrated just as enthusiastically in Nigeria because six of England's 21-man squad were of Nigerian descent. Dominic Solanke, England's top scorer and winner of the tournament's Golden Boy award (previously won by soccer luminaries including Diego Maradona and Lionel Messi) has a Nigerian father and English mother. The six players, all eligible to play for Nigeria if they chose to, also combined to score more than half of the 12 goals England scored at the tournament.
Nigerians on social media have been quick to celebrate the achievements of the players of Nigerian descent, jokingly claiming that Nigeria won the World Cup for England. But in truth, Nigeria should get very little, if any credit, for the achievements of the players because it's had nothing to do with their success. While it's very nice to acknowledge the success of Nigerians doing well outside the country, if anything, their successes often a reflection of some of Nigeria's failings.
In comparison, Nigeria's under-20 team did not qualify for the World Cup because it lost the final qualifying game at home to Sudan. Only days before the match, the players threatened to boycott the game citing shoddy treatment and unpaid allowances. Locally, Nigeria's soccer league is bedeviled by a rampant failure to pay salaries, while youth leagues are pretty much non-existent. If the players of Nigerian descent in England's world cup winning squad grew up in Nigeria, they'd have had to defy terrible odds to fulfill dreams of a professional soccer career. All six players are currently signed with clubs in England's Premier League.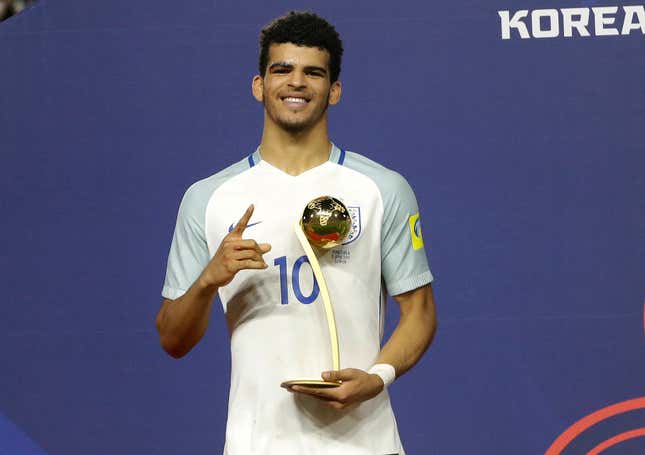 A similar scenario of questions over origin played out after Anthony Joshua defeated Wladimir Klitschko to become the world heavyweight champion in April. Joshua's Nigerian origins were strongly highlighted back home but a story about how he was rejected by Nigeria's boxing federation for the 2008 Olympics soon surfaced. It's not a debate that's limited to sports either. After the UK's general elections, Nigeria's presidency congratulated seven British-Nigerians who won seats as members of parliament citing it as "further evidence that Nigerians, anywhere in the world, will continue to excel and make the country proud."
And in the United States, there seems to be a story every year about a Nigerian-American high schooler who's been accepted in all eight Ivy League schools.
In part, that sentiment forms the base of  the reasoning behind championing exceptional achievements of anyone of Nigerian descent, regardless of how tenuous their own affiliation is with Africa's largest country by population. For many, it's pushback at the lazy stereotypes of Nigerian citizens abroad as fraudsters or criminals. Even Nigeria's president Muhammadu Buhari has been guilty of telling the "single story" of Nigerians abroad. The rare successes abroad are often held up as examples that not all Nigerians are proverbial bad eggs.