For the first time, an African architect has designed London's prestigious Serpentine Pavilion. This year, Francis Kéré will take center stage in what has become a global architectural and design event. The Burkinabe architect plans to use the pavilion as a platform to discuss the impact of climate change and humanity's communal responsibility to preserve the natural environment.
Each year since 2000, the Serpentine Gallery commissions a temporary structure from one of the world's best architects, which is erected in London's Kensington Gardens over the summer. Kéré joins a global architectural elite that includes the likes of trailblazing British-Iraqi architect Zaha Hadid and veteran French architect Jean Nouvel. Like his predecessors, Kéré wanted to bring to the London garden a sense of the cultural identity and historical perspective he represents.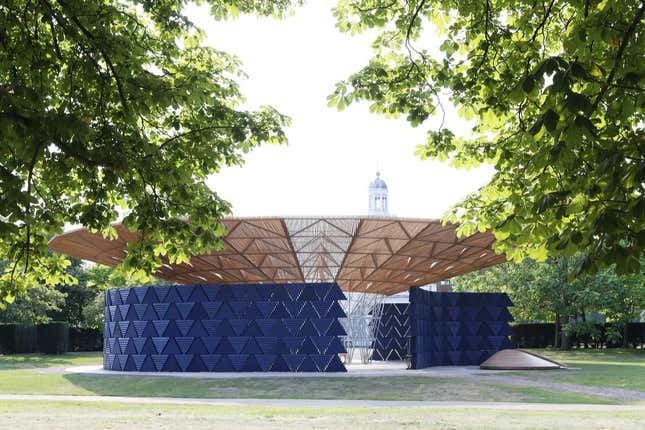 Kéré grew up in the town of Gando in Burkina Faso, where the ever-encroaching Sahara desert made him painfully aware of the human impact of climate change. This perspective that led to his creation of an innovative primary school that utilized traditional clay bricks with modern techniques to create a more robust structure for the children of Kéré's home village. It's also informed the inspiration behind this year's pavilion.
"Coming from a continent like Africa, I am accustomed to being confronted with climate and natural landscape as a harsh reality," said Kéré. "I was interested in how my contribution to this royal park could not only enhance the visitor's experience of nature, but also provoke a new way for them to connect with each other."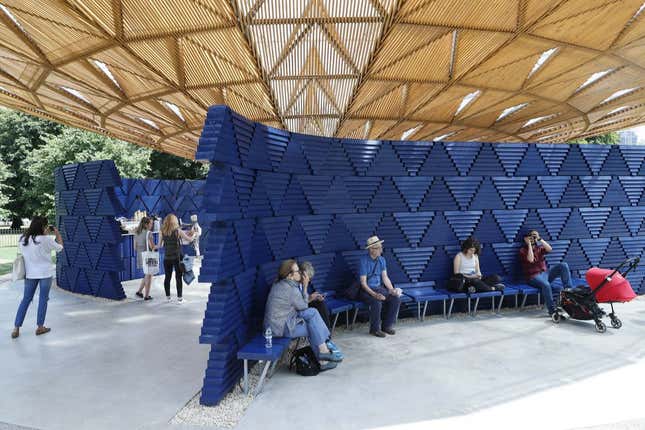 Kéré, who is based in Berlin, envisioned his design as a communal space centered around a tree, much as it would be in a village. For visitors to the Kensington Gardens, it's a reminder of humanity's psychosocial reliance on nature—and not just for its resources.
At the center of the canopy is a large opening, which will act like a funnel, collecting water when it rains. The waterfall it creates, which ebbs and flows with rainfall, speaks to the need to include sustainability in modern design.
Even the way light passes through and is blocked by the pavilion plays a role. During the day the structure provides shade, and at night, the openings in its walls allow light to escape, becoming a source of light to the park.
"In my home village of Gando," Kéré said, "it is always easy to locate a celebration at night by climbing to higher ground and searching for the source of light in the surrounding darkness."