Kenya's opposition NASA coalition party has sent a letter to the electoral commission demanding that its leader Raila Odinga be declared the country's fifth president after a bitterly contested election this week.
The coalition claims Odinga is ahead of president Uhuru Kenyatta by more than 286,000 votes and that the commission should stop the "display of unverified and unauthenticated results."
As of 11 pm Thursday night (Aug. 10), provisional results streaming through the Independent Boundaries and Electoral Commission (IEBC)'s website showed Kenyatta leading by more than 1.4 million votes—with more than 78% of the presidential ballots counted. The opposition also called on the commission to allow political parties to download all the Form 34As and 34Bs—used to tabulate results at the polling station and constituency levels respectively—in order to verify the results.
The demands come hours after the opposition contested the result forms uploaded to the commission's website as "fake". More than 19.6 million registered voters went to the polls on Aug. 8 in a tightly-contested election that has drawn the attention of the world. NASA had initially claimed the IEBC results were unreliable because hackers had compromised the electronic voting system to show a consistent 11% lead for Kenyatta.
The commission has refuted the allegations of hacking, and international observers said the election was "free and fair" and largely peaceful. Using the hashtag #PostYourForm34A, social media users also started cross-checking and verifying the results from their respective polling stations.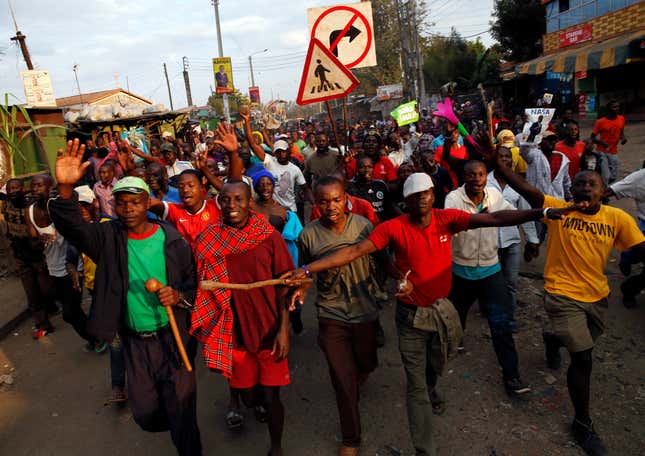 Emma Gordon, senior Africa analyst at Verisk Maplecroft, told Quartz the change in NASA's accusations "undermines their credibility. Equally, the IEBC has not received all the ballot papers, so it is highly improbable that NASA would have access to the full results." So far, the commission has uploaded 40,501 Form 34As to the public portal and has received 170 Form 34Bs out of the 290 expected from constituencies.
Gordon says that the distrust of IEBC is however unlikely to faze the opposition's supporters. A day after the election, angry protests and street battles with the police roiled the opposition's base in Kisumu county and in the capital Nairobi. President Kenyatta and his Jubilee party have so far remained quiet, but supporters from both sides remain on high alert and can easily be mobilized when the final declaration is made.
"NASA's outright declaration that Odinga is the rightful winner raises the risk of further violence in opposition areas should the IEBC confirm Kenyatta's victory," Gordon warned.