Kenya's government has denied the use of live bullets and killing of protesters as demonstrations rocked opposition strongholds in the capital Nairobi and in Kisumu county in western Kenya. Opposition candidate Raila Odinga said that government-mandated "death squads" had fired on protesters and called on his supporters to mourn the dead on Monday and not go to work.
"Jubilee has spilled the blood of innocent people, and they will pay for for the blood of our people," Odinga told his supporters in Kibera slum on Sunday.
Supporters of opposition candidate Raila Odinga poured into the streets from Friday night (Aug. 11) after president Uhuru Kenyatta was re-elected for a second term in office. Throughout the country, conflicting figures were being reported on how many people were dead or injured in the protests. A 10-year-old girl was killed in Mathare on Saturday while she was on the balcony of her parents' home. In Kisumu city, police killed 11 people in the crackdown, according to Reuters, while 26 others were treated for gunshot wounds and police beatings. AFP reported that eight bodies were taken to the Nairobi city morgue after protests hit the slum areas of Kibera and Kawangware.
The non-governmental organization Doctors Without Borders said they had treated 54 patients in their clinics, including seven with gunshots. The Kenya Red Cross said it had treated or evacuated a total of 93 casualties in both Nairobi and Kisumu.
Kenya's opposition NASA coalition had earlier said that police had provoked the violence and killed 100 people including children. The opposition is yet to concede the outcome, and has called the election a "charade" and the results "fake" and "fictitious." On Saturday (Aug. 12), Kenya's main Election Observation Group said its parallel vote tabulation matched the official tally from the national electoral commission.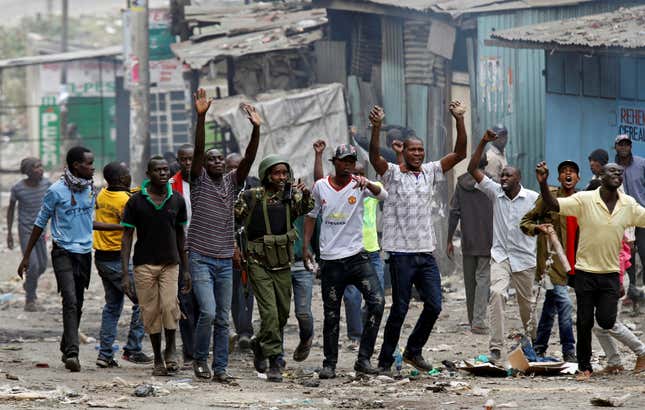 Fred Matiang'i, the acting interior cabinet secretary, refuted claims of the unrest saying the country was safe except for a few "erratic incidents." Matiang'i added that the police were responding to "criminal elements" who were out to loot and destroy property. "I am not aware of anyone who has been killed by live bullets in this country. Those are rumors," he said. "The impression being created on social media that we have security challenges in this country is false."
Activists and human rights organizations said officials must launch investigations into the reported killings, and bring those responsible to justice. Using the hashtag #StopKisumuKillings, Kenyans on social media also started sharing gory photos of the clampdown and urging the government not to harm protesters.
"Everyone has a right to peaceful protest and they must not be hurt, injured or killed for exercising that right," said Muthoni Wanyeki, Amnesty International's regional director for east Africa.