*Updated with Amnesty International death toll
Yaoundé, Cameroon
As Nigeria celebrated her 57th Independence Day on Sunday Oct. 1, her eastern neighbour Cameroon for the first time in over 30 years also officially marked her 56th year of reunification. However, Cameroonians were deeply divided over the Oct.1 anniversary as the internet was disrupted again in the English-speaking regions and security officials opened fire on Anglophone protesters killing as many as 15 people according to reports.
The killings come after renewed massive resistance against perceived marginalization of English-speaking Cameroon by the majority Francophone-led government.
The crisis stems from the country's colonial history which created modern Cameroon in an agreement between colonial rulers Britain and France. Former British Cameroons (Southern Cameroons) got its independence on Oct. 1, 1961 by joining already independent (Jan. 1, 1960)  La Republique du Cameroun to form the Federal Republic of Cameroon. There were two states—West and East Cameroons—operating under the federal system of government which were later fused on May 20, 1972 to form the United Republic of Cameroon.
But over time, citizens of the country's English-speaking regions, which account for around 20% of the population, have complained to feeling frustrated in the union as they complain of cultural, economic, social and political deprivation. 
Deadly protests
The long-lingering crisis took a turn for the worst last week when agitators operating under the aegis of the Southern Cameroons Ambazonia Governing Council called for public demonstrations. The mass protests were scheduled to culminate in celebrations on Oct. 1, the day activists had hoped to declare the independence of Southern Cameroons/Ambazonia, a country they clamour to create.
Following up on clashes on Sep. 22, protesters again poured out on the streets on Oct. 1 in villages and towns across the North West and South West regions. Their attempts to hoist blue-white flags of Southern Cameroons/Ambazonia as a sign of independence was met with stiff resistance by armed forces who have been deployed to the troubled regions.
Amnesty International confirmed up to 17 people being kill by security forces during protests in some of Cameroon's Anglophone towns. International and local media reports said security forces opened fire on protesters in Bamenda, Buea and several other towns. The killings took place despite a call for restraint made by the UN secretary general.
President Paul Biya, who has been in power for 35 years, has yet to return to the country after taking part in the 72nd UN General Assembly in New York last month.  He condemned "all acts of violence, regardless of their source and their perpetrators."
While the troubled regions faced a ban of gatherings of more than four people, restriction of movement and another internet shutdown, demonstrations were organized in other parts of the country to call for unity.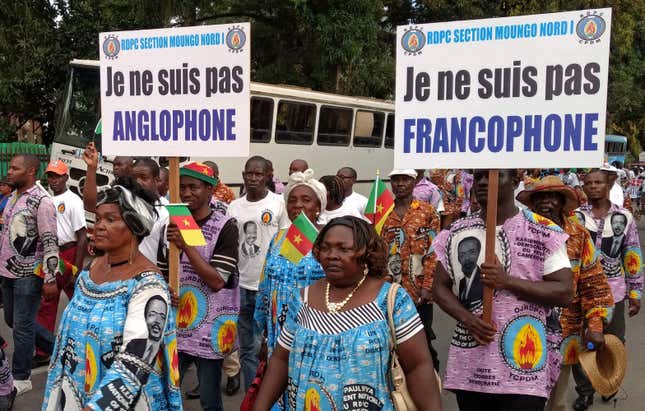 In the capital city Yaoundé, members of parliament gathered at the Reunification Monument to drum up calls for unity and peaceful coexistence. The celebration which is the first of its kind was largely boycotted by Anglophone opposition MPs.
In Douala, like in Yaoundé, members of the ruling Cameroon's People's Democratic Movement (CPDM) organized street matches calling for a united Cameroon. The regional organ of the opposition Social Democratic Front party in the economic capital Douala condemned the CPDM outing. The party voiced concerns over the "discriminatory attitude of administrative authorities."