Robert Mugabe has resigned as president of Zimbabwe after 37 years in power.
The announcement was made in parliament by the speaker  late on Tuesday (Nov. 21) in Harare in the middle of impeachment proceedings against the world's oldest statesman.
I, Robert Gabriel Mugabe, in terms of section 96, subsection 1 of the constitution of Zimbabwe, hereby formally tender my resignation as president of the republic of Zimbabwe with immediate effect.
Speaker Jacob Mudenda read out the resignation letter to MPs. Cheers erupted among Mugabe's former allies even before the speaker finished reading. Euphoria quickly moved to the streets, with Zimbabweans dancing in the streets and hooting their car horns. Many see it as a "second independence."
Mugabe had called a cabinet meeting earlier in the day, but less than a quarter of his ministers showed up, signaling the end. Instead, there were so many lawmakers, media and citizens gathered to witness the beginning of the impeachment proceedings against Mugabe that parliament was deemed to small, forcing them to move to the Harare International Conference Centre.
The ruling Zanu-PF began instituting the impeachment process after the embattled president failed to meet their demand to step down by noon on Monday (Nov. 20). Backed by the ruling party, opposition party the Movement for Democratic Change, tabled the motion. The motion is reportedly based on Mugabe's advanced age and allowing his wife to "usurp power."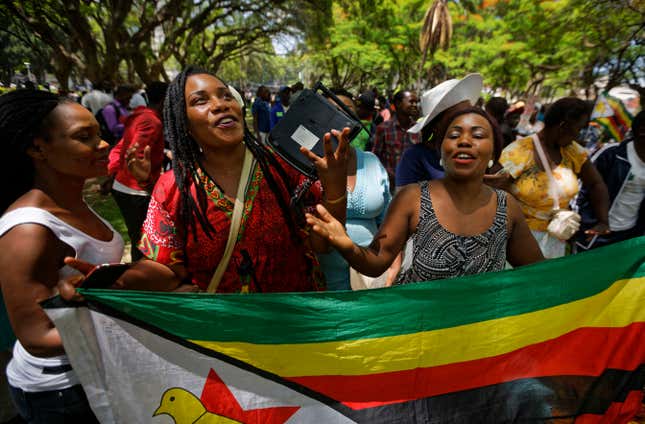 Outside parliament hundreds of ordinary Zimbabweans gathered, chanting "Mugabe must go!" Scenes of celebrations followed the announcement, with  Zimbabweans waving the country's flag proudly, and singing through the streets.
Earlier, main opposition leader Morgan Tsvangirai addressed the crowd, calling for a free and fair election in the coming months, without Mugabe's name on the ballot—which would be a first for independent Zimbabwe.
Even as the military placed him under house arrest, Mugabe held on. On Sunday (Nov. 19), Zanu-PF fired Mugabe but Mugabe was convinced that he would still be around by December to "preside" over the December conference.
In a televised address, Mugabe spoke of the economy and reconciliation, but showed no signs of stepping down. But, with reports emerging that he was "munching maize" and discussing anthropology as thousands marched toward his home on Saturday (Nov. 18), it's no surprise.
An anti-colonial hero who led the liberation of Zimbabwe in 1980 and then became its leader, Mugabe is being removed by his erstwhile allies in the military and the ruling party. So far, the largely non-violent coup, dubbed "Operation Restore Legacy," was welcomed by citizens. The army is expected to back a transitional government led by the new leader of the Zanu-PF, Emmerson Mnangagwa.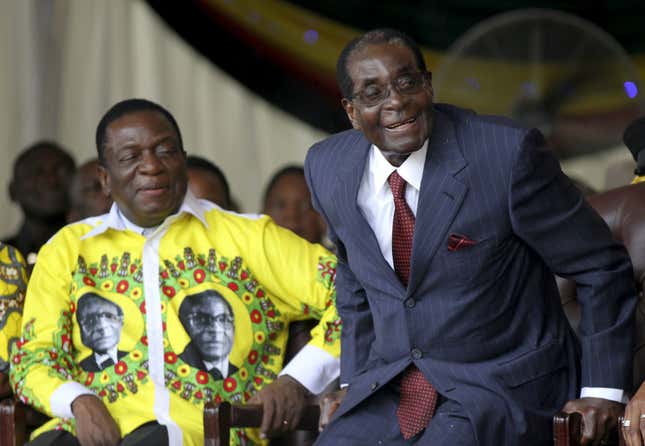 In a lengthy statement on Nov. 21, Mnangagwa revealed that Mugabe reached out to him but that he refused to return to the country, fearing for his life. The political impasse was between Mugabe and the citizenry, not between political leaders and Mugabe could either leave with dignity, or "suffer humiliation because definitely the will of the people will prevail," he said. Once a loyal aide to Mugabe, this stance is likely to further endear  Mnangagwa to voters next year.
Mugabe, on the other hand, has become increasingly unpopular. The military's action was prompted by his attempts to set up his 52 year-old wife, Grace, as his successor. Grace Mugabe's erratic behavior has led to diplomatic scandals in the past, but it was a decision to fire Mnangagwa as vice president earlier this month that triggered  military leaders to "step in." 
Heads of state in southern Africa are currently meeting in the Angolan capital Luanda to discuss how to intervene in Zimbabwe. President Jacob Zuma is expected to travel to Zimbabwe on Nov. 22 on what local media referred to as "a fact-finding machine."
Ian Khama, leader of neighboring Botswana, broke with diplomacy and urged Mugabe to step down in an open letter. "Be sensitive to the wishes of the people of Zimbabwe and to do the honourable thing by voluntarily relinquishing power," Khama wrote.
Stepping aside honorably would, Khama said, "usher in a new period going forward of unity, peace and prosperity for Zimbabweans and allow your country to be the economic powerhouse it is capable of being."
This extraordinary moment heralds a new era for Zimbabwe.