In April, Ghanaian artist Bright Tetteh Ackwerh published a cartoon on his Facebook page titled, "We Dey Beg," or "We are begging," in honor of a recent campaign against illegal gold mining supported by Chinese companies, which has polluted local rivers.
In the image, China's president Xi Jinping is pouring a sludge of brown water from a Ming dynasty vase into bowls held by Ghana's president and the minister of natural resources. Next to Xi, China's ambassador to Ghana happily clutches a gold bar. 
The Chinese embassy was reportedly infuriated by the cartoon and issued a complaint to the Ghanaian government on media coverage of the arrests of several Chinese miners involved in illegal mining, which is known locally as "galamsey". While Ghanaian miners were also arrested, much of the public's focus has been on the Chinese. Ghana is the second largest gold producer in Africa after South Africa.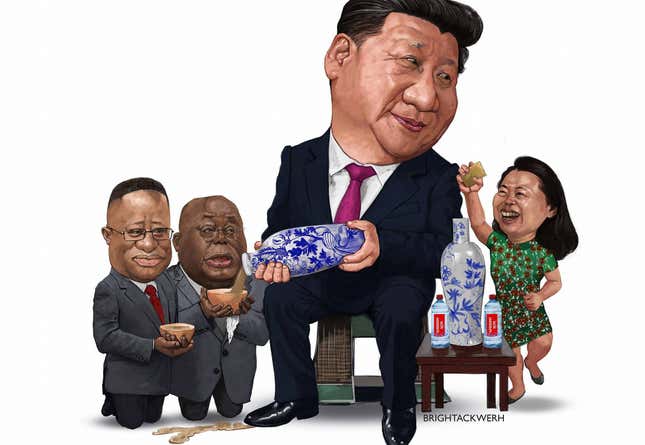 In the letter, the Chinese embassy said it was concerned about "a number of distorted or biased reports and stories on Chinese people, especially some reports and cartoons that are defaming Chinese leaders and senior officials," according to Citi FM, a local station that saw a copy of the note. "We hope that the Ghanaian government will pay due attention to this situation, take the necessary action to stop such things from happening again and guide the media to give an objective coverage on the illegal mining issue so as to create a good environment for further development of our bilateral exchanges and cooperation."
Days later, Ackwerh published another cartoon, "Them Threaten," mocking the embassy's letter. In the image, Ghanaian president Nana Akufo-Addo hides a placard with the words "Stop Galamsey Now" behind his back.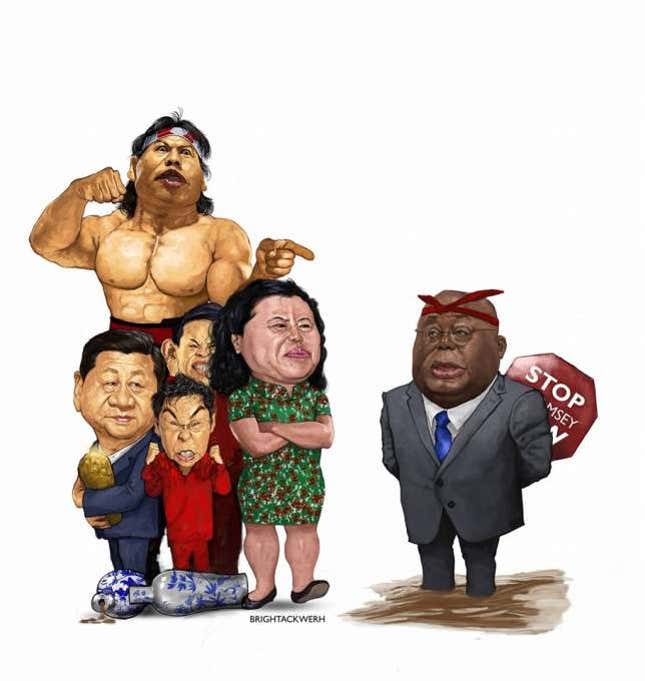 But within a few months, the row seemed to have blown over. In July, Ackwerh was featured in an exhibition in Accra and invited the Chinese ambassador Sun Baohong. She attended and posed for photos in front of Ackwerh's cartoons.
Ackwerh, who cites Chinese dissident artist Ai Weiwei as one of his inspirations, wasn't done. In August, he published another cartoon titled "Occupation," where the presidents of Ghana, Nigeria and Senegal are arguing over a plate of jollof rice. It's reference to the so-called jollof wars, a mostly fun debate between West African countries over who makes the best version of the dish. 
In the background, China's Xi is sneaking away with the continent of Africa. Ackwerh says of the jollof wars, "It was embarrassingly becoming a distraction at a time when Africa was being taken over by China. The ingredients used for making jollof such as the rice are imported, most often from China."
"I hope my example has given other artists the courage to also contribute to this and things like this. There are things we have the power to do that even governments can't," he said.