Nairobi
Rice. Beans. Tomatoes. Avocados. Corn. Marinated, grilled meat. 
Reading the above, most in the West would assume this is a shopping list for a Mexican-themed dinner party. Kenyans might think they're ingredients for a supper as well—their own. Despite being an Atlantic Ocean apart, Mexico and Kenya share many of the same fundamental ingredients in their respective national cuisines. These commonalities, along with a generous market opportunity, have generated a surge in well-received Mexican restaurants in Nairobi. Two have opened in the past month, business for both is booming, and more are on the way. 
Fonda and Mercado have distinct aesthetics and menus, but the founders both tapped into a real interest in Nairobi, the regional capital of East Africa, for top Mexican food—you can get Japanese pub food in the city, but you can't get well-made tacos —and the availability of fresh, relevant ingredients to make the cuisine that was in such demand.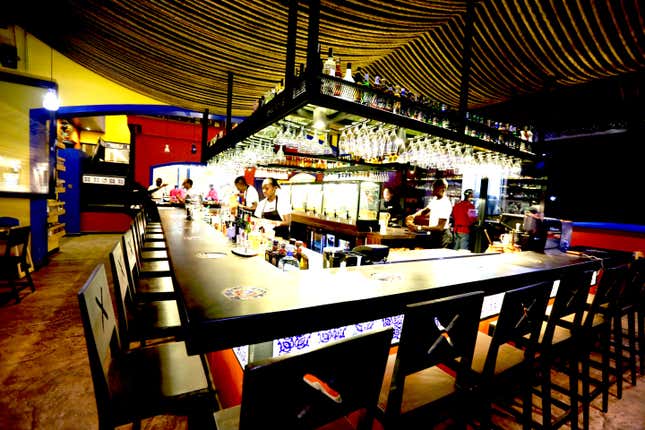 "The idea of a restaurant was something that had been on all of our minds for a while," says Yash Krishna, Fonda's managing director. Fonda was founded by two couples, life-long friends, three Nairobi locals and one who moved to the city at 17, who had been tossing about ideas of what sort of restaurant to open for more than a year. 
Out to dinner one night in Nairobi in November, 2015 the quartet was bemoaning the lack of authentic Mexican food in Kenya. "[There was] Nowhere to get a proper salsa or guacamole, forget about moles and chile rellenos!" said Krishna. They'd all tried Mexican food on various international travels, including trips to Mexico City. Upon further reflection they realized so many of the base ingredients in Mexican food are the same as Kenyan, "we haven't looked back since!"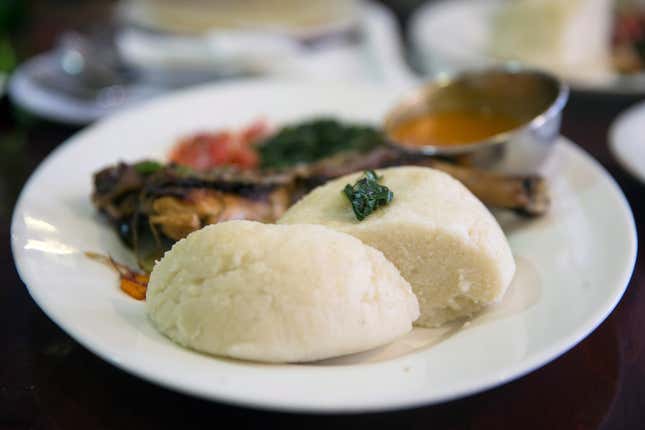 The team at Mercado, Jigar Patel and his brother Dil followed a similar arc. Growing up in Kenya they'd both always talked of opening a restaurant as Nairobi grew as an international hub for business, politics and tourism. Patel first tried Mexican food when he was at university in the United Kingdom, and even though it's far from the best place to get Mexican outside of Mexico—loved the taste. 
From living in Nairobi, both teams knew there was plenty of space in the market. The Mercado team hired a consultant to confirm their theory. On the Fonda side, Krishna noted because Nairobi is such a global city with a large expatriate population (including a growing Latino demographic), that has been exposed to a countless types of food, there was a desire for an authentic gastronomic experience.  " [There is] a burgeoning foodie market in general," he concluded.  
Regarding the current landscape, the team from Fonda found that many places were offering multiple cuisines across a single menu as a way of making themselves unique and catering to  a spectrum of needs, rather than offering one in-depth experience. 
Now that the need for good Mexican food was determined, both teams had to figure out how to actually make said food. Krishna and friends travelled to Mexico and spent two weeks taking cooking classes. Their main takeaway from the experience was that there is no one Mexican cuisine—the food varies from region to region. They decided to focus on Central Mexico, the mole flavors might be more familiar and accessible to a range of eaters. The Mexican Embassy in Kenya connected them to two chefs, one who is the  now the executive chef and one  a consultant. The rest of the staff are Kenyan, none of whom tried Mexican food before starting at Fonda. 
Patel worked with a recruiting agency and then flew to Mexico to try their food and interview them. Three chefs relocated to Nairobi. 
Now open, the responses for both spots has been overwhelmingly positive – and not just from the the international crowd (on Trip Advisor one Fonda fan called the joint "the best Mexican food east of the Atlantic). A number of skeptical locals have been to both establishments and walked away full and happy. One group in particular was standing at the bar, worried about the spice levels.  Chandra encouraged them to try the mole poblano and now they keep coming back.