Growing up in southern Africa in the early 2000s meant that you couldn't escape HIV/AIDS. Apart from the terrifying number of people who died during those years, the messages that AIDS kills were ubiquitous.
It seemed like there were red ribbons everywhere, not just on World Aids Day on Dec. 1. There were billboards and radio adverts, and newspaper supplements aimed at teens. On television, MTV Base's Africa affiliate ventured into drama as a matter of moral responsibility, producing and airing the HIV-awareness series Shuga. On South African public television, local soap operas introduced HIV-positive characters and even the local version of Sesame Street, Takalani Sesame, had an HIV-positive muppet.
There was also an admirable push from governments to get as many people on public health anti-retroviral treatment programs as possible. So in countries like Botswana, Tanzania and South Africa, AIDS is no longer a death sentence, despite the high number of people living with the HI-virus.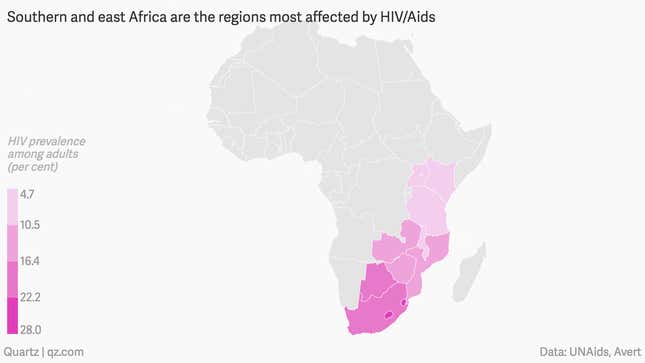 East and southern Africa still have the highest number of people living with HIV/AIDS in the world. The region is home to 6.2% of the world's population but has over half of the global HIV-positive population, according to Avert. While 790,000 new infections in 2016 are still worryingly high, it is an improvement from the previous decade: HIV infections have decreased by 24% among adults and 56% among children.
Now, however, a new generation finds themselves as vulnerable to the disease as they may have been in the early years of the pandemic. Health authorities are sounding the alarm with a new set of statistics: the high number of new infections among teenagers. The high rate of infections among young people threatens to undercut the very-recent gains made.
Globally, HIV-prevalence among people aged 10 to 19 has increased by 30% from 2005. In Africa, it is the leading cause of death among 10 to 24-year-olds, while the rate of mortality has decreased among other demographic groups.
Part of that statistic is due to the children born HIV-positive who have grown up, but their medication regimes have failed to keep up. Many of these deaths, however, are due to new infections among a generation who may not have experienced aggressive public information campaigning.
Today, sub-Saharan Africa accounts for 9 out of 10 adolescent AIDS-related deaths and Africa's youth bulge may worsen the situation if immediate action isn't taken. By 2020, as many as 320,000 young women could be infection by HIV, according to Unicef's projections.
HIV/AIDS, however, has always been an opportunistic illness. Not only does it thrive in a weakened immune system, it attacks the most vulnerable in society. Women remain the most affected by the disease, accounting for more than half of the HIV-positive population. Yong women are most vulnerable: for every five adolescent boys infected with HIV, there are seven girls, most of them in sub-Saharan Africa, according to Unicef.
Correction: A previous version of this story ran with the headline "Nine out of ten adolescent deaths in Africa are due to AIDS." That has now been corrected.