In early December, Israel's prime minister Benjamin Netanyahu signed an agreement with the United States to increase energy access in Africa and to reduce the continent's electricity deficiency through innovative solutions. The partnership was part of the $7 billion, five-year Power Africa project, started by the Obama administration. It's aimed at creating 60 million new connections in Africa by 2030.
The event was held less than a week after Netanyahu attended the inauguration of Kenya's president Uhuru Kenyatta—making it his third visit to Africa in just under two years.
In July 2016, Netanyahu became the first Israeli prime minister to visit the continent in at least three decades, in the hopes of forging and improving diplomatic and security relations with African governments. This campaign of rapprochement saw the Israeli leader address the Economic Community of West African States (ECOWAS) summit, bid for an observer status in the African Union, and invite and receive African presidents and parliamentary delegations in Israel.
As old Cold War alliances fragment and Israel's allies within the United Nations dwindle, observers have said that Jerusalem was looking to build alliances with Africa in order to win its geopolitical battles. But an alternate narrative is that the Israeli government is playing catch-up with its own entrepreneurs and industrialists who have been doing business in the continent since the 1950s.
By coupling its political stakes with commercial interests, like the Power Africa project or the $1 billion pledge to ECOWAS nations for green energy projects, the government hopes to ingratiate itself with African countries and improve its brand. In nations with Muslim-majority populations like Senegal where it might not achieve much popularity politically, focusing on the economic aspects and creating opportunities and employment helps Israel curry favor with local communities.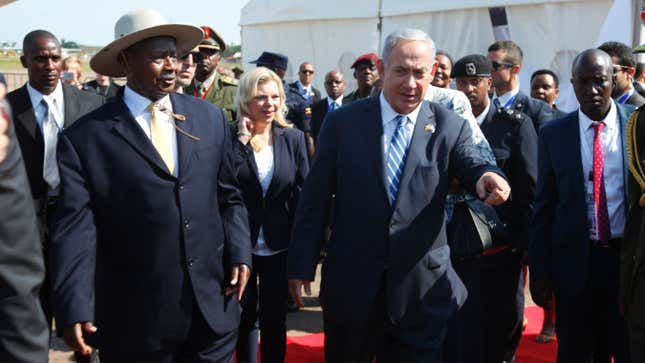 As a small country with over 8.2 million people, Israel punches above its weight when it comes to technological innovations—a story aptly captured in the book Start-Up Nation. Major global everyday tech products like the USB flash drive and the Intel PC processor were all invented there, and the Middle Eastern nation spends more money on research and development as a proportion of its economy than any other country.
With fast-growing economies, Africa needs those technologies in order to transform sectors ranging from agriculture and health to water, education, and energy. Leaders like Rwanda's Paul Kagame, who was the first African head of state to address the pro-Israel forum AIPAC, have even turned Rwanda into a version of Israel: betting on digitization, the creation of smart cities, and the promise that the genocide that led to the killing of hundreds of thousands of Tutsis and moderate Hutus will never occur again.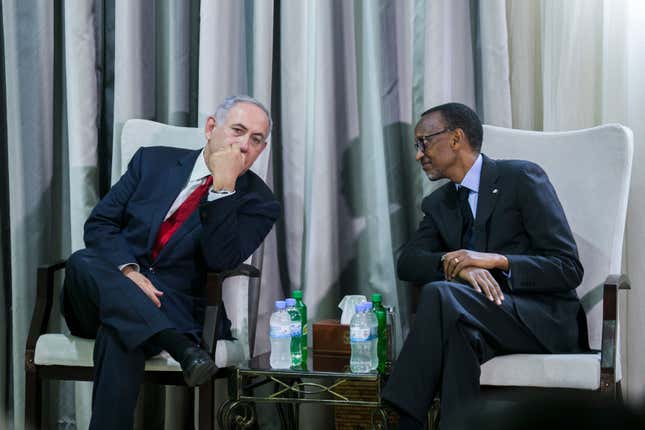 Ilan Ziri is an Israeli businessman who first came to Africa in 1989 as manager at Motorola Zaire, now the Democratic Republic of Congo. Ziri says politicians are "taking a free ride" on all the commercial networks that entrepreneurs have built over the years. Part of what originally pushed Israeli companies to Africa, Ziri said, was the enthusiasm surrounding new technologies, the eagerness to adopt them, lower competition, besides the ease of attaining licenses compared to markets in Europe and the US. In recent years, China's expansion in Africa has also excited Israeli officials and investors about the prospect of African markets.
"The politicians are using it like it's something that they directed," Ziri said. "They didn't direct nothing. We never got any help from the Israeli government. We never got any tips on what to do or how to do [business]."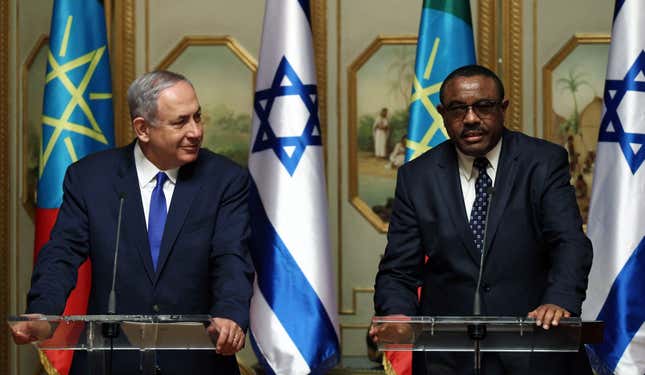 Over the years, Israeli companies representing a diverse array of industries, expertise and professional services have entered the African market. In Kenya, both governments are working on the Galana-Kulalu irrigation scheme to put one million acres under irrigation to provide enough food for Kenyans. Israeli company Imaginature is also under review in Kenya to manipulate baby's breath genes ranging in colors. In Rwanda, Energiya Global was commissioned by the US government to develop an 8.5 megawatts solar array.
In Nigeria, ETCO has worked as a primary contractor in both the public and private sectors. The non-profit Innovation: Africa also brings Israeli solar, water and agricultural innovations to rural African villages. Israeli firms have also been used in intelligence services, with software from Elbit Systems used in an espionage campaign targeting Ethiopian dissidents living abroad.
Given Netanyahu's continued assurance that "We believe in Africa, I believe in Africa, I believe in the partnership with Africa," Israel's business engagement in Africa is expected to visibly increase in the coming decade. Ziri, however, says business relations continued even after African relations cut ties with Israel after 1973 war with Egypt, and after Israel's support for the apartheid regime in South Africa.
"Always, the politics and the business touch one another. But the business activity always continued," he said.