Ethiopia's government has been doubling down on its efforts to surveil its critics, bringing the long arm of the state into the foreground and its resolve to sabotage opposition figures and media outlets.
A new report published by the Citizen Lab at the University of Toronto's Munk School of Global Affairs notes that dissident journalists and academics based in 20 countries received emails containing commercial spyware asking them to click on links to an Eritrean video website or download Adobe Flash updates or PDF plugins. If users clicked on the email, the spyware operators in Ethiopia would be able to monitor and extract virtually any information on the device including emails, audio, and video files.
The malware attacks, carried from 2016 to the present, was enabled through surveillance tools from Israeli cybersecurity company Cyberbit, a subsidiary of defense contractor Elbit Systems. The spyware system, known as PC Surveillance System (PSS), targeted opposition figures in Canada, US, and Germany, along with Eritrean companies and government agencies besides a researcher from Citizen Lab itself.
Through their analysis, the lab said it was able to monitor "apparent demonstrations of the spyware in several other countries where leaders have exhibited authoritarian tendencies, and/or where there are political corruption and accountability challenges, such as Nigeria, Philippines, Rwanda, Uzbekistan, and Zambia."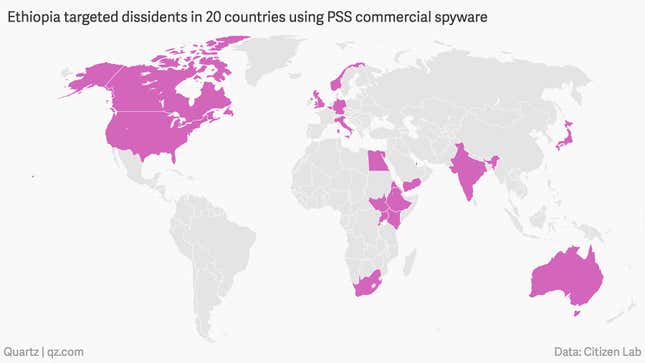 Telecom and internet surveillance are not new in Ethiopia with the government manning large surveillance mechanisms for years, especially in the digital media context. This is especially augmented by the government's monopoly over all mobile and Internet services through the state-owned Ethio Telecom. The current surveillance efforts are also increased by the climate of fear and worry that has pervaded the country following protests by the Oromo community in 2015 and 2016. During the protests, the government killed over 1,000 protesters and arrested tens of thousands of people in a wide purge criticized by human rights organizations. And despite having low internet and mobile connectivity, it also shut down the internet and banned posting updates about anti-government protests on Facebook.
During the protests, diaspora media outlets like OPride, Ethiopian Satellite Television, and Oromia Media Network (OMN) continued to shed light on the crisis and advocate for social justice. Ethiopian officials responded by banning the networks, and labeling them as "belonging to terrorist organizations." Citizen Lab said the first attack they identified was aimed at OMN executive director Jawar Mohammed.
The new evidence also revives the discussion about the export of commercial spyware abroad, and how nation-states are using them to undermine entities they deem as political threats. Ethiopia, which has been accused of human rights violations, previously acquired surveillance systems from Germany-based Gamma International's FinFisher and Italy-based Hacking Team's Remote Control System. In a recent response to the allegations, Cyberbit said that as a vendor, its customers "are the sole operators of the products at their sole responsibility and they are obliged to do so according to all applicable laws and regulations."