When George Weah is sworn in as Liberia's president on Jan. 22, it will be with the usual pomp and splendour of presidential inaugurations: large crowds, national flags waving, plenty of protocol and a high-powered guest list of African heads of state and diplomatic representatives of governments from around the world.
But one elderly French man will stand apart on that guest list as coming from a different world, not from politics and international diplomacy: Arsene Wenger, the legendary soccer manager who offered Weah his first professional contract in Europe.
In truth, it is not that surprising Weah invited Wenger, 68, to his inauguration. Each man holds the other in high regard. Weah has credited Wenger with, not just with kickstarting his success as a global soccer star, but also for his personal growth beyond the sport. Weah moved to France to join soccer club Monaco in 1988, when Wenger was manager.
Just after being named the FIFA World Footballer of the Year in 1996, the most prominent individual honor in soccer, Weah said of Wenger: "Arsene Wenger made me not just the player I am today but the man I am."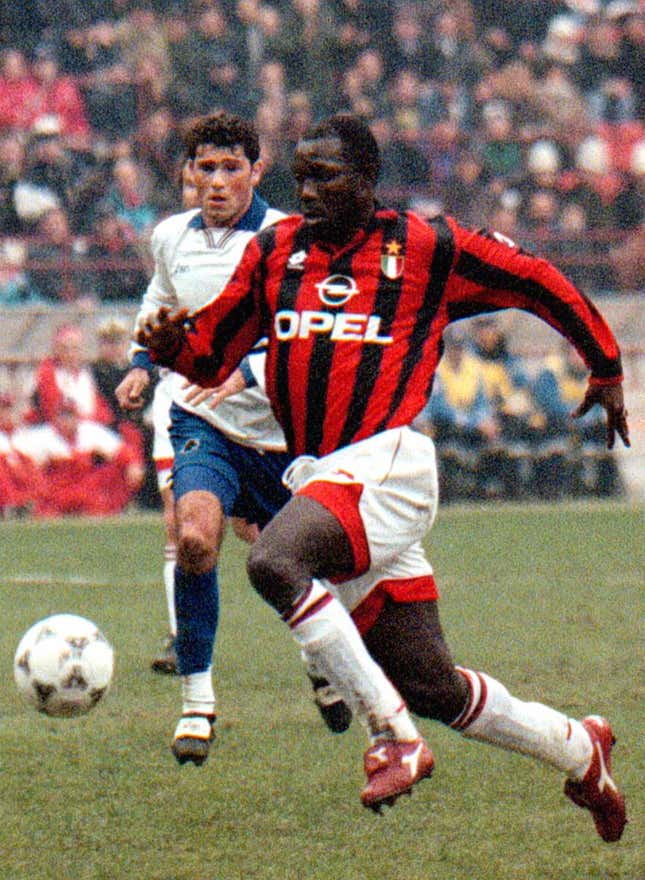 Wenger is known for his close personal relationship with many players over his 35-year career as a manager. He's also renown as one of the more cerebral and erudite managers in a sport which often eschews such traits.
Understanding the impact of Wenger's role in Weah's career and life means taking a look at the European soccer landscape in the late 1980s. A 22-year old who'd never played professionally in Europe had to experience a new country, a new language and a new culture—on and off the pitch, the odds were stacked against Weah. Early on, Weah even stayed in Wenger's home. At a time when African players were rare in top level European soccer, Wenger kept faith and bet on his young talent to make the cut.
"He was a father figure and regarded me as his son," Weah, 51, told the Guardian last month. "This was a man, when racism was at its peak, who showed me love."
But not even Wenger could have predicted Weah's success. "I remember when I saw him the first time at Monaco, coming in a bit lost, not knowing anybody, not being rated by anybody as a player and becoming the best player in the world in 1995 and today becoming the president of his country," Wenger recently said. "The life of this guy is a real film. It is unbelievable. It can make a fantastic film."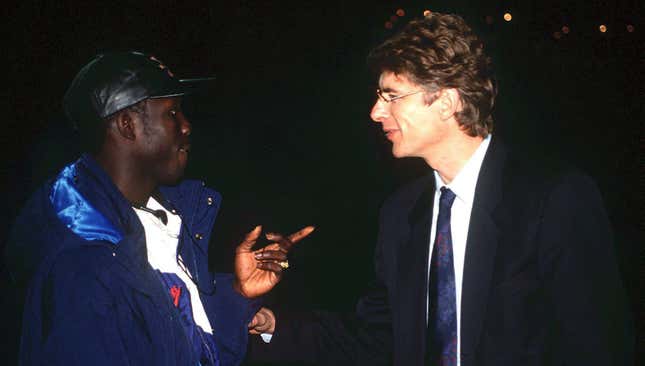 Since being together at Monaco, both men have taken different paths. Wenger has coached in Japan and then joined English football club Arsenal, where he has become the second longest serving manager in the Premier League. These days Wenger is less the risk-taking, adventurous pioneer he was when he first arrived in England in 1996. He's often now seen as a conservative, beleaguered leader of one of the league's big underperforming clubs.
For his part, Weah went on to play for another decade across France, Italy, England and the Middle East but at every turn, he's paid homage to the mentor to help him start that journey. He even took Wenger back to Liberia with him to see the impact of the war on ordinary people. "I went with George during the period when there was war in Liberia and I have seen how much he suffered for his country," said Wenger.
Weah's illustrious soccer career provided him with a platform to launch himself into Liberian politics. It's difficult to doubt Weah's love for his country as captured in a 2001 Sports Illustrated profile.
No one has given more of himself to Liberia over the last decade. Weah, who earned more than $15 million during his prime years with AC Milan, paid close to $2 million out of his own pocket to keep the Lone Star alive after the civil war began in 1990. He moved the Lone Star's training camp to nearby Ivory Coast and became a one-man football association, supplying jerseys, cleats and equipment and paying the players' salaries.
In 2005, Weah unsuccessfully contested for Liberia's presidency only two years after retiring from soccer. In 2011, Weah contested (as vice-president) and lost yet again. Weah finally found success at the polls in 2014, winning a seat in Liberia's senate but his political career finally came full cycle when, on Dec. 26, he won more than 60% of the vote in Liberia's presidential run-off.
Correction: A previous version of this story stated that Liberia's presidential inauguration will be held on Jan. 16. It is actually slated for Jan. 22.