When the Winter Olympics kick off in Pyeongchang, South Korea, next month, three Nigerian women will be making history.
Seun Adigun, the team driver and leader, Akuoma Omeoga and Ngozi Onwumere will become the first ever Africans to compete in the sport of bobsled. They will also be the first Nigerians to compete at the Winter Olympics. But even before the tournament kicks off, the US-based trio have already garnered so much goodwill, they likely already feel like winners.
For starters, the trio have become one of the hottest items in winter sports, attracting interest from several major global brands. Under Armour, the US sportswear manufacturer, will supply the team's kits while Belgium-based Lazer SA, has signed on as the official helmet sponsor. Global payments giant Visa added the bobsled trio to "Team Visa," a roster of sponsored athletes which consists of over 400 Olympic and Paralympic athletes. Visa backs these athletes with support for their training regimes.
Most recently, Apple-owned Beats By Dre featured the bobsled team in a new ad campaign. The Temple Company, a Nigerian talent agency which manages the bobsled team, told Quartz discussions are ongoing with African brands interested in partnering with the bobsled team.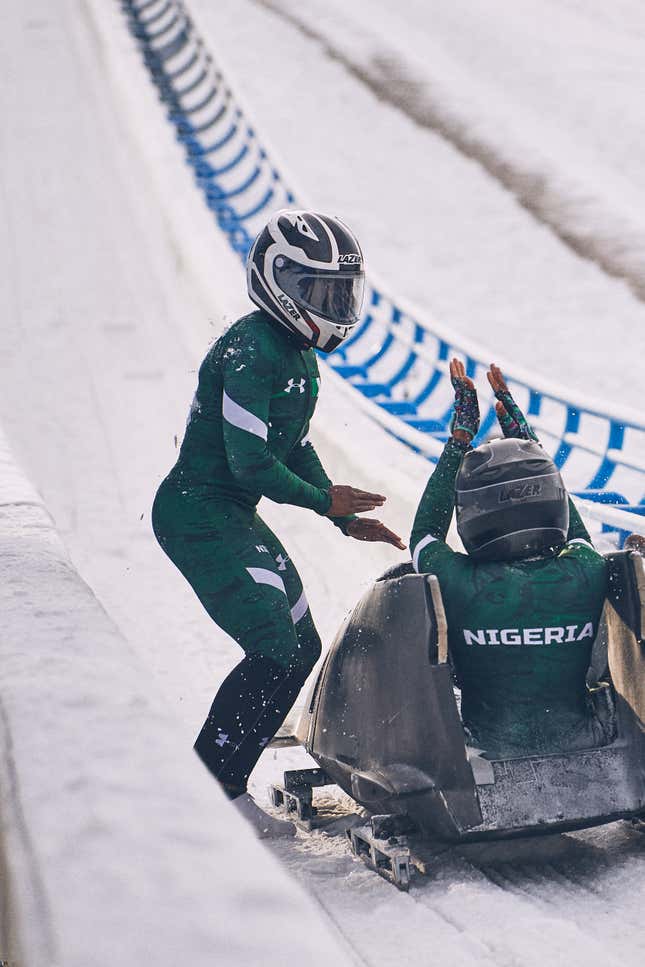 For the athletes, their success has not come easy. All three used to be track and field athletes and pretty much had to learn the new sport. But participating in a sport that many Nigerians have likely never heard of or found interesting was always going to be a difficult sell. That much was clear when the team had to set up a national bobsled federation in December 2016 because, well, Nigeria has never had one. To fund their new project as well as their ambitious plans to participate in Pyeongchang, the team resorted to crowd-funding starting a campaign which successfully raised $75,000. So their success in attracting sponsors would have been vital to help with training facilities and equipment.
These days though, the team is getting more attention than they probably ever could have hoped. A December appearance on Ellen DeGeneres' popular American daytime TV show went viral on YouTube, attracting 1.5 million views so far. They can also count tennis superstar, and one of the greatest ever athletes, Serena Williams among a growing horde of new fans.
The trio could further cement their legend by becoming the first Africans to win a medal at the Winter Olympics but whatever happens they can fully take credit for kick-starting Nigerians' interest in watching the winter games and possibly inspiring a generation of winter Olympians in Nigeria and across Africa.