Ibadan, Nigeria
In Lagos and Abuja, Uber and Taxify are competing in Nigeria's still relatively new e-hailing taxi space. But in Ibadan, Nigeria's largest city by geographical area and the country's third most populous city with three million people, an informal commuter ecosystem has been built around a tiny 1990s Japanese supermini car, the Nissan Micra.
Located about two and a half hours away from Lagos, in Nigeria's early history, Ibadan was the pride of southwest Nigeria, home to historic firsts like Africa's first TV station and Nigeria's first university—the University of Ibadan.
The old city, with its narrows roads and brown rusty roofs, blends almost seamlessly with modern Ibadan with its ring roads and shopping malls. But as rapid modernization expands car traffic there's sometimes dangerous competition on the city's major (largely narrow) roads between buses, unmarked taxis, motorbikes popularly known as Okada, private car owners and the Nissan Micra taxi drivers.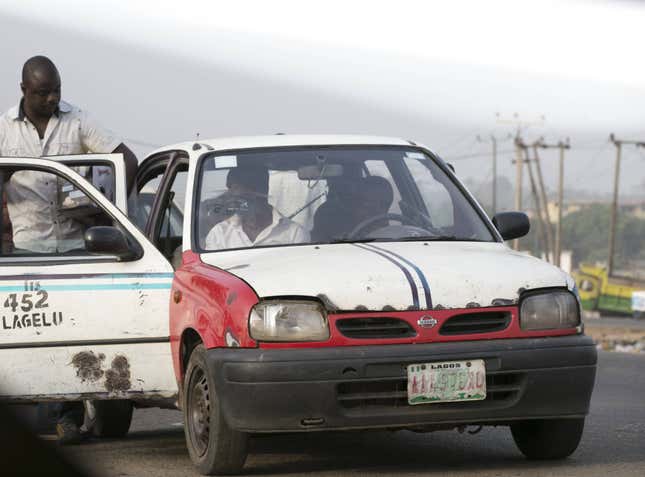 The original Micra, the K10, was introduced in October 1982 in Japan to compete for market share with the Honda City, Daihatsu Charade, Suzuki Cultus, and Toyota Starlet. Its selling point is its low fuel consumption provided by its peculiarly small engine equipped with five-speed manual gearboxes. The most popular version in Ibadan is the early nineties, K11 version launched in 1992. While both left and right-handed versions are imported, they are often adapted by auto-mechanics to Nigeria's road usage rule that only left-handed cars should be allowed on Nigeria's roads.
The Micra is very light, it weighs less than half of an average sedan or saloon car making it both easier to maneuver and for dangerous swerves much to the annoyance of other road users. Local police and road safety officers see Micra taxi drivers as the biggest safety threat on the city's roads.
Ibadan's Micra taxis take the same number of passengers as you would normally have in a regular-sized sedan or saloon car. It is not unusual for drivers to make up to six people literally on top of each other in a mini car that was really designed to probably take no more than four average-sized adults.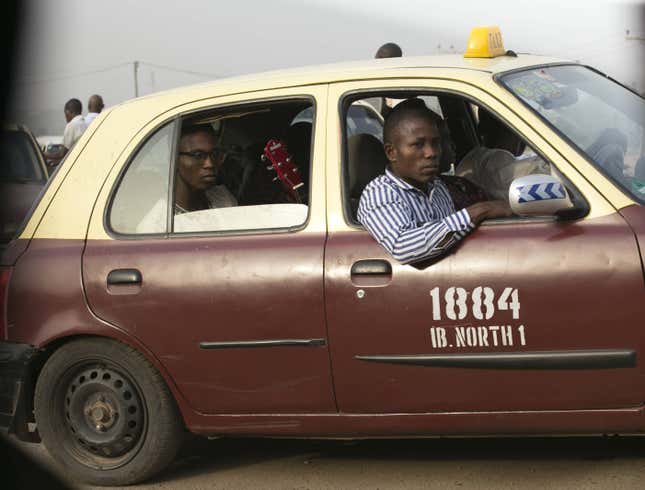 No one really knows for certain how Micra got to be Ibadan's taxi of choice. One tale goes that an unemployed engineering graduate served as the trailblazer. Another legend claims a foreign-based Nigerian returnee brought the first set of Micras over. What is however widely true was the positive testimony of early users prompted others to start saving money to buy theirs'.
Some Micra cab drivers highlight the critical role played by car dealers with favorable financing terms to help drivers pay for the cars in installments once they can present guarantors, and the reluctance of passengers to pay more even during fuel scarcity—compelling the drivers to consider affordable options that wouldn't have meant passengers pay more. The Micra was an obvious choice since it is cheap to maintain and small enough to provide a better fighting chance during heavy traffic.
At the end of Odejayi Street, off Old Ife Road Ibadan, Kunle Adebayo, an auto mechanic, oversees a work yard demarcated by the fence of the popular Queen of Apostles Grammar School. The workshop is shared with a bodywork specialist and a painter. On a Saturday morning, the three were working on Sodeeq Amusan's first Nissan Micra.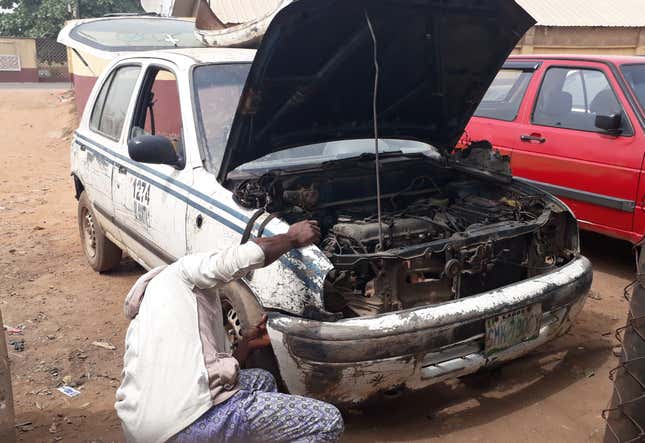 "They are smaller than regular cars and are slightly larger than tricycles (popular called Keke NAPEP) which means when there is traffic, they can meander their way through spaces that are too narrow for regular cars," says Adebayo.
Sodeeq and Adebayo both say the Micra is the most fuel economic brand on the road. To put this into better perspective, Sodeeq said he uses 500 naira ($1.50) worth of fuel to make up to 5,000 naira ($15) in customer fares. Adebayo on the other hand added that a driver has numerous options to explore when trying to make his Micra to be as economic to maintain as possible.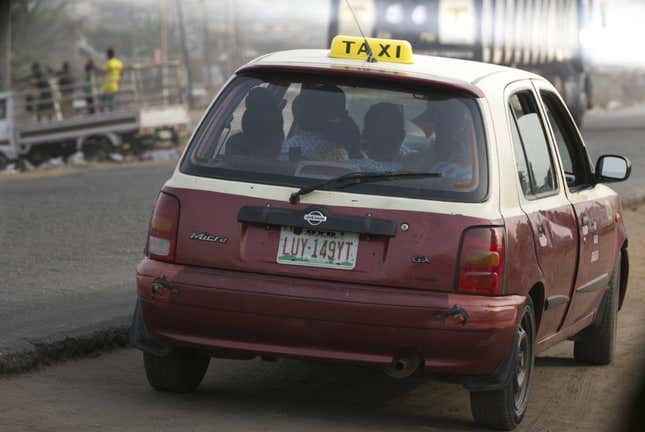 The government in a bid to maintain some control over the cabs decided to introduce a registration system and color scheme to make it easier to identify the cabs. These efforts only achieved limited results as the roads are still dominated by unregistered Micra taxis.
Tajudeen Busari, a Micra cab driver, argued that the government's initiatives failed because it did not fully understand the Micra culture in the city. "They did not make provision for cases where five drivers are driving just a single vehicle. Whose name will be registered?" he asked.
He said the Micra ecosystem has waxed stronger, over the years providing jobs for thousands while also meeting the needs of passengers.