Five months before the 2018 FIFA World Cup kicks off in Russia, Nigeria's national soccer team, the Super Eagles, is winning fans globally not for their skills, but for their kits.
On Wednesday (Feb. 7), at an event in London, sportswear giant Nike, returning as Nigeria's kit sponsor for the first time since the 2002 World Cup co-hosted by Japan and South Korea, unveiled the Super Eagles' kits for Russia 2018 as well as a collection of training and fan gear and it set off quite a buzz online even with non-soccer fans. The kit got plenty of love from pop celebrities and soccer journalists to Nigerian soccer fans. British newspaper Daily Mirror's soccer website has already ranked the jersey the best of the 20 known jerseys launched so far.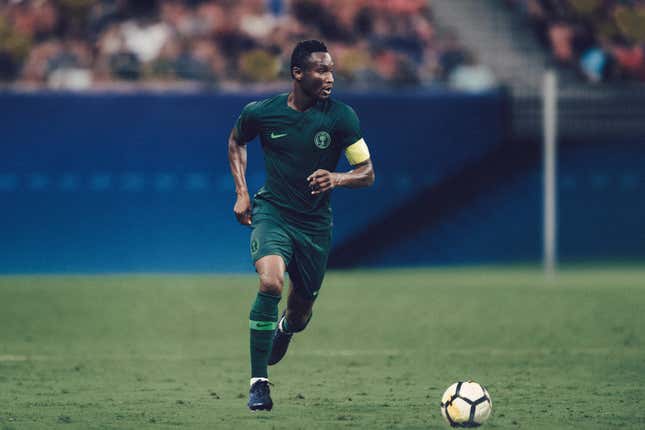 The home jersey is dark green with a neon logo while the away jersey is light green and white with stripes. The first time Nigerians will see the Super Eagles in the new kit will be on March 23 when they take on Poland in a pre-World Cup friendly. Nike says the World Cup kit collection will be released in June.
It normally doesn't take much for soccer mad Nigerians to be excited about the Super Eagles but one reason the jerseys are proving quite popular is because they pay homage to some of Nigeria's best ever moments in soccer. The away jersey is reminiscent of Nigeria's jerseys at the 1994 World Cup when the country made its first ever appearance at the tournament.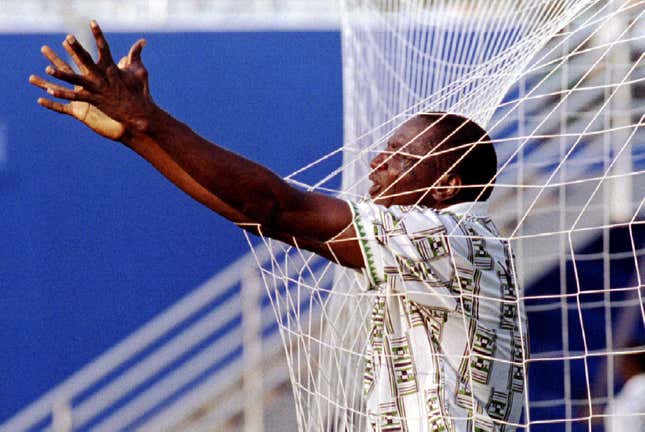 Similarly, the badge has also reportedly been recolored in honor of Nigeria's team at the 1996 Olympics—the first African team to win gold in the soccer event at the Olympics. Nigeria is the latest unveil a retro-inspired jersey with several World Cup-bound teams recreating kits from the 1980s and 1990s.
Just as well, for many Nigerians, the level of detail in the jersey and the execution of the launch is a nice departure from the past when national teams jerseys have been rather bland. The off-field pieces are a hit, too. In a video Nike posted, players seeing the kits for the first time liked the looks so much they started planning what trainers they would wear with them.
The kit launch is the latest in a string of events that have left Nigerians excited about making a sixth appearance at the World Cup. The Super Eagles qualified impressively beating off competition from Cameroon, current African champions, and Algeria, one of the continent's best teams. The Super Eagles also fielded the youngest side globally during the qualifying series.