Johannesburg
Jacob Zuma has until the end of Wednesday, Feb. 14 to resign as president of South Africa. Yet, South Africa's president says he has no idea why anyone would want to fire him.
Zuma's team had scheduled then cancelled a press briefing on Wednesday. And then suddenly with no warning Zuma appeared on the national broadcaster, the SABC to give his side of the story. He dismissed the call to remove him as "immature politics."
"No one has been able to provide what is it that I have done," Zuma said. If he has done anything, there processes in the ANC which he has not seen, he said. Zuma told the SABC that when Ramaphosa drove to his home late on Monday night, they didn't provide him with reasons for why he should step down.
The ANC begs to differ.
"The deadline is today—I know you're going to ask me that," said Paul Mashatile, treasurer general of the African National Congress, anticipating questions from journalists at a press conference and South African citizens at large.
Zuma's own party seems determined to embarrass him if he does not step down. If Zuma does not tender his resignation by the end of the day, the ANC will go as far as backing an opposition motion of no confidence to remove him on Feb. 15, said the ANC's chief whip in parliament, Jackson Mthembu.
The announcement essentially gave Zuma less than a day to resign or be removed in a very public parliamentary motion. It's an open rebellion as the ANC lawmakers plan to use their majority in the house to support a motion brought by Julius Malema's Economic Freedom Fighters.
After more than 10 days of uncertainty, the ANC wants things to move fast. If Zuma is not gone by the end of the day, parliament will vote by Thursday afternoon to remove Zuma and if the chief justice is available, deputy president Cyril Ramaphosa will be sworn in on Friday. Ramaphosa will then deliver the previously postponed state of the nation address so that the budget speech will happen on schedule on Feb. 21, according to Mthembu.
"For us as the leadership of the ANC, we can no longer wait beyond today," said Mashatile. "We don't want to keep South Africa waiting."
The party officially recalled Zuma on Feb. 13, but Zuma's allies in the party skirted around giving an official deadline. Zuma wanted to stay on for three more months.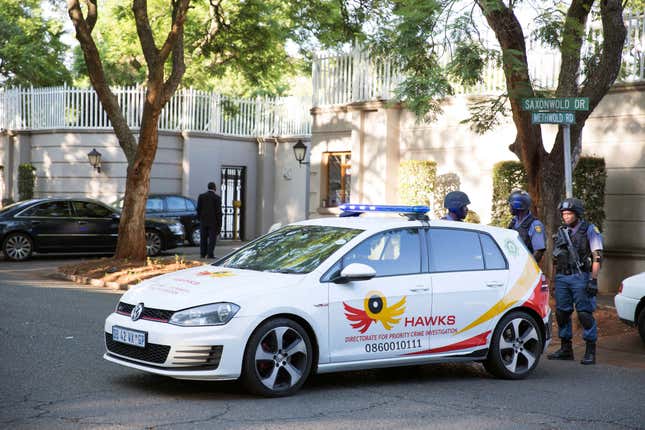 In what is increasingly looking like a political game of chicken, South African police raided the palatial compound of the Guptas, the Indian immigrant family that became wealthy thanks to state contracts during the Zuma years. Duduzane Zuma, the president's son, lives nearby and is a Gupta business partner. Police confirmed that three people were arrested, including an unnamed Gupta brother, on Feb.14. The publicly embarrassing raid that saw police enter the Gupta home in the morning, in full view of live news crews.
Throughout his nearly two-term presidency, Zuma has been at the center of a string of corruption scandals including his links to the Guptas and the upgrading of his personal home using state funds. Just as he has done throughout his presidency, Zuma swore that he was not being defiant, assuming the stance of a victim.
"I found it very, in a sense, unfair to me that this issue must be raised all the time," Zuma said of the discussion around his exit.
Instead he drew on the example of Mandela, who stayed on as president after Thabo Mbeki took over as ANC president. Zuma also claimed that he wanted to allow Mbeki to stay in power when he took over as ANC president because it would create bad precedent, one that Zuma is now facing.
It is widely understood that Zuma's election as ANC president led to Mbeki's recall in September 2008 as a new political faction cemented their power.