The race to become the first African to win a medal at the Winter Olympics will have to wait until the next games in Beijing in 2022.
Despite the Pyeongchang games hosting  the largest ever contingent of African nations at a single Winter Olympics event with eight African nations participating, no African athlete achieved a podium finish. Eritrea and Nigeria made their debuts at the games and competed alongside Kenya, Morocco, Ghana, Madagascar, South Africa and Togo.
The odds have typically been stacked against African athletes participating at the Winter Olympics. The absence government-backed training regimes has meant athletes have usually had to implement personal training programs. In fact, some athletes have had to set up national federations for the winter sports they hope to contend in.
Nigeria's inspiring women's bobsled team created a national bobsled federation in 2016. Similarly, Robel Teklemariam had to set up Ethiopia's skiing federation before competing at the Winter Olympics in 2006 and prior to becoming the first black African to compete at the Winter Olympics in 1984,  Lamine Guèye set up Senegal's ski federation. Flying their national flags at the games often comes at significant personal expense for these athletes. For instance, to fund their training for the games, Nigeria's bobsled team resorted to crowdfunding $75,000 before eventually snagging lucrative commercial partnerships with global brands.
The fact most of Africa does not have snow or ice weather conditions is the most obvious hurdle for local Winter Olympic hopefuls. That reality is reflected in the fact African participation in the Winter Olympics was mainly driven by the diaspora population: nearly all the African athletes that competed in Pyeongchang were either born or raised outside Africa.
But by creating national federations, generating awareness and participating, these athletes help increase local interest in the winter games among aspiring athletes, the local public and sports administrators.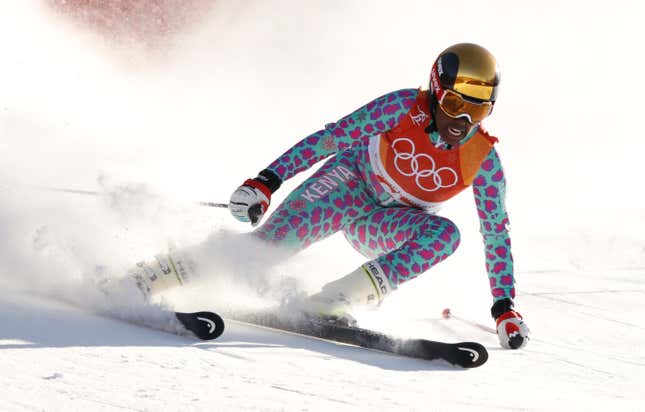 But while they did not make history as the first Africans to win a medal at the Winter Olympics, many African athletes made history nonetheless. Nigeria's popular bobsled team became the first Africans to participate in the sport at the games. In Skeleton, Simidele Adeagbo became the first Nigerian woman to participate while Akwasi Frimpong became the first Ghanaian to compete. There were also firsts for Kenya and Madagascar as Sabrina Simader and Mialitiana Clerc respectively became the first women to represent both countries at the games.