Kigali, Rwanda
African scientists have long been disadvantaged by the very fact they are in Africa. For their research to be accepted globally, it must be published in a peer-reviewed journal, usually one outside of Africa, and the logistics of accomplishing this are difficult. Even if the work is published abroad, it can be disadvantaged by a non-African peer who may not be fully aware of its context.
To get more work of African scientists seen on a global platform, the Next Einstein Forum (NEF), an initiative of the African Institute for Mathematical Sciences (AIMS), and Elsevier, the science and health publisher, rolled out a pan-African, peer-reviewed, open access publishing journal at the second NEF forum in Kigali this week. Scientific African is intended to be a world-class online publication that's dedicated to amplifying the global reach and impact of African research. The publication will be targeted at academics and be multi-disciplinary, covering research from biology and health through physics and astronomy.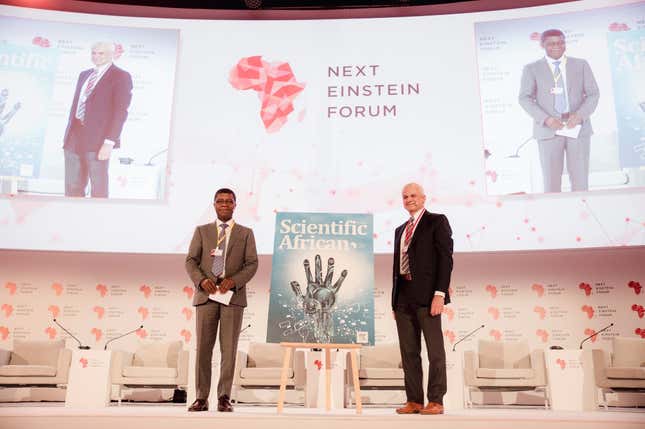 "There are so many low-hanging fruit science research problems that would not be of interest to international journals," said Yabebal Fantaye, a cosmologist and NEF fellow, originally from Ethiopia. "We know we need to promote research in Africa and this is one way to do it."
Although the publication is focused on the work of African scientists, it shouldn't be viewed as move to be separate or isolationist, said Assane Gueye, a cyber security researcher from Senegal and also a NEF fellow. "Science is global."
The success of the journal will be measured by its impact on global research, in particular how many times research published by the journal is cited by other journals over a given time period, usually a year to five years. Some African scientists at the NEF event privately expressed concerns that a regional publication would not be seen as worth publishing their most important work in if there's a likelihood it would be accepted by major international publications.
"This is a risk for  any new journal," says Nina Dudnik, whose company, Seeding Labs, supplies equipment to scientists across the continent. "The editorial staff need to be very transparent about the review process, and must be rigorous about the papers they accept. Having the support of well-recognized scientific leaders will also help. Most of all, high rates of readership and citation will prove its relevance."
Elsevier will provide the publishing infrastructure for Scientific African and share its publishing expertise in order "to help build to help build a freely accessible flagship journal for African researchers."
The journal will be headed by fellows from NEF's Community of Scientists (co-chaired by Fantaye) and allow authors to publish their articles for open access at what NEF describes as a "low cost".