Botswana quietly acquired a new president over the weekend.
On Saturday March 31, now former president Ian Khama stepped down as his term ended ahead of next year's election. Without incident, new president Mokgweetsi Masisi was sworn in on Sunday April 1.
The smooth transition means the new president gets to work immediately. Masisi's top priority is to wean the country's economy from its dependence on diamond mining and move towards job creation to address the nation's high youth unemployment level.
On a continent where term limits are ignored by too many presidents or simply extended through a questionable use of the vote, the efficiency with which Botswana handed over power is remarkable.
Botswana strictly enforces term limits and since 1997, no president may serve more than two terms, even if they are non-consecutive. The president is elected by the national assembly, which has been dominated by the ruling Botswana Democratic Party since 1966.
This system has allowed the BDP to groom new leaders at least a year before elections. Khama too, took over from former president Festus Mogae about a year before the 2009 election.
Khama has been on a farewell tour around the country, where he's reportedly received gifts that include a bicycle, a tractor, more than a thousand heads of cattle, around 500 chickens and shares in the country's telecoms company. The son of the country's founding president, critics argue that Khama the avid pilot isn't ready to fly off into the horizon.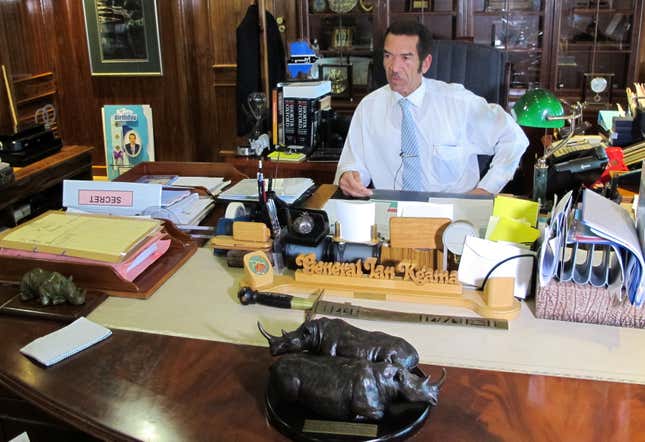 "Khama's outsized role in party and national politics carries weight that should put severe strain on Masisi's shoulders," read the Sunday Standard editorial on March 25.
Khama is also a powerful traditional chief, holding much sway in the rural areas, the paper explains. In the party, the son of the country's independence leader exerts influence behind the scenes. Khama is already suspected to be grooming his younger brother, Tshekedi Khama, to move from minister of environment and natural resources to the role of vice president.
As a leader, Khama was unafraid to ruffle feathers at home and beyond, once taking on China over a planned visit by the Dalai Lama and regularly criticizing former Zimbabwean president Robert Mugabe's decades long grip on power. At the same time, critics accused the former army general Khama of being authoritarian and secretive. While Botswana is one of the Africa's least corrupt countries, Khama faced corruption allegations at home.
A landlocked, arid country of 2.25 million people, Botswana walks the tightrope between abject poverty and huge potential, if it plays its cards right. Even with grumblings of corruption, the country's political stability will surely help it meet its goals.