More than 40 people died after a dam burst in Kenya's Rift Valley region destroying hundreds of homes and businesses. At least 20 children are among the dead.
The Patel dam in Solai town in Nakuru county, located 190 kilometers (118 miles) from the capital Nairobi, burst on Wednesday night (May 9), following weeks of heavy rains that have swept the entire East African nation. The town and its environs are home to commercial farms that supply markets in Europe, producing everything from cut flowers to beans, fruits, and vegetables. The dam was also one of many water reservoirs built in the region to irrigate the booming agricultural sector—Kenya's most dominant sector and the largest contributor to its gross domestic product.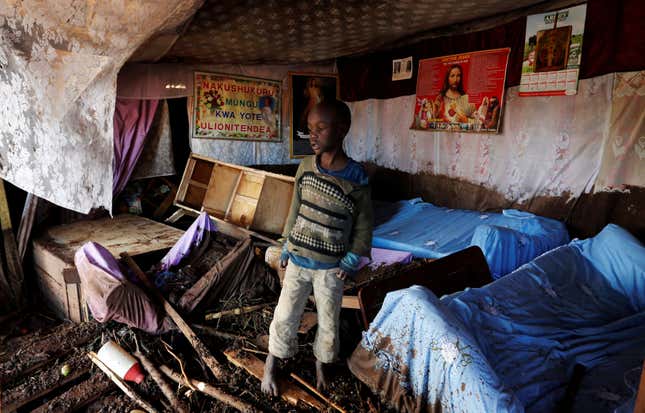 The death from the dam's wreckage raises the total number of deceased people from floods since March to more than 170. More than 260,000 people have also been displaced across Kenya, over 200 schools closed, with the spread of communicable diseases remaining a top concern for officials and humanitarian agencies.
In late March, floodwaters also ripped open a major highway in the Rift Valley, creating a deep gully that sucked in cars and impacted farmers and their homes. The event pushed some scientists to renew questions about how the African continent was splitting in two faster than originally thought.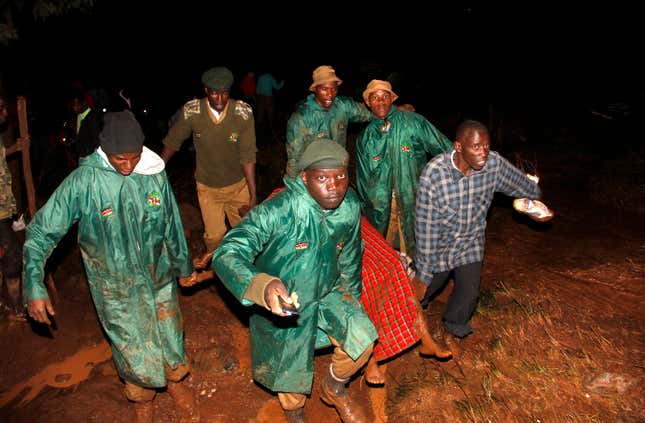 The flooding comes as many countries are just recovering from the devastating drought and famine that swept the Horn and East Africa region in the last two years. The drought, exacerbated by El Nino, curtailed crop production in Kenya, increased inflation, and put a strain on economic growth. The increased damage from the disaster also points to the poor planning and the lack of disaster preparedness among official agencies in the country.
Authorities are now responding to the disaster area in Solai, where homes over a radius of nearly 1.2 miles have completely been submerged. "Many people are missing. It is a disaster," Joseph Kioko, the police chief from the neighboring Rongai town told the Associated Press.