Netflix seems determined to change how the whole world watches TV, not only through streaming and binge-watching, but by creating smart content that local audiences can identify with and pay for. Africa, however, doesn't seem to be on Netflix's plan for global TV domination.
In Australia, the streaming service is producing its first original local series, the supernatural crime drama Tidelands and are co-producing The Let Down. It's also introducing a new generation of global viewers to the joys of K-dramas—one season South Korean series that excel in the close-up shot of a stare-down. Then in India, Netflix announced plans to create big-budget original television series that would bring Bollywood's rich cinematic culture to India's lacking TV culture.
So where is Netflix's African telenovela or a smart urban series like An African City? So far, silence. Netflix has an original production budget of $8 billion in 2018, just 1% of that  ($80 million) every year would have a transformative impact on the pan-African TV and movie industry where production costs are significantly lower. Even in Hollywood, Netflix's impact on production strategy and investment in just five years has been remarkable as few of the traditional studios have such a major global outlook.
While there may be an instinctive assumption that households in Sub Saharan African might not be the most lucrative audience for African TV shows, Netflix likely has already strong evidence that there's a sizable diaspora audience in the North America and Europe for example, watching the few Nollywood and South African movies it already licenses. So far African topics have been a sidebar or prop in telling a wider story for Netflix's original entertainment shows, like Ghana and Kenya in The Crown.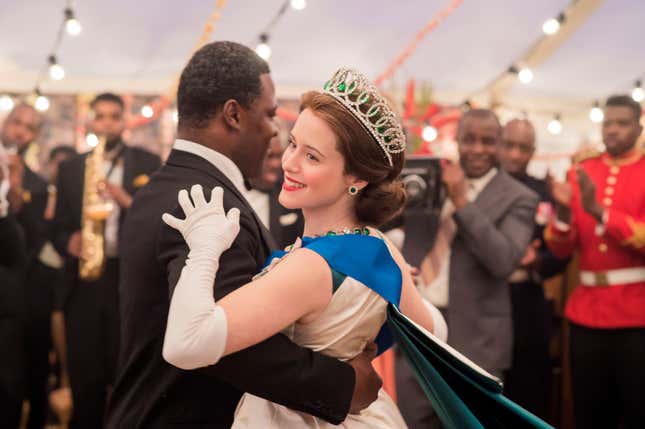 Most of Netflix big original production developments have come in the last two years, launching its first self-commissioned show House of Cards in 2013. This year, Netflix will have 1,000 original films, series, reality and documentaries.
Netflix's strategy seems to have been to ease into creating the infrastructure to create quality original content, before multiplying it and taking it global. The strategy has given Netflix the kind of freedom to create the kind of shows seen nowhere else, like the quirky British sitcom, Chewing Gum.
Netflix only came to African screens in 2016, so it's still quite early. The world of streaming, however, has changed significantly since Netflix released an entire season of House of Cards and introduced the world to binge-watching.
In Africa, even before Netflix arrived, there was stiff competition. Nigeria's iROKOtv quickly snapped up distribution deals with iTunes and Amazon to become one of the continent's most exciting internet companies, offering a return on investment in five years.
As "the Netflix of Africa" iROKOtv got $19 million from investors like Canal Plus in 2016 to create original content. Operating  in the country that already has the continent's most successful film industry Nollywood, original distinctly African stories have not been hard to find.