The British Museum is adding a modern touch to the hundreds of thousands of ancient Egyptian artifacts it has housed for decades.
The boots of Egyptian soccer player and Liverpool forward Mohamed Salah will be displayed at the museum's Egyptian collection in the run-up to the Champions League final on May 26. Salah is the season's shining star having set a new record for the most goals scored in a 38-game league season and the most goals scored by an African in a single season. The 25-year-old, who already has a hero status back home, will also lead his home country into the World Cup in June after scoring the goal that helped them qualify.
The Adidas shoes are part of the museum's efforts since 2016 to boost its modern Egyptian collection, using "housewares and everyday items to ephemera and photographs" to tell stories about the north African nation's historical and cultural development. Neal Spencer, the curator of the collection, said the boots were part of this chronicle, telling the story of "a modern Egyptian icon, performing in the UK, with a truly global impact."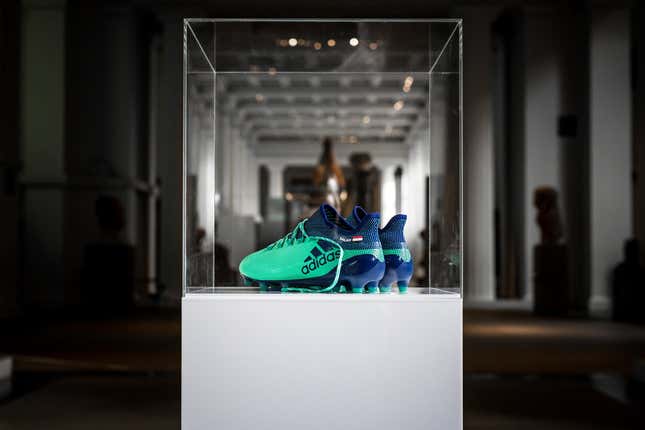 The issue of showcasing foreign artifacts at the British Museum has always been controversial, with many of these cultural wonders pilfered during the heyday of colonialism. The London-based museum hosts a vast collection of objects from Egypt and Sudan dating from the Neolithic period around 10,000 BC until the present day. Some of these include the prominent Rosetta Stone, an ancient decree issued during the Ptolemaic dynasty. Egyptian officials have in the past demanded that the British Museum return it for good.
The museum's choice of displaying Salah's boots have also been met with criticism. Zahi Hawass, the legendary archaeologist and the former head of state antiquities, said despite his love for Salah, placing his boots among pharaonic monuments was "completely inappropriate," adding "If the British Museum wanted to honor Salah, it should have built a museum for him or put the shoe in a special room."