Malkerns, eSwatini
Senegalese Afrofuturist performer Ibaaku struggled to break through in Dakar's mainstream music scene, yet now has a new fan base at the southern tip of Africa thanks to the Bushfire festival. With the massive crowds gathered in front of the main stage, this moment seems small. Ibaaku is one of dozens of fringe artists at a festival that includes Grammy winners to debutante DJs. Like many of the best festivals around the world, Bushfire festival attracts audiences with big names but also introduces them to something new and unexpected.
This formula has seen the MTN Bushfire festival graduate from a gathering on a family-run sugarcane farm to a regional event that attracts thousands of people to the eSwatini (formerly Swaziland). The long lines at the border bring in about $4 million, according to the organizers. The twelfth edition of the festival saw more than 20,000 people descend on Malkerns, a small town in Africa's last absolute monarchy. Bushfire is remarkable for its ability to attract huge crowds and high caliber artists to a tiny landlocked country that usually falls off the radar of the international stage.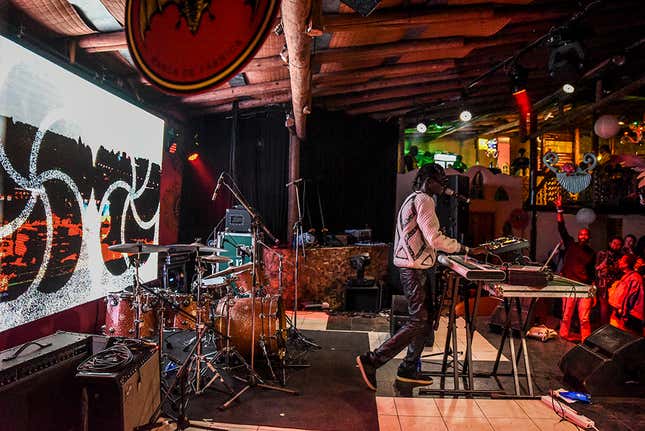 The three-day festival now takes founder Justin "Jiggs" Thorne's whole year to organize. Bushfire was sparked by small gigs at House on Fire, the event space built on the Thorne family farm. This year, Ladysmith Black Mambazo headlined the festival fresh off their fifth Grammy win. The line-up achieves the balancing act of bringing together South African rappers, a Japanese ska duo, a Brazilian guitarist, a rebellious songstress from Reunion and the legendary Salif Keita.
Bushfire can at times feel like three different festivals. Friday night introduced lesser-known folk and traditional bands, while Saturday felt like a stadium concert with radio-friendly songs. Sunday's daytime festival brought the big names meant to appeal across generations. It's all part of managing expectations as the audience numbers swell year after year.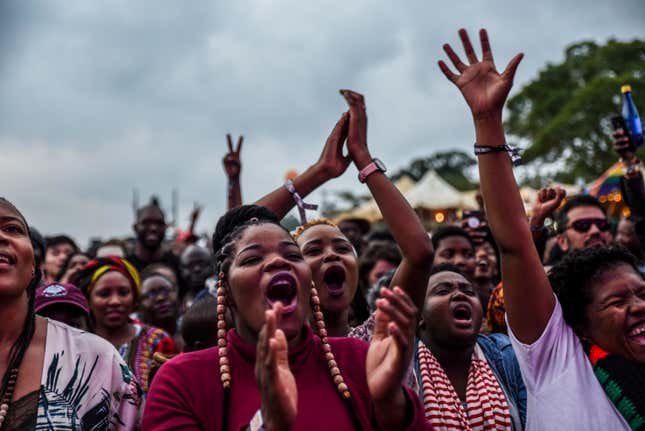 "Bigger for me isn't better," says Thorne, trying to ensure that it doesn't become a Swazi imitation of Coachella. "The irony is that popularity and growth can be a threat."
In its current iteration, Bushfire has four stages, food and crafts markets, a kids' zone and, an exhibition space for local business partners. The camping area is divided into a bring-your-own site, glamping space and family-friendly areas. In the long lines to the ablution blocks, people from as far Europe, the US and around southern Africa spark up conversations.
"It's great that we get this influx of people and culture and stories," says Thorne. We're kind of opening ourselves to the unusual."
The thousands of tourists in canvas tents are almost sealed off from the realities of eSwatini. Not far from the farm in the capital Mbabane, Africa's last absolute monarch is at the center of yet another spending scandal. King Mswati III has spent $214 million on a customized airbus. It's a jarring expense considering two-thirds of the Swazis live in poverty.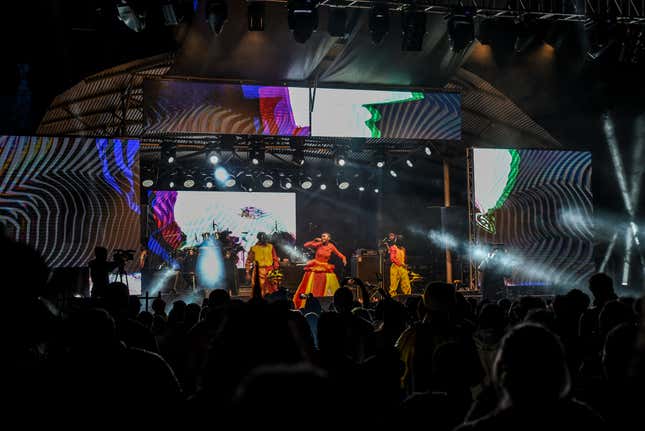 While the festival stages host the kind of freedom of expression rarely seen in the country, the state seems to recognize its value, allowing it to thrive as one of the main tourist attractions other than the annual reed dance. The companies that have grown out of the festival, like the , create much need employment in the area.
"Work is scarce here, most of us working here don't have anything," said a 19-year-old who works for All Out Africa, the tour company that grew out of the festival. He feels lucky to earn $5.50 a day, double during weekends holidays, helping campers set up. Outside the farm, locals have set up their own stalls along the main road, selling crafts and food to the visitors.
Thorne is clear that while the festival began as a charity running a business, it is now very clearly a business running a charity. Securing over 70 partners and sponsors allows the festival to turn a profit and expand its social outreach.
It also means the yellow branding of title sponsor, MTN, is everywhere. They manage local SIM cards for tourists and payment can be made with MTN mobile money. The cashless environment's chipped wristband (which also collects user data), managed by tech events company Howler, has been customized for the mobile giant.
Internationally, this sort of commercialization of festivals has been blamed for the decreasing numbers. Big-name sponsors often require a conformity that goes against the counter culture roots of festivals from Glastonbury to Burning Man. There's also the criticism that there are just too many music festivals, eroding what is supposed to be a unique experience. In Africa, however, music festivals are just beginning to become big business, from Lake of Stars in Malawi to Mawazine in Morocco.
The very factors that are ruining festivals in the United States and Europe, seem to be invigorating them in Africa. Bushfire's success has allowed Thorne and his partners to create Igoda, a network of festivals around southern Africa. They're also expanding to include the latest trend in the festival business, a food fair. eSwatini isn't top of mind in the culinary world, but then again, up until a few years ago, it wasn't a music festival destination either.