Cape Town
The ambitions of WhatsApp have remained something of a mystery, even as its reach as a messaging service and as the social media platform of choice for Africans has grown and grown. It has done so without a very obvious business plan and we'd often wondered why.
Then, after the departure of co-founders Brian Action (September) and Jan Koum (April) from parent Facebook, there has been some great reporting (paywall) on the internal tensions over how a desire to protect users' privacy clashed with the goal of commercializing WhatsApp to justify the $22 billion Facebook paid for it in 2014.
WhatsApp's competitive advantage is in emerging markets, where its service almost always works, regardless of internet speed or available bandwidth. It's the world's No.1 messaging service, thanks to users from Latin America to Africa and most of Asia outside China. In these regions, there's intense interest from local businesses that want to see WhatsApp commercialize—they want to be able to use the platform more efficiently to transact with their customers who pretty much live on WhatsApp.
Facebook understands that. "The wave of disruption we'll see from Africa will come from small companies more so than from big corporates," Julien Decot, Facebook's director of platform partnerships for EMEA, said at the MEST Africa Summit in Cape Town, South Africa last week. "It's clear those companies will probably jump directly to WhatsApp to connect to their prospective customers and get their businesses discovered. It's unclear if they'll advertise on Facebook's Newsfeed."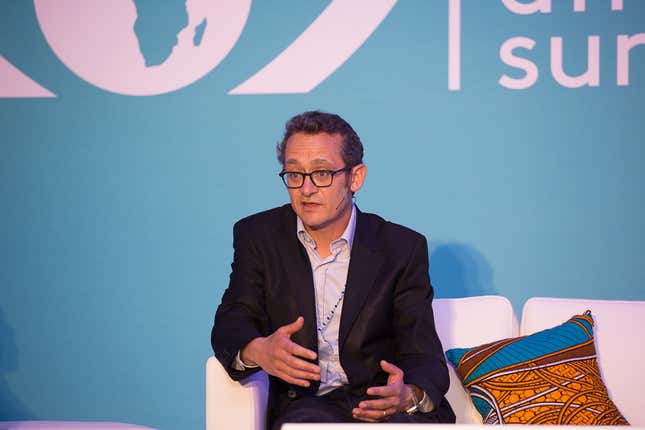 That doesn't mean Facebook thinks African or Asian businesses will never advertise on WhatsApp. It's just taking a step-by-step approach. The first move: creating a WhatsApp Business app for millions of small businesses to reach their customers. The next: "fixing the plumbing" by enabling key services like payments and discovery and then identifying the "underlying business model," Decot explains. "If we connect many millions of consumers with many millions of businesses, at some point the businesses will pay us to get in front of more customers," he said. "We don't have to reinvent the wheel."
You could say if it sounds like advertising and is paid for like advertising, it probably is advertising.
WhatsApp Business has been something of a Trojan horse for the platform's commercial potential.  "It's already big, larger than we would have expected, with several million users," he said, declining to reveal specific numbers. He described the total as "already very material" even when viewed in the context of Facebook's 70 million global advertisers.
WhatsApp is documenting business-user behavior in order to optimize for the largest use cases and is particularly focused on the big opportunities in payments and discovery.  There could a huge reward for over a billion people to move money around globally and could easily dominate in sub Saharan Africa where it is the default social media platform.
In countries where WhatsApp has gained major market share, central banks and other financial regulators will naturally be concerned about its impact. In India, where WhatsApp has around 200 million users, it has been testing its payments product since February.
"We'll do it here [Africa] too. No matter what, it's a function of how quickly we can get it done. WhatsApp is at a scale where regulation is tricky," said Decot. He confirmed conversations with some African regulators have already started.
A WhatsApp payments product could at once boost and upend the nascent African digital payments sector that  fintech startups from Lagos to Nairobi and Cape Town are all working frantically to build. It might be the one time startups reach out to regulators to help protect their future.
While there's no guarantee WhatsApp will be Africa's biggest payments player in the long term, if it is able to navigate the regulatory environment in larger African economies like South Africa, Nigeria and Kenya it would have a significant headstart over local fintech startups still trying to convince both partners and customers to use their services.