For the past four years, a huge building site has been greeting anyone driving into Dakar, Senegal's capital. Sectioned right through the middle by the highway to the new Blaise Diagne international airport, it's dotted with finished and half-finished projects, the occasional baobab, and large plastic billboards with artists' renditions of what's to come.
In 2035, the futuristic city of Diamniadio should have risen next door from the old, worn-out Diamniadio township, and, according to the plan, be the most modern urban center Senegal has ever seen.  It's the biggest project of president Macky Sall's Emerging Senegal Plan, an ambitious set of initiatives "aiming at getting Senegal onto the road to development by 2035."
Located 40 kilometers (24 miles) from Dakar, where traffic jams, high housing costs, and overpopulation make life challenging, Diamniadio is hailed by the government as a way to decongest the capital and spur national economic growth. Critics call it a vanity project of president Sall, who is running for reelection in 2019.
It comes with a $2 billion-dollar price-tag. Its 1,644 hectares (little more than 4000 acres) will be subdivided into four sectors of 400 hectares (or 1,000 acres) each—so far, badly linked together. One will be the Ministerial City, next to the "City of knowledge," with entertainment facilities and the Amadou Mahtar Mbow University (UAM), fit for 30,000 students, an international industrial park, and a "smart city." Housing will be enough for 350,000 people, with luxury, middle-class, and economic buildings near one another.
The idea itself isn't new: Dakar was built in the 19th century, when Senegal was a French colony, on a narrow peninsula meant to house 300,000 people. Today, Greater Dakar has 3 million inhabitants, and the capital's facilities are not coping. All four of Senegal's presidents since independence have toyed with the idea of a new urban center to ease pressure on the capital. Sall's three predecessors eventually shelved their plans, but the current administration is going full steam ahead. From Lagos' Eko Atlantic to Vision City in Rwanda, new cities are not a new endeavor in Africa—albeit the level of success they encounter can vary widely.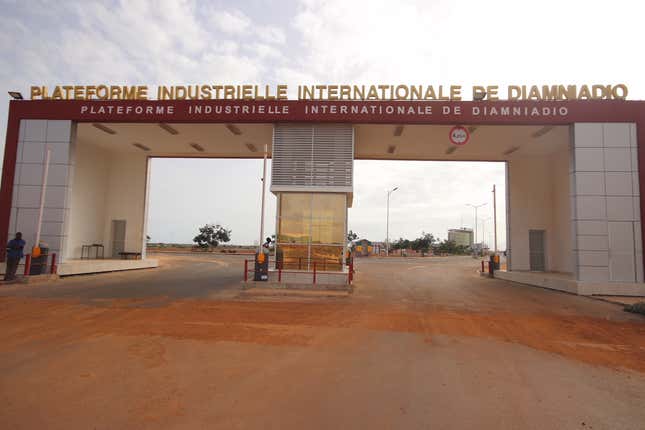 Misplaced ambition?
Those who support the project say that it will be the solution to many of the capital's problems and a big wealth and job-creating opportunity. Its critics fear a megalomaniac debt-trap that may compromise the country's shaky finances for years to come.
Many also fear the rise of a wealthy enclave out of reach of most Senegalese. "The majority of the population in Senegal is poor: even the so-called economic housing is going to be too expensive for them," said Cheikh Cissé, urbanist and researcher, adding that the ambition of building a city for the middle class is misplaced, as this is 3% of the population. "Diamniadio has been planned without inhabitants in mind," he said. Projects like the Diamniadio Lake City, with futuristic skyscrapers, would hardly be affordable by the average Senegalese worker, with a monthly wage of $144.
Frictions are emerging. The highway's toll, the first in the country, is considered high at 2500 CFA (around $4.50), while the express train that will link Dakar to Diamniadio, costing more than $900 million (link in French) is suffering serious delays. During a recent visit to the site, only some of the many projects were functioning: a hotel, one ministry, the $80 million Dakar Abdou Diouf conference center, and the newly inaugurated Arena Dakar, a fancy sports complex.
The industrial park has four operational buildings—the main one is occupied by C&H Garment Manufactury, a Chinese company manufacturing clothes for export. China has promised to invest 60 billion CFA (about $105 million) for the second industrial phase of Diamniadio. The UAM University, however, meant to open for the 2017-18 academic year, is still behind, as are most residential buildings.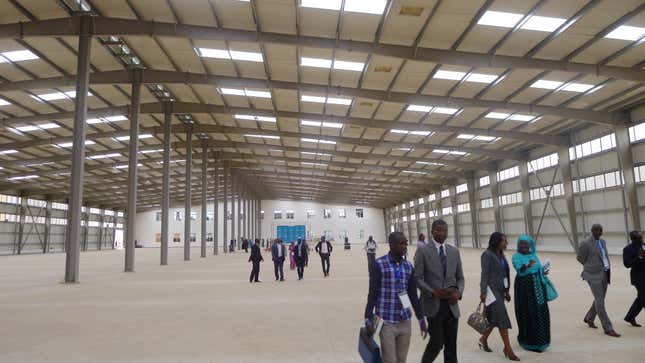 Papa Sow, from the General Delegation of the Promotion of the Urban Pole (DGPU), assures all is well, and that Diamniadio is being financed through a public-private partnership, referring to a system that allows private entrepreneurs to bid for lucrative projects while lending money to the state. Savings will also come from moving ministries out of rented facilities into new headquarters, Sow said, "which we will reimburse through monthly payments until we have bought back the buildings."
There is some room for optimism: Senegal is growing at 6%-7% annual rate and has attracted close to $10 billion in Eurobond bids just this past March (the money was used for infrastructure building and to pay off older debt.) However, more structural problems continue unresolved: water shortages have been affecting Dakar through the summer, students regularly take to the streets (link in French) against the delays in their monthly scholarship stipends, and university professors have not been receiving their salaries for months on end. In Diamniadio, workers at some projects have been idle, as pay has not been forthcoming.
According to World Bank figures, Senegal's public debt was at almost 61% at the end of 2017 and external debt was at 62% of GDP. Meanwhile, in old Diamniadio, where even basic facilities are inexistent, residents are complaining of a lack of dialogue with government representatives, and insufficient compensation for informally-owned lands requisitioned for the new city.
The DPGU's Sow is adamant that the megalopolis that will emerge will be a world city to reckon with, and debt will be repaid. If that happens, the rest of the country and the majority of the population might function at a different speed for years to come.