The first African facility for the Chinese phone maker Transsion Holdings is tucked away in a nondescript area, down an unpaved road in Ethiopia's capital Addis Ababa. Here, several hundred employees sit in low plastic stools in neat assembly lines carefully handling various phone accessories. Wearing white, pink, yellow, and light blue lab coats, workers handle parts like microphones, vibrators, and cameras in sequence, run experiments to check for wear resistance and power consumption, and then subject the new headsets to a few durability tests.
A decade after it first set course for Africa, and seven years after the Ethiopian factory opened, Transsion last year became Africa's top smartphone maker. The success of its leading phone brands Tecno, Itel, and Infinix has especially shown how a company with a strong regional focus, the right product mix, and strategic pricing can outperform bigger and more dominant firms. The Shenzhen-based company's rise has also coincided with a rising appetite for smartphones in Africa, encouraged by cheaper internet costs and increasing mobile-based innovation. By betting on local consumers long underserved by tech giants, the sleepy Chinese brand has shown that you ignore emerging markets at your own cost.
Founded in 2006, Transsion's success has hinged on a glocalization strategy that has enamored it to users across Africa, says Tarun Pathak, associate director with technology intelligence firm Counterpoint. By working closely with research and development centers in Nigeria and Kenya, and providing affordable and region-specific phones to cities and rural Africa, Transsion has been able to continuously innovate around the needs of its customers and bump its sales.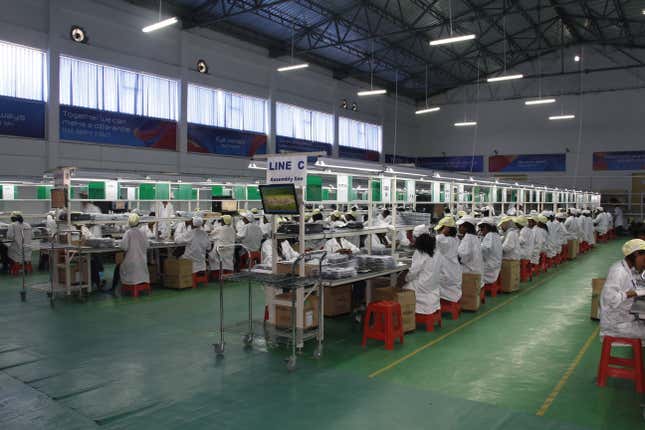 Some of these locally-tailored features include developing smartphones with multiple SIM slots, given that users have multiple numbers with different service providers to avoid insufficient network infrastructure or save money by avoiding out-of-network calls. Other elements include long battery life in a continent with the lowest electrification rate in the world and an anti-oil fingerprint to withstand weather and lifestyle conditions. The phones offer camera exposures calibrated to darker skin tones and cater to local languages like Amharic and Swahili. They're also built to receive FM radio stations. And in an effort to provide value-added service, Transsion launched after-sale service centers Carlcare and its smart accessories brand Oraimo across the continent.
Transsion has also been able to compete against major brands like Samsung, ZTE, and Huawei through competitive pricing schemes. Its portfolio of both feature and smartphone devices range from as little as $10 to $400 in Africa. And even though Samsung remains the top standalone smartphone product in Africa, when Transsion's three smartphone brands (Itel, Tecno, and Infinix) are combined, research from technology advisory International Data Corporation shows the Chinese handset maker overtook the South Korean conglomerate for the first time in 2017, with a combined 30.4% market share compared to Samsung's 27% in the fourth quarter.
Given that almost three-fifths of its global device sales still happen in Africa, Pathak estimates Transsion will capture almost 45% handset market share in Q2 2018.
Besides, "when Huawei and Samsung sales are analyzed carefully, their main volume is created in the price segments where Transsion is gaining dominance," says Ramazan Yavuz, Africa and Middle East research manager with IDC. And even though feature phones continue to make a gradual comeback in Africa, there's an expectation that vendors like Transsion will drive smartphone uptake by offering more features in affordable price brands.
Africa: The next China
Transsion's rise in Africa comes as Chinese conglomerates are making the most of the continent's need for technology, trade, manufacturing, and infrastructure. The increased interest in Africa also arrives amid growing Sino-African political and economic relations, with growing diplomatic links, investments in much-needed infrastructure like roads and airports, increasing tourism, the provision of scholarships and training, the promotion of a "win-win" economic cooperation policy, besides mutual assistance in security matters.
For African governments, investments from companies like Transsion have meant believing in mobile telephony's crucial role to kickstart and motivate grassroots innovations. In the world's youngest continent, there's the binding belief now that digital technologies can spur economic growth and disrupt industries from finance to food.
And China, which has emerged as an innovation powerhouse thanks to companies like Tencent, Baidu, and Alibaba, has made strategic moves to invest in nations like Ethiopia and Zimbabwe. Bent on becoming the world leader in artificial intelligence, Chinese firms like Guangzhou-based startup CloudWalk want to improve their facial recognition software by collecting data from Africans.
Transsion's success has also helped draw in some of China's star domestic phone brands to Africa. The multinational telecoms company ZTE unveiled Temp GO, an $80 smartphone with Android software aimed primarily at markets like India and Africa. From 2015, the electronics multinational Xiaomi started selling its phones through distributors in African nations including Kenya, Nigeria, and South Africa. The Chinese conglomerate TCL also sells cheap phone models and smartwatches in the continent.
Regulatory challenges
But as more options become available and the smartphone market matures, Pathak says Transsion might face growth challenges. There will be a need, he adds, to "scale up the price band in the long run, and that expansion in mid segment and new countries will demand investments."
While it's difficult to foresee a reversal in its fortunes in the mid-term, Yavuz says future growth will come at a higher marketing cost. In recent years, the growth of the African mobile phone market has been negatively impacted by macroeconomic difficulties, including volatility in interest and foreign exchange rates, low consumer spending, and a cooling of economic expansion. Yet the low penetration of smartphones in the region, Yavuz argues, ensures Transsion's strong growth potential.
"Its future will probably continue to be wrapped up with that of African development," he said.
Transsion says its biggest obstacles have been dealing with local policy, customs, and taxation systems. This has sometimes involved inviting officials like those in Ethiopia to visit China to help them understand and improve mobile industry standards in line with global ones, says Arif Chowdhury, Transsion's group vice president.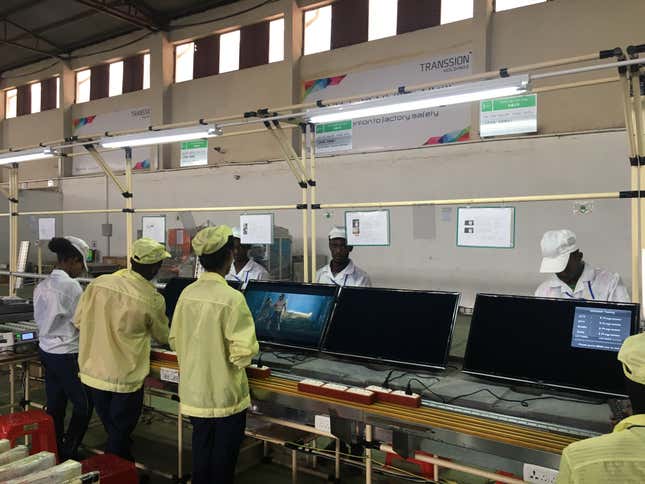 The phone maker also caters to over a billion Africans with different needs and circumstances, and Chowdhury says they are tapping into local product managers to understand "changing habits and behaviors" to keep their edge. Given its success in Africa, the company launched in India, where it aims to capture a bigger pie of the competitive smartphone segment. It has also gradually expanded to Southeast Asia, Latin America, and the Middle East.
In Africa, it's also diversifying its footprint: Transsion has set up a second facility in Ethiopia where workers assemble both phones and LED televisions under its household appliance brand Syinix. With over 1,900 employees in Ethiopia alone now—working in warehouses plastered with slogans like "No excuses" and "A miss is as good as a mile"— Chowdhury says they are keen on exploring and setting up in more African markets.
"Africa is always the most important part of our global strategy."