Ryanair and easyJet are considered some of Europe's least popular carriers. Yet Kenya's government is now preparing to engage the low-cost commercial carriers in a bid to revitalize its tourism sector.
Tourism minister Najib Balala tells Bloomberg the government is developing a strategy to get the haulers to fly to Mombasa, Kenya's second biggest city and home to its key port and beaches.
Approaching Ryanair and easyJet makes business sense for Kenya, given that majority of its holiday-makers come from European nations including the United Kingdom, Germany, Italy, France, and Scandinavia.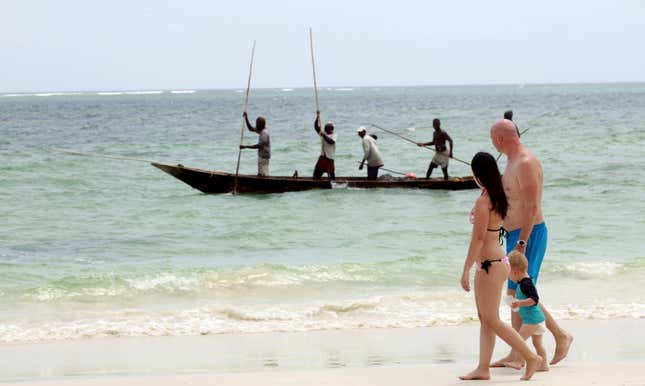 A quick check of both airlines' route maps shows flying to Kenya might immensely increase to their average flight times. Currently, easyJet flies as far as Egypt—a distance of just under 5 hours from London—while Ryanair goes as far as Morocco, an almost four-hour flight from Dublin.
It would be a significant step up to fly 9 hours from London to Mombasa compared with flights from London to various European cities which are often under three hours. Despite their unglamorous reputation, EasyJet and Ryanair's no-frills, pack-them-in style flights have been successful for short European jaunts especially given their heavily discounted ticket prices have been known to go as low as just €1 plus taxes. But such packed flights with narrow seating and few included conveniences are unlikely to be popular for much longer trips.
The aggressively low-cost airlines are sometimes accused of cutting corners to maintain slim profit margins in an already difficult airline industry. EasyJet has been slammed for overbooking, frequent cancellations, and rejecting claims of compensation. And even though the Dublin-based Ryanair touts its green and eco-friendly credentials, it canceled 18,000 flights last year because it didn't properly schedule vacation time for its pilots.
Kenya is trying to boost its tourism sector after a tense period of post-election security concerns in 2017, coupled with negative travel advisories issued by Western nations. Balala has previously said the tourism industry was underperforming due to limited aviation capacity. Tourism is a key foreign exchange earner for Kenya, with the industry bringing in 119.9 billion shilling ($1.2 billion) in 2017, according to the national statistics bureau.
Increasing long-haul international flights to Mombasa—and Kenya, in general—could almost certainly boost the travel sector. The East African nation drew over 1.4 million tourists last year who were drawn to the diversity of its attractions that include beaches, highlands, safari parks, game reserves, and historical sites.
The budget carriers will also compete with airlines like Kenya Airways, which already flies to destinations in Europe and hopes to introduce its first direct flight to the US in October. Ethiopian Airlines, Africa's largest airline, also flies directly to Mombasa via Addis Ababa.