It used to be that when you searched Africa on streaming services, you were likely to encounter the 1982 Toto earworm by the same name that just won't disappear.
Now, global streaming services have put in the effort to host African music, evidently realizing that even as internet penetration on the continent is still relatively low, culturally, Africa is taking off around the world.
Spotify is the latest streaming service to get in on this zeitgeist. Last Friday, Spotify debuted its Afro Hub, a curated section part of Spotify's Global Cultures content project that also includes Arab, Latino and Desi music.
"It's our mission to uncover every layer of this ancient, expressive and rhythmic musical culture which is an important component of today's mainstream, modern music," Spotify said in a statement.
On a continent with 54 countries and even more cultures, this seems like a mammoth task. To Spotify's credit, they've highlighted current chart toppers like Afrobeats star Wizkid and classics like Afrobeat legend Fela Kuti, effectively tapping into African sounds that have already taken the international music stage by storm.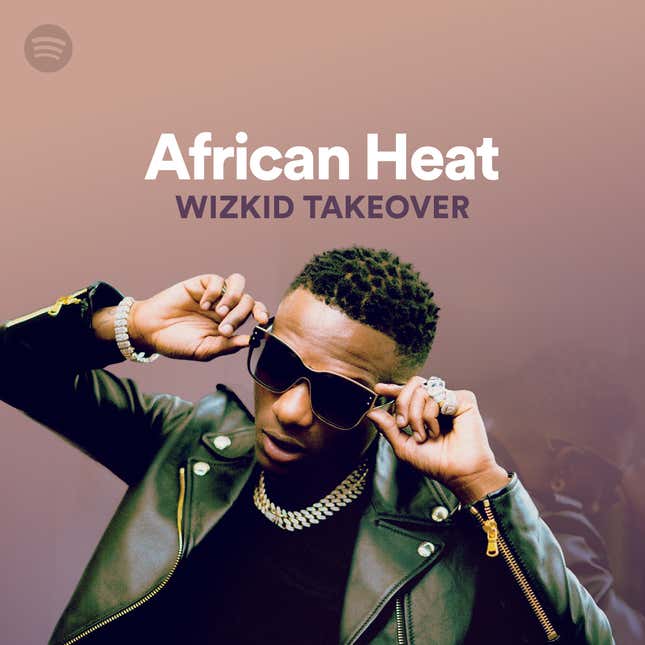 Then they've divided the library according to east, west, central and southern African sounds. The hub also introduces audiences to lesser-known or unsigned artistes, which has been one of Spotify's strongest traits elsewhere. Still, francophone sounds are still relatively underrepresented compared to anglophone Africa. Spotify has also created a section for the African diaspora that goes beyond the now well-known US and UK scene. They've highlighted Haitian and Brazilian classics and songs from Caribbean dance floors.
🎧 For more intel on Africa's music scene, listen to the Quartz Obsession podcast episode on Afrobeats. Or subscribe via: Apple Podcasts | Spotify | Google | Stitcher.
"Diaspora people have different political views, different hobbies, different mindsets that come out in their music. But they're still connected to their communities," said Rocio Guerrero, head of global cultures at Spotify. "People are becoming more and more proud of their origins, and I think music might be one of the best ways to help them express that."
There are also a handful of podcasts, including the popular "Jesus & Jollof" by Nigerian American commentator and comedian Luvvie Ajayi and actress Yvonne Orji. All of this, although a much smaller offering than its European and American libraries, shows Spotify is making a real effort to go international, just months after it launched in Africa.
"Why is food from other countries so embedded in our culture and yet music isn't? Because streaming didn't exist. But now it's happening," Guerrero said in a statement.
Spotify is hardly the first streaming service to take this view. Apple Music has been streaming music on the continent for over three years now, with iTunes Africa selling local artistes since 2012. Apple brought with it similar categories and content, along with charts highlighting downloads of African artistes, giving them the same opportunities for competitive prestige as American artistes.
Device agnostic French streaming service Deezer launched in Africa in 2012 already, and to its credit has amassed a large library of local and independent artists. It's marketing, however, has not kept up with Spotify's already well-known brand. Tidal also formally launched in Africa, via Uganda, last month, with similar ambitions to showcase African performers.
Apple, Deezer and Spotify subscriptions all cost about the same, with Tidal's dollar price amounting to twice as much (in South Africa, at least), but the service's partnership with MTN in Uganda has brought the price down there.
While Spotify is late to the party, it has arrived with flair, putting in the effort to charm African listeners.