Ethiopia has joined the list of African states who have appointed women to the presidency.
The parliament on Thursday (Oct. 25) named Sahle-Work Zewde, a veteran of the diplomatic corps and the United Nations, as the country's first female president, a largely ceremonial role. Sahle-Work was elected by the parliament after president Mulatu Teshome, who served since 2013 and had agitated for an inclusive democracy amid anti-government protests in the last three years, resigned on Wednesday.
The position of the president is is limited to two six-year terms, and entails carrying out specific duties in foreign affairs, besides domestic legislative and judicial matters.
Sahle-Work brings a wealth of experience to the position. She is currently serving as a special representative of the secretary-general Antonio Guterres to the African Union, the first woman to be appointed to that position. She was previously the director-general of the United Nations office at Nairobi and served as the head of the UN peacebuilding office in the Central African Republic. She has also worked as Ethiopia's representative to the UN Economic Commission for Africa, as a permanent representative to UNESCO, and was appointed as ambassador to nations including France, Djibouti, Senegal, with accreditation to Mali, Cape Verde, and The Gambia. Sahle-Work was educated as a natural sciences graduate of the University of Montpellier, France.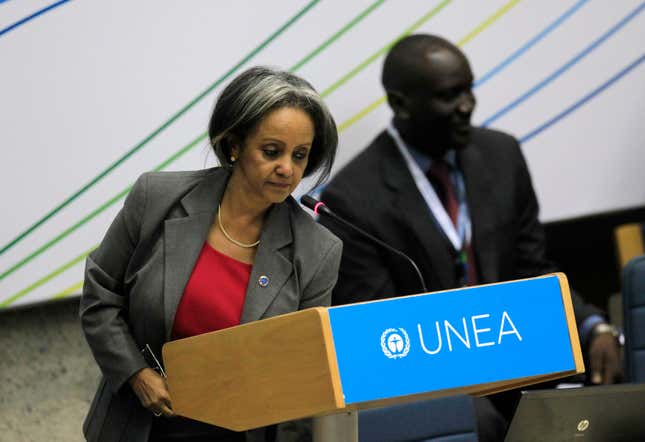 In her maiden speech to parliament, the 68-year-old president urged lawmakers to uphold peace in Ethiopia and to promote gender equality. Her own appointment comes days after prime minister Abiy Ahmed appointed a 50% women cabinet, a measure, he said, aimed at promoting women's contributions to the nation's progress. Since coming to power in April, Abiy has introduced seismic changes that have included freeing journalists, delisting opposition groups as terrorist outfits, mending relations with neighboring states, and opening up the economy.
Sahle-Work will bring the "right competence and experience to the office," Fitsum Arega, Abiy's chief of staff, tweeted. "In a patriarchal society such as ours, the appointment of a female head of state not only sets the standard for the future but also normalizes women as decision-makers in public life."
Following her swearing-in, Sahle-Work now becomes the only African female head of state. The last one, Ameenah Gurib-Fakim of Mauritius, resigned in March after using a credit card issued by a charity to buy clothes and jewelry worth tens of thousands of dollars.