UPDATE: Tanzania released Angela Quintal and Muthoki Mumo on Thursday. Read more details here.
Tanzania's government has detained two top African press freedom advocates, amping up its crackdown on free expression and signaling the creeping authoritarianism of president John Magufuli's government.
Officers identifying themselves as immigration officials arrested the Africa program coordinator at the Committee to Protect Journalists Angela Quintal and the sub-Saharan Africa representative Muthoki Mumo in Dar es Salaam on Wednesday (Nov. 7).
Officials looked through the belongings of both advocates, confiscated their passports and then escorted them to an unknown destination, according to CPJ. The organization said the duo was "on a reporting mission" and were both legally visiting the East African nation.
The news of the arrest was first tweeted and shared on Facebook by Quintal herself who wrote on her personal accounts at 10.38 pm local time that they were both "being taken for away for interrogation in Dar. We don't know why." Confusion arose at 11.57 pm local time  when Angela's account responded to a tweet talking of their arrest by saying, "God is great we are released going back to our hotel." Immediately afterward, friends and family cast doubt on whether Quintal was the one who wrote that tweet.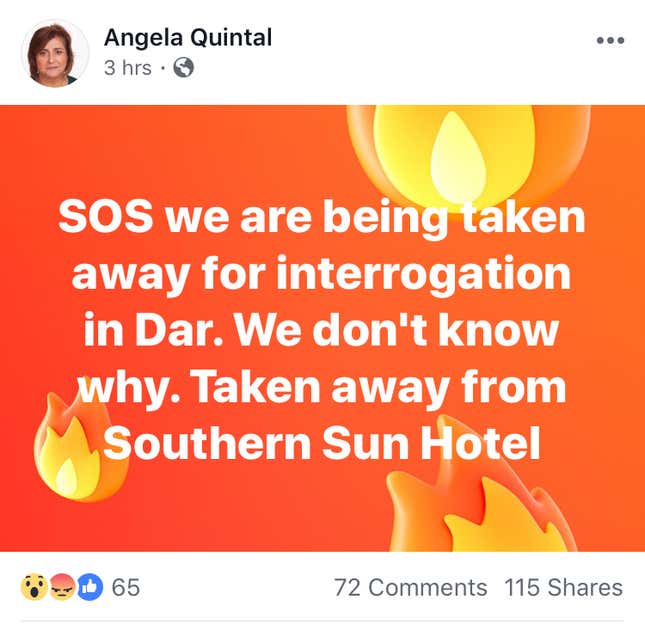 After the tweet was posted, her sister Teresa de Quintal told Quartz that she tried calling Angela's number. The call went through but there was no response. She also sent in three messages on WhatsApp, the first of which showed double blue ticks, which usually informs a sender that their message has been read by the recipient. The other two didn't. Asked if she believed that her sister had written the tweet, Teresa said: "I suspect not."
A few hours later, CPJ said they believed Angela's devices were "compromised." Executive director Joel Simon called the event "extremely alarming" and said they had had no contact with either of their staff members since they were detained. Both Muthoki and Angela's Twitter and Facebook later appeared deactivated.
CPJ didn't immediately respond to queries from Quartz on whether they intervened to have the profiles suspended, but both platforms can suspend an account if it has been hacked or compromised. Digital advocacy groups can also help organizations and individuals quickly reach out to tech giants to help suspend accounts if their safety depends on it.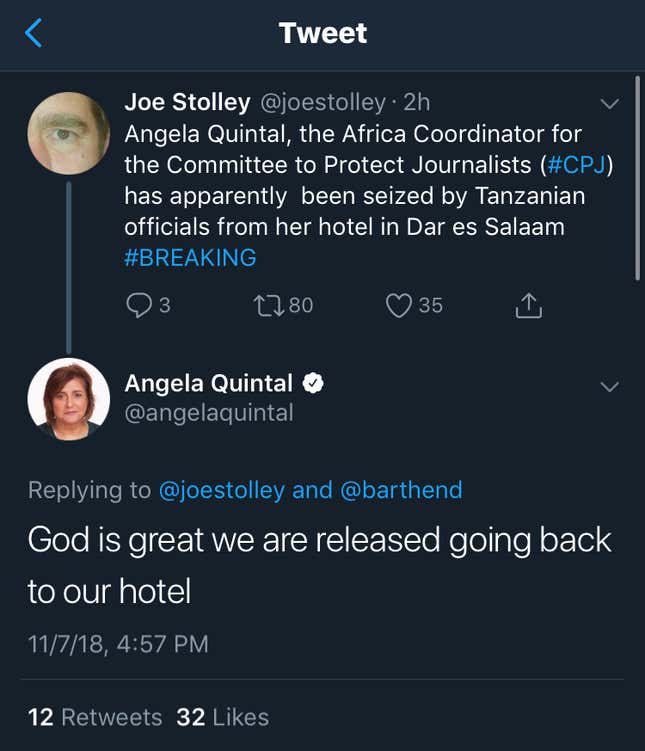 The news of their arrest immediately reverberated across the world with journalists, prominent columnists, the United Nations special rapporteur on freedom of opinion and expression David Kaye and advocacy groups including Pen America and Human Rights Watch all urging the Tanzanian government to release them.
Under president Magufuli, Tanzania has been tightening restrictions on free speech. His administration has arrested journalists, shut down newspapers, introduced sweeping media regulations, and has cracked down on the country's nascent but vibrant digital media outlets. His strict and controversial leadership style has earned him critics and the title of "the Bulldozer," and has seen him ban everything from the export of unprocessed minerals to the registration of foreign ships, and pregnant girls in schools.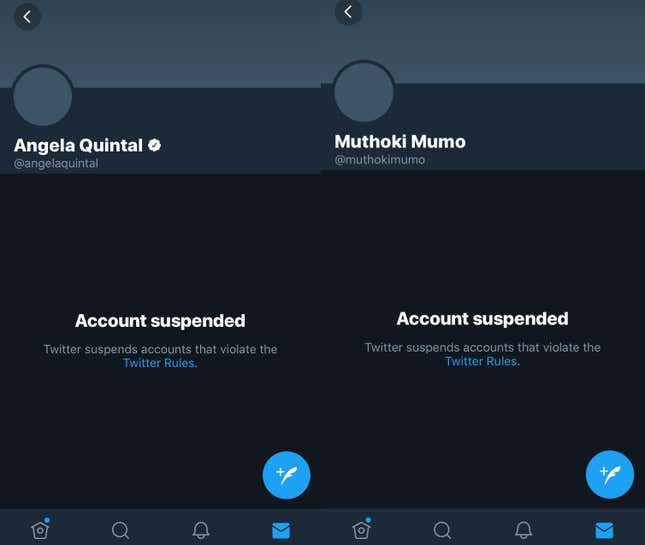 Before becoming a program coordinator at CPJ in July 2016, Angela worked for decades as a journalist in South Africa including as editor of the Mail & Guardian newspaper. She also served as a former secretary-general of the South African National Editors' Forum. Before fully joining CPJ this year, Muthoki, a Kenyan citizen, worked as a journalist for Kenya's top newspapers including the Daily Nation and Business Daily.
There has so far been no response from the Tanzanian government on why they detained the press campaigners and where they took them. Kenya's foreign ministry didn't immediately respond to whether it was doing anything to help secure Muthoki's release. Ndivhuwo Mabaya, the spokesperson for the South African department of international relations and cooperation told News24 he was contacting the country's ambassador in Tanzania Thami Mseleku. "We are following up on the matter, we are talking to the hotel to get all details, and High Commissioner Maseleku promised to attend to it."
Sign up to the Quartz Africa Weekly Brief here for news and analysis on African business, tech and innovation in your inbox