The Committee to Protect Journalists has confirmed their staff members have been released from custody in Tanzania and left the country.
Immigration and security officials detained Africa program coordinator Angela Quintal and sub-Saharan Africa representative Muthoki Mumo from their hotel in Dar es Salaam on Wednesday (Nov. 9). The duo's passports were seized, were taken to an undisclosed location, and interrogated about their work, CPJ said.
During the period, both advocates' phones and computers were taken and there were repeated attempts to access Quintal's email account. The advocacy group also confirmed that a false tweet has been sent from Quintal's account saying they had been released when they weren't.
The detention of Angela and Muthoki received worldwide condemnation after it took place on Wednesday night. South Africa's high commissioner in Tanzania Thami Mseleku intervened, and following meetings with local officials secured the release of their passports.
The news of the arrest was first tweeted and shared on Facebook by Quintal herself who wrote on her personal accounts at 10.38 pm local time that they were both "being taken for away for interrogation in Dar. We don't know why." Confusion arose at 11.57 pm local time when Angela's account responded to a tweet talking of their arrest by saying, "God is great we are released going back to our hotel."
Immediately afterward, friends and family cast doubt on whether Quintal was the one who wrote that tweet.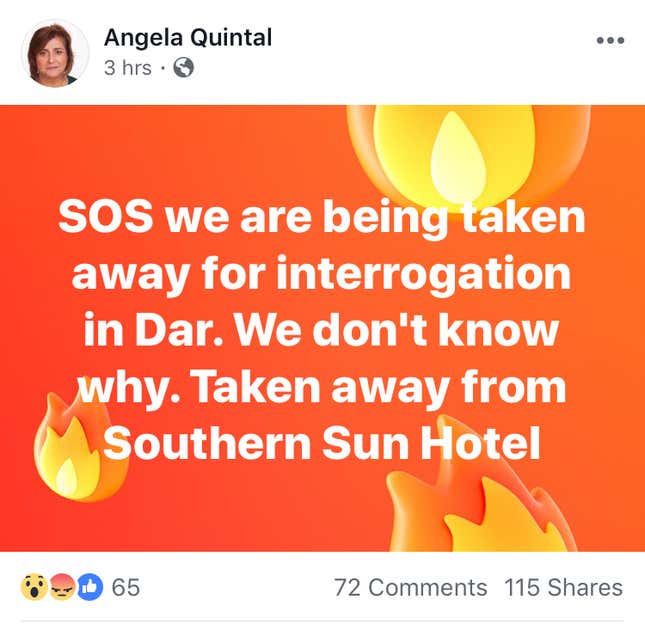 After the tweet was posted, her sister Teresa de Quintal told Quartz that she tried calling Angela's number. The call went through but there was no response. She also sent in three messages on WhatsApp, the first of which showed double blue ticks, which usually informs a sender that their message has been read by the recipient. The other two didn't. Asked if she believed that her sister had written the tweet, Teresa said: "I suspect not."
Both Muthoki and Angela's Twitter and Facebook later appeared deactivated—and continue to be so. CPJ didn't confirm if it helped do so, but Twitter and Facebook can help do so if an account is hacked or an individual or organization's safety depends on it.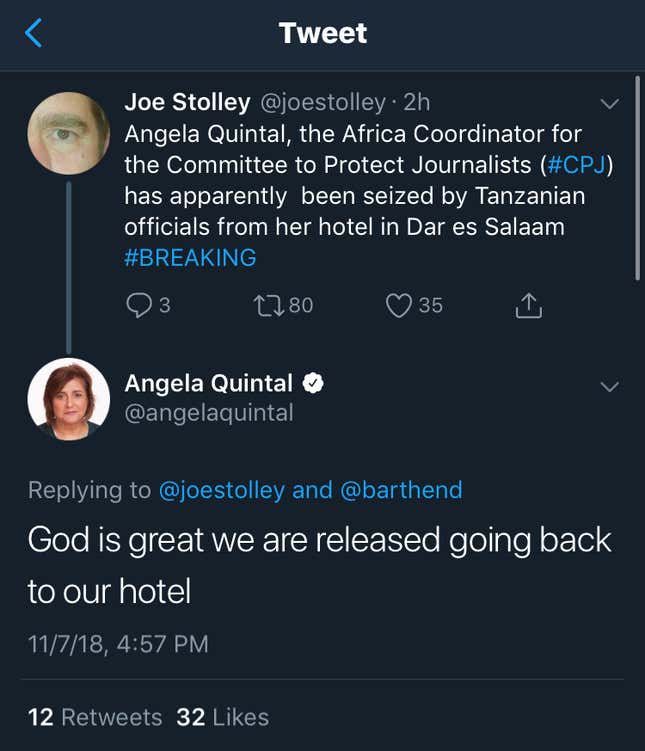 Their detention worked to highlight how the East African nation was cracking down on media and free expression, and how it was using a motley of sweeping and ambiguous laws to tighten its grip on both digital and traditional media spaces. CPJ Executive Director Joel Simon said Muthoki and Angela had both traveled there to understand the difficulties facing the press. Observers have said that since coming to power in 2015, president John Magufuli's administration has narrowed the political space and has responded to criticism with arrests.
"It is deeply ironic that through their unjustified and abusive detention of our colleagues, Tanzanian authorities have made their work that much easier. It is now abundantly clear to anyone who followed the latest developments that Tanzanian journalists work in a climate of fear of intimidation," Simon said.